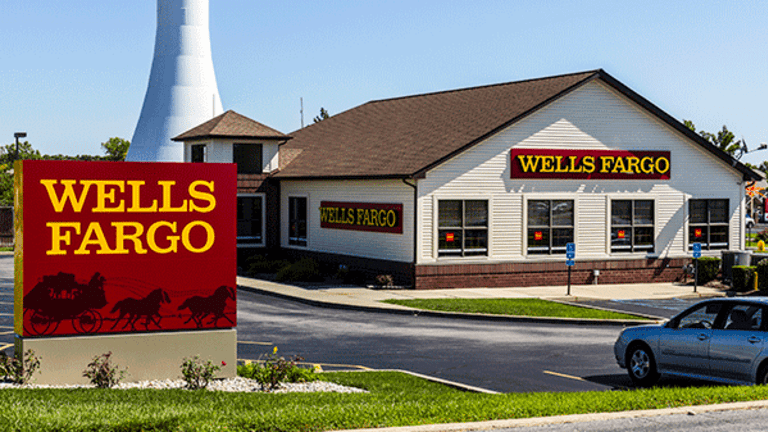 Yes, the Worst Is Behind Wells Fargo but Growth Remains Lackluster
The number of new consumer checking accounts fell 43% from a year earlier, while consumer credit card applications dropped 55%, the bank said Monday.
Wells Fargo's (WFC) - Get Wells Fargo & Company Report efforts to restore its reputation after a fake-accounts scandal are starting to pay off in customer surveys, but the number of new checking accounts and credit card applications remains much lower than a year ago.
During February, the number of consumer checking accounts opened fell 43% from the same period last year, while consumer card applications dropped by 55%, the San Francisco-based bank said Monday. Wells Fargo noted that results may have been somewhat skewed because this February had fewer days than both the same month in 2016, which was a Leap Year, and January.
"Customers still opened more checking accounts than they closed, and attrition rates continue to improve," Mary Mack, Wells Fargo's senior executive vice president for community banking, said on a conference call. The company noted that account closures declined 10% from last month and 11% from a year earlier.
The final results of an independent probe by Wells Fargo's board on the scandal, which involved the opening of more than 2 million unauthorized accounts by workers trying to meet sales goals of eight products per customer, won't be completed before April.
The bogus accounts, created over a period of five years, led to the dismissal of more than 5,300 employees and a $185 million settlement with the Consumer Financial Protection Bureau and local regulators in September. Afterward, government clients pulled back from lucrative bond deals, and then-CEO John Stumpf abruptly retired
"We have taken many steps over the last several months to rebuild trust with our customers and team members, but we have more work to do and the changes we have made will take time to be reflected in our results," Mack said. 
The drop in credit card applications was the worst since the fake accounts were disclosed, noted David Konrad of Macquarie Research, who cut his full-year forecast for both 2018 and 2019 by 5 cents a share.
Changes to try and stop the bleeding of new business and regain customer trust include a recent announcement that eight executives, including CEO Tim Sloan, will not receive an annual bonus for 2016. 
Wells Fargo also implemented a redesigned sales incentive program in January, created a new Office of Ethics, Oversight and Integrity and organized its community banking unit into three new sections: customer segments, customer and branch experience, and business strategy and administration.
The bank expanded its base of primary consumer checking customers by 1.9% to 23.5 million in the 12 months through February, and its average consumer and small business account balance increased 6% in the period. Consumer credit card purchase volume climbed 3%.
The growth in consumer checking accounts was nonetheless the lowest "since prior to the cross-sell scandal," Brian Kleinhanzl, an analyst with brokerage Keefe, Bruyette & Woods, said in a note to clients. "This should be the focus, since this metric was Wells Fargo's historical bread-and-butter for organic growth."
Kleinhanzl noted that the pace of growth will probably pick up as the company increases its spending on marketing and promotion, and that process is still in relatively early stages.
With over $1.9 trillion in assets, Wells Fargo also stands to benefit from the Federal Reserve's recent 25 basis-point rate hike, which took short-term interest rates to a range of 0.75% to 1%.  
Shortly afterward, the bank said it was raising its prime rate from 3.75% to 4%, affecting cards that have variable annual rates, after raising it from 3.5% in December.
While customers generally dislike rate hikes, Wells Fargo clients gave the bank high marks on their most recent branch visit: 77.5% reported overall satisfaction in February compared with 77.2% in January and down slightly from 77.8% a year earlier.
Like Mack, CEO Tim Sloan said dealing with the bogus accounts and their aftermath is challenging, and restoring customer confidence will take time.
"I will describe it as more complicated than anyone could have imagined, but that's not an excuse," Sloan said in an interview with The Associated Press on Friday. "It's going to take a few more months to work through. But I assure you we will remediate all those customers." 
Wells Fargo rose 0.4% to $57.84 in New York trading on Tuesday, paring some of Monday's losses. Its shares have climbed 5% so far this year. The company is scheduled to release its first-quarter earnings and hold its annual stockholders meeting in April. 
"The worst is certainly behind the company," Kleinhanzl wrote, "but we are still looking for signs that core consumer checking openings are improving and that is not happening yet."
EXCLUSIVE LOOK INSIDE: Wells Fargo is a holdings in Jim Cramer's Action Alerts PLUS charitable trust portfolio.Want to be alerted before Cramer buys or sells the stock? Learn more now.
This article, originally published at 4:12 p.m. on Monday, March 20, 2017, has been updated with an analyst's comments and market data.