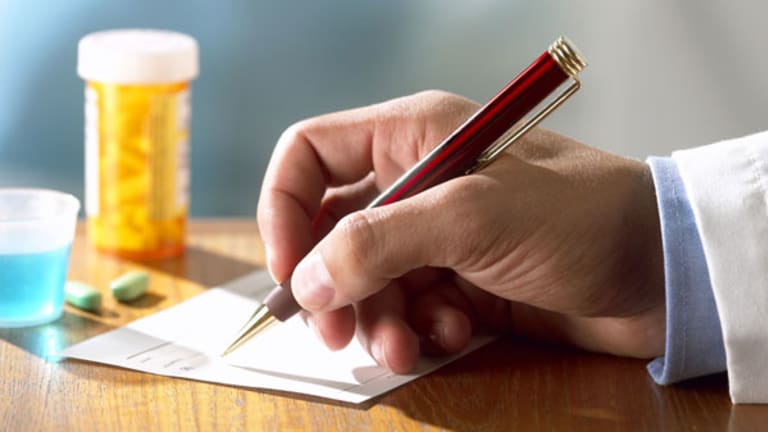 Six Best & Worst Health Care IT Stocks
Health care information stocks are being punished by investors early in 2010, raising debate as to whether the selling is overdone or a sea-change in invesor sentiment on the once-hot sector.
(Health care IT story corrected for Sidoti rating on Quality Systems, Allscripts fiscal 2Q data)
NEW YORK (
) -- Whatever happened to 2009 market darling "health care information technology"?
January was, indeed, a rough month for health care information technology stocks, with hefty double-digit share price percentage declines among some of the best-performing health care IT companies.
Athenahealth
undefined
was down 12% in January;
Quality Systems
undefined
was down approximately 20%; while
Cerner
undefined
-- the health care IT stock that ran up the most in 2009 -- was down 14% in January.
And the situation for health care IT stocks didn't improve in the first week of February.
Health care IT stocks were among the darlings of the market in 2009 primarily because their fortunes were not tied directly to the expected healthcare reform, and that reform effort -- pre-Scott Brown -- made just about every other health care sub-sector unattractive. Cerner led the charge among the health care information space in 2009, with its stock soaring from the $30s to the $90s. Last week, Cerner fell back to $75.
As hopes for health care reform have faded -- making the previously beaten down health care stocks suddenly more attractive -- investors have been booking profits from the health care IT space and rotating into other health care names so far in 2010. And it's not even just general investor sentiment driving down the stocks.
In the case of
Athenahealth
see above, the company had to announce last Friday a change in the way it reports non-GAAP net income.
Athenahealth was down 4% on Monday, after a
Barron's
article mentioned last Friday's accounting change -- and, on top of the 12% share price decline in January, the accounting situation is probably the last thing that a health care IT stock needed after the huge January share price declines.
Bret Jones, an analyst at Brean Murray, Carret & Co. and Anthony Vendetti, an analyst at Maxim Group, do not expect the level of the accounting restatement at Athenahealth to merit an SEC inquiry. Regardless, the most important and immediate negative for Athenahealth is that the accounting change forces many street analysts to bring down estimates of earnings for 2009-2011 by a significant amount. Brean Murray estimates the earnings overstatement at 17% of 2009 earnings and 10% of 2010 forecasts.
Cerner
see above reports on Tuesday, and analysts expect that, in contrast to the relative disappointments so far in this earnings season for health care IT stocks, Cerner will show a big fourth quarter.
Cerner has recently announced deals with some of the biggest hospital companies:
Tenet Healthcare
(THC) - Get Free Report
and
Universal Health Services
(UHS) - Get Free Report
. Brean Murray's Jones expects Cerner to report bookings at the high end of its guidance of $475 million.
"People look at Cerner as the bellwether, and its earnings could be a trading trigger, bringing some more excitement into health care IT," Jones said. The Brean Murray analyst, for one, believes Cerner should recover to the $80s as a result of Tuesday's earnings. Cerner closed above $77 on Monday.
Todd Weller, a health care analyst at Stifel Nicolaus, noted that the recent earnings disappointments from peers and the selloff in the sector have lowered expectations for Cerner. On the other hand, investors need to discount previously announced big deals and look to the Cerner bookings number ex-Tenet and ex-Universel, Weller reminded investors.
Maxim Group's Vendetti is looking for in-line numbers from Cerner, with earnings of 71 cents to 72 cents per share and revenues of $453 million -- the consensus revenue estimate is $451 million. Vendetti says Cerner will need earnings and revenue numbers from the fourth quarter of 2009, the fourth quarter bookings, and the bookings guidance and the earnings guidance for the first quarter 2010 to all deliver, or there could be a further pullback.
Booking guidance for Cerner is $425 million to $475 million -- the Tenet and Universal Health deals represent $200 million, though it is not definite that both deals will be booked in the fourth quarter. Maxim's Vendetti says bookings should be in-line with the higher-end of the guidance at $475 million, however, if the bookings numbers comes in at $450 million or less, it becomes more questionable as to how investors will react.
"Whether Cerner's numbers are good or bad, they are the bellwether, and will have a ripple effect," Vendetti said.
Bream Murray's Jones thinks that because Cerner is focused on the large hospital clients that are making the earliest moves to execute on electronic records, 2010 will be the boom year for Cerner. Some analysts, including Vendetti, are expecting the earnings boost for Cerner from the electronic records push to be spread out across the next three years, whereas Jones expects a decelerating trend after 2010.
Todd Weller, a health care analyst at Stifel Nicolaus, said that the recent selloff in health care IT illustrates the difference between playing this sector as a trade versus as a long-term growth story.
Health care IT was a big beneficiary of the federal economic stimulus in 2009, while the larger health care sector waded out the uncertainty related to health care reform legislation -- $45 billion is being guaranteed by the federal government in reimbursements to hospitals and physician groups that make the move to electronic records.
The health care IT stocks raced ahead in 2009 because of that $45 billion federal stimulus paycheck, but as earnings this season from Allscripts-Misys and Quality Systems came in a little less robust than investors had hoped for, the health care IT stocks pulled back.
Health care IT got off to what investors considered an uncertain start in the earnings season when
Allscripts-Misys Healthcare Solutions
(MDRX) - Get Free Report
came in with a
lower-than-expected bookings number for its fiscal second quarter. Quality Systems reported earnings last week that were a little weak but more or less in line with the Street.
As in the case with
Allscripts
see above, any weakness was seen a sign to sell the health care IT shares, and Quality Systems shed approximately $10 from its share price in February's first week. Quality Systems was trading at $52.73 on Monday afternoon, right in the middle range of its 52-week high and low prices.
Allscripts was trading at $16.70 on Monday afternoon, continuing a declining price trend that began last Wednesday and had Allscripts close to $6 off its 52-week high of $22.21.
These
health care IT shares were among the biggest gainers in 2009.
For investors who are interested in the stocks as trades as opposed to the long-term growth from the move to electronic records, it's all about entry and exit points. We've seen a lot of exits over the first six weeks of 2010, but does that mean new entry points have been created?
Brad Hoover, health care analyst at Sidoti said the research firm had been neutral on
Quality Systems
see above with a $66 price target, and changed that rating to a buy when the stock hit $52 following its third quarter earnings. QSII was at $52.82 at the close on Monday.
Stifel Nicolaus' Weller said it is a hard call on the health care IT sector. This group has carried an expensive valuation driven by the optimism from the federal stimulus -- and, for the majority of 2009, the market and investors looked past the near term fundamentals, Weller explained. "If you missed on revenues or earnings, so be it," Weller said, alluding to the previous period before this current earnings season.
Weller said the trend among investors to hold companies on a shorter leash goes beyond health care IT, too, with many high multiple sectors being punished even while reporting profits this earnings season. "Rich multiples are being hammered, in software and Internet infrastructure also," Weller added.
The lack of acceleration at these health care IT companies in the short-term is, in fact, high expectations coming down to realistic expectations. Still, that doesn't mean a good entry point for these stocks after the January selloff has been reached. Stifel Nicolaus' Weller asked what will happen next quarter if there is another weak earnings season among the health care IT stocks. The long-term outlook over the next three years is very good for these companies, but that doesn't guarantee a good first quarter earnings in March, and so, downside risk will continue.
What analysts are trying to understand is whether there has been a fundamental change in how investors are viewing these health care IT companies. If the thesis that the earnings bump from the federal stimulus and the move to electronic records by hospitals and physician groups will be spread out over the next several years, then in the next quarter these companies could disappoint again.
The debate as to whether these health care IT stocks are still headed lower -- or if this is a buying opportunity -- is a tough call, Weller said, as valuations are still skewed to the expensive side. "We are still debating this as we speak," Weller said.
Sidoti's Hoover said that from 2010 to 2014, with each passing quarter, the market will expect more top-line growth from health care information companies, and that the market has been less forgiving so far this earnings season, wanting to see more material increases from the stimulus. From his perspective, the drop in health care IT shares has provided a good entry point.
Maxim Group's Vendetti said that it is notable that we are near the one-year anniversary of the federal stimulus act that fueled these health care IT stocks in 2009, and there were expectations that the promise would start to be recognized with ramps in revenue and bookings sometime at end of 2009. "What has happened is that we now have earnings reports showing that the expected stimulus spending has not yet occurred, and investors are thinking it will be much more drips and drabs than a huge influx --
more of an incremental game," Vendetti said.
For Maxim, this widespread change in investor outlook has led to a split in its view of the sector. Athena and Allscripts -- which had not run up quite as much as the other names in 2009 -- are now being viewed as a buy due to share price declines, and even, in the case of Athena, taking into accounting the accounting restatements. However, Maxim has a hold on Quality Systems, and is still waiting for a more attractive entry point, and the same is true of Cerner and
Eclipsys
see above, which reports on Feb. 18.
Vendetti said that in the case of Quality Systems, even though the company increased its sales spending in the fourth quarter, the revenues generated from its next-generation electronic medical records system were not as high as expected. Vendetti's view of QSII sums up the current view of health care information: "We certainly still like the product, but we just think expectations had gotten ahead of themselves," Vendetti said.
Vendetti noted that even the
Barron's
article from Monday about the potential fallout from the accounting restatement that caused AthenaHealth to dip 4% also noted that Athena is in a good long-term position in the health care information market.
"If you are in the camp that believes the earnings growth will be more gradual, you need to be patient, because there will be more disappointments," Stifel Nicolaus' Weller said. "These things tend to take longer than people think, and especially when you get high valuations like these stocks have had, you can expect inflection points," Weller said.
The debate in health care IT -- which is focused on the pace at which the market will see the materials increases from the long-term growth prospects of these companies -- can be seen in its most acute form in the case of
Computer Programs & Systems
(CPSI) - Get Free Report
. The fourth-quarter earnings of
CPSI
see above were not slightly disappointing, but downright bad, according to many analyst outlooks. CPSI was trading at $36 on Monday afternoon, well off a 52-week high of $50, attained in December 2009.
Analysts noted that CPSI missed earnings estimates in the last quarter, but the market didn't care. In its fourth quarter earnings, net income went down more than 25% year on year, as the company hired significantly more sales and training staff for its market of rural hospitals than the street had been expecting.
Sidoti's Hoover explained that the CPSI market is rural hospitals with under 100 beds, and it is a market that has had a greater freeze in spending than the health care sector more generally. "Demand from prospects has not come through as hoped, and CPSI did lots of hiring to spur a material increase in revenue -- but that material increase didn't materialize quickly," Hoover said. "The market normally wouldn't react with the level of punishment it meted out to CPSI, but expectations have been reset. They have a large opportunity in the space, but the short-term numbers need to come down," Hoover said, adding that his current price target is $42 for CPSI and he still has a neutral rating on the stock.
CPSI dropped approximately 15% in the one day following its weak earnings.
Brean Murray's Jones said the CPSI selloff is overdone at this point. "Yes, their margins were atrocious in the past quarter, but when the demand does start to come, CPSI is in the most underpenetrated market. These rural hospital systems have not been purchasing for the last ten to 15 years and they will see the biggest level of investment, not in dollars amounts, but in the level of activity," Jones said.
Stifel Nicolaus' Weller said in the case of Quality Systems, what it reported in the fourth quarter would have been fine in any quarter previous to this one. "We didn't think that the fourth quarter was going to be the inflection point, the put up or shut up point. We didn't see that coming, but something changed pretty quickly," Weller said.
Now investors need to think through the sudden change in health care IT and ask, has that pullback created an opportunity?
For the answer to that question, all eyes will be on bellwether health care information stock Cerner's earnings on Tuesday.
-- Reported by Eric Rosenbaum in New York.
RELATED STORIES:
>>Health care Dogs are Best Bet in 2010
>>Health Care Stocks to Watch in 2010
>>Allscripts Dips, Final Buying Opportunity
>>See our new stock quote page.
Follow TheStreet.com on
and become a fan on
Copyright 2009 TheStreet.com Inc. All rights reserved. This material may not be published, broadcast, rewritten, or redistributed.