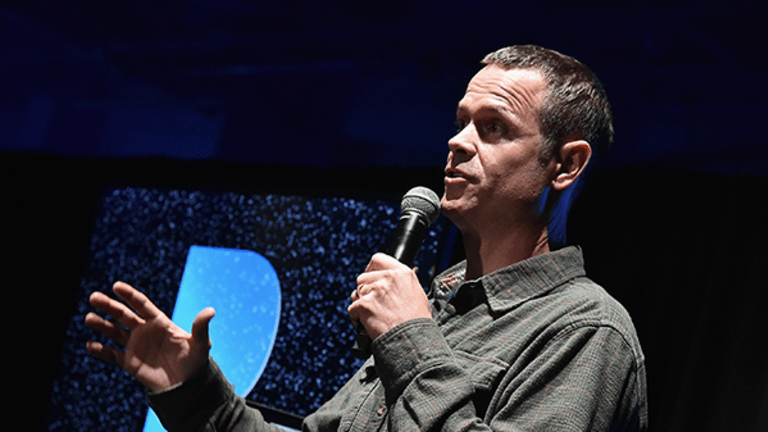 Pandora Executive Shakeout Airs Weeks After SiriusXM Investment
The internet radio company elevates finance chief Naveen Chopra to serve as interim CEO while it looks for a permanent chief executive to replace Tim Westergren.
Pandora Media Inc. (P)  is cleaning house.
Tim Westergren, a musician and Stanford University graduate who co-founded the company using algorithm to organize music, has left Pandora, 15 months after returning as CEO. Westergren's impending departure was first reported by Recode on Sunday, June 25.
Trading in Pandora shares was halted at 7:15 a.m. New York time on Tuesday, about two hours before Pandora announced Westergren's exit along with the departure of president Mike Herring, who previously had served as finance chief, as well as Nick Bartle, its chief marketing officer who was hired in September. Jason Hirschhorn, a former executive at MTV Networks Co. and Sling Media Inc., was appointed to Pandora's board, taking Westergren's seat as a company director.
Naveen Chopra, Pandora's finance chief who joined the company in February, will serve as interim CEO until a permanent chief executive is named, the company said in a statement.
The executive shakeout come less than three weeks after the money-losing radio internet service secured a much-needed cash infusion from Sirius XM Holdings Inc. (SIRI) - Get Report , which agreed to buy a 19% stake in Pandora for $480 million. Despite amassing a service with some 80 million monthly users of its free ad-supported radio service, Pandora has posted losses in each of the past nine quarters.
The moves follow an unusual yearlong courtship between Pandora and Sirius, whose executives mixed applause for the radio internet service with condemnation of acquisitions and product launches. Greg Maffei, who is both chairman of Sirius and CEO of its parent, Liberty Media Corp. (FWONA) - Get Report , often chided Pandora's management for its inability to execute its business model.
Maffei was particularly critical of Westergren's decision to spend millions of dollars to launch Pandora Premium, the company's on-demand streaming service that allows listeners to pick their songs and share playlists. Pandora, he implied, was naive to enter a business already dominated by the world's largest technology companies.
In hindsight, Pandora missed the opportunity to enter the on-demand market by capitalizing on the early popularity of its radio business. Instead, Spotify Ltd., which is backed by some of the world's best-known venture capitalists, become the leader in on-demand streaming, and over the past two was joined by included Apple Inc.'s (AAPL) - Get Report Apple Music and Amazon.com Inc.'s (AMZN) - Get Report  Prime service. 
Another tech heavyweight, YouTube, a unit of Alphabet Inc. (GOOGL) - Get Report  , also allows users to pick their songs for streaming. Spotify has more than 50 million subscribers while Apple Music has more than 27 million.
Yet when Westergren, 51, returned to Pandora last year, his primary focus was on repairing relations with music labels that had often sparred with the Oakland, Calif., company over streaming fees paid to musicians and songwriters. He also was intent on providing the company with some stability after a series of management changes and questionable decisions through the reign of his predecessor, Brian McAndrews.
Ever upbeat, the boyish-looking Westergren was confident Pandora could become profitable once it ramped up its concert ticket business, Ticketfly LLC, and launched an on-demand music streaming business.
But as Pandora Premium opened for business in March, pushing listeners of its free ad-supported radio service to become subscribers, it was difficult to see how the service would ever pose much competition to Spotify or Apple Music. In May, Pandora said it had attracted about 500,000 trial subscribers for Premium.
Pandora executives suffered another black eye when the company earlier this month opted to sell Ticketfly to Eventbrite Inc. for $200 million, less than two years after acquiring the concert ticket operator in a cash-and-stock transaction valued at $450 million.
Despite its criticisms of Pandora's managers, Sirius has coveted Westergren's internet radio business given its eagerness to add more services to its satellite radio service, largely used in automobiles. Sirius grew steadily over the past decade, leveraging deals with auto manufacturers to preinstall its hardware in new cars, giving owners as much as one year of free satellite radio service.
Yet as cars become better wired with broadband, Sirius is confronting more competition for its place in the so-called connected car. Sirius is expected to integrate Pandora, leaving it less vulnerable to competition within the car from Spotify and Apple Music.
Pandora was falling 1% on Tuesday to $8.38.