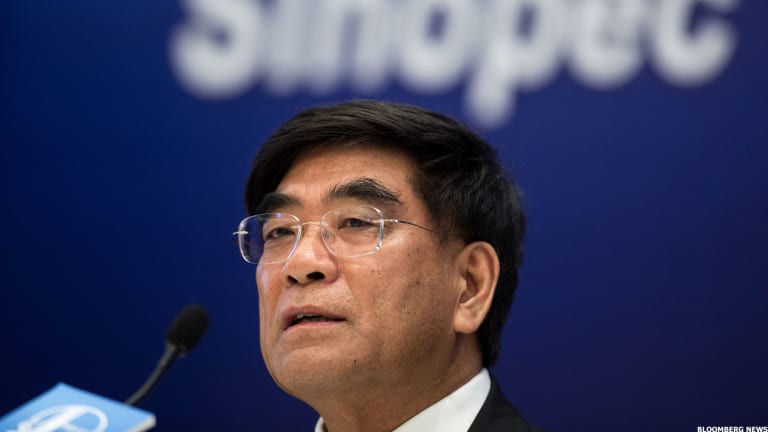 Sinopec Serves $5.5B Claim Against Repsol
The claim relating to a disastrous North Sea joint venture risks straining relationships between the oil producers which are tied together in Brazil.
Its time to add another question mark to the many hanging over the wisdom of Repsol's (REPYY) acquisition of Talisman after the former-Canadian oil group on Friday landed Spain's largest gas producer with a $5.5 billion law suit.
The claimant is China's Sinopec, which wants the cash as repayment for its investment in a North Sea oil and gas joint venture as well as for so-called lost opportunity, presumably because it has wasted money it would in retrospect rather have invested else where.
The JV was formed in 2012 when Sinopec agreed to buy a 49% stake in Talisman's aging U.K. North Sea and agreed to pay spend a further $2.5 billion over five years to extend the life of some assets and abandon others.
The investment seemed questionable at the time, when oil was trading at over $100 a barrel, but turned out to be nothing short of horrible when oil fell by as much as 75% within three years. While the profitability of the unit is not broken down in Repsol's accounts, at current oil prices of around $50 a barrel the JV is almost certainly losing cash on every barrel it pumps.
Indeed, by the end of 2014, when Repsol agreed to pay $12.9 billion for Talisman analysts had already written the value of the JV down to nothing, consigning it to just one of the many concerns they had about the acquisition of Talisman amid plunging oil prices.
Sinopec's claim is questionable at best. The investment was a decision taken freely and, presumably, after thorough due diligence that largely absolved the seller of responsibility for Sinopec's decision. On top of that Sinopec has been involved in the management of the JV for the past three years, meaning it bares at least some of the responsibility for anything that has gone wrong over that period.
Repsol doesn't seem overly concerned that it will have to pay out the cash. It has filed the claim in the corner of its accounts as "remote risk." Investors also shrugged off the news. Shares in the Madrid-based company traded Friday at EUR10.89 ($12.27), up EUR0.18 ort 1.6% on their Thursday close. Sinopec's Hong Kong listed shares closed Friday marginally higher at HK$5.16.
But there is danger beyond the risk of winning or losing the claim for both companies. Sinopec, in 2010, paid Repsol $7.1 billion for a 40% stake in its Brazilian deepwater holdings creating Repsol Sinopec Brazil. That JV is in the process of developing, and operating, three fields, which remain amongst both companies' largest ongoing capital commitments and are key to their future production growth.
Neither company stands to gain from strained relationships. Yet the tensions are already showing as Repsol made clear on Friday when it labeled Sinopec's claim "inconsistent with the loyalty to be expected from a business partner."