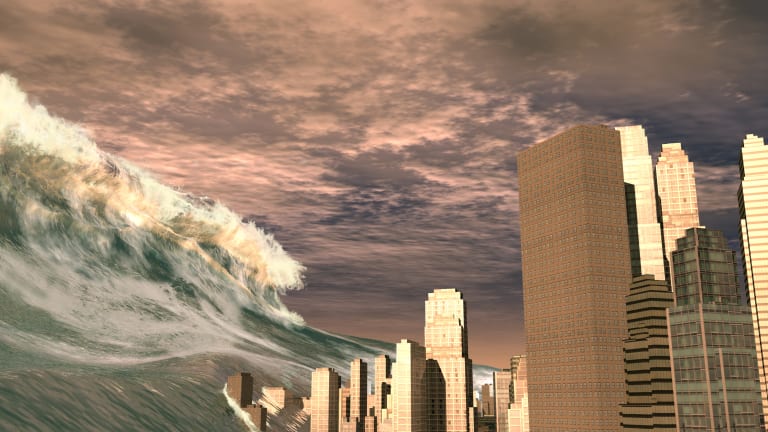 The Single Biggest Reason Trade War Fears Could Finally Topple the Stock Market
The market enters the week with worries about a global trade war running rampant. Goldman Sachs' lifting of its recession probability won't do much to ease investor concerns.
The market enters the week with worries about a global trade war running rampant. Goldman Sachs' lifting of its recession probability won't do much to ease investor concerns.
Investors are getting their wake-up call.
Don't search too far for a reason the stock market will kick off the week under considerable pressure. The reality is this: Investors for months have ignored trade war fears because they were just that -- fears that weren't materializing in corporate earnings. In fact, first-quarter earnings saw the strongest growth rates in eons. So there was no reason for investors to price trade war fears into their thinking on corporate profits.
Now that dynamic has to change with the U.S. and China trading blows that are likely to raise costs -- and hurt profit margins -- for many very large companies and their supply chains. Trade war fears are now trade war truths. Buckle up, it's going to be a long week. 
Names on TheStreet 
I caught up with Tyson Foods (TSN) - Get Report CEO Tom Hayes for an interview on TheStreet that hit on Sunday. Hayes is best-in-class. At 10 times forward earnings and Hayes trying to reshape Tyson with major acquisitions (more could be on the way within 12 months, Hayes hinted), the stock is too cheap for a long-term-minded investor. I say long-term as Tyson's bottom line will be restrained slightly -- and probably its stock will too -- over the next two quarters from inflation in feed and transportation costs.
Staying on the packaged goods theme, a note in my inbox from Wells Fargo detailed a recent meeting the analysts had with beleaguered Newell Brands (NWL) - Get Report CEO Mike Polk (unsure how he has survived given the activist campaign and poor performance; he must be a master at C-suite politics). As if often the case with these types of meetings, the analyst came away positive. Key takeaways: "We believe buybacks could begin sooner than we thought and take place before deleveraging, with repurchases potentially beginning as early as late June/early July once the Waddington/Rawlings proceeds are received;" "We see upside potential to our second half 2018 gross margin estimates driven by aggressive overhead reductions & business mix;" "The underlying business environment, albeit pressured, hasn't worsened in the second quarter."
Wells Fargo has a buy rating and $35 price target on Newell Brands...
Around the Horn 
(1) Despite an increasingly nervous market, Goldman Sachs is staying firm with several targets: 2.9% GDP growth this year followed by a 2.2% increase in 2019; a 3% gain in the S&P 500  I:GSPC to 2,850 this year, followed by a 5% rise to 3,000 in 2019. On the interesting side, Goldman has lifted its probability for a U.S. recession to 18% over the next two years from 4% within the next 12 months.
(2) Keep an eye on Action Alerts PLUS holding Goldman Sachs (GS) - Get Report ahead of a talk by CEO Lloyd Blankfein at New York's Economic Club on Tuesday. With Blankfein on his way out, this will probably be a minor news-making event.
(3) It's good to get a vote of confidence from your boss when times are tough and you aren't sure if what you're doing to position for the future is working (as the numbers suggest otherwise). In this regard, Ford (F) - Get Report CEO Jim Hackett will start the week on a positive note despite presiding over a stock that has lagged the Dow Jones Industrial Average I:DJI by 8 points the last year.
Said Ford Chairman Bill Ford in an interview with the Detroit Free Press:
"When Jim took this job, Jim was a 20-year CEO. He knows exactly what the demands of a CEO job -- he knew what he was getting into. I think he believed, and I did too, that there was no point in doing this if he had one foot out the door. If he was going to do this, he would have to go all in. And he has. Now, as part of that, are we working together to work on his succession? Yeah, of course. But that would have been true no matter who was in there. Succession is hugely important in a company like Ford because you have to always be thinking ahead. For our board, you could argue, that's their number one responsibility is to make sure that there's always a number of succession candidates. In terms of Jim's longevity, we don't really talk about it. He loves what he's doing. I love having him here. We've known each other a long, long time. There's a great familiarity. Jim has a big brain."
As I have said before, former Domino's Pizza (DPZ) - Get Report  CEO Patrick Doyle -- who has worked closely with Ford -- deserves a look. Doyle reinvented Domino's via the use of tech and given his time working with Ford has a feel for the automaker. Having gotten to know him through the years, he is also a team builder.