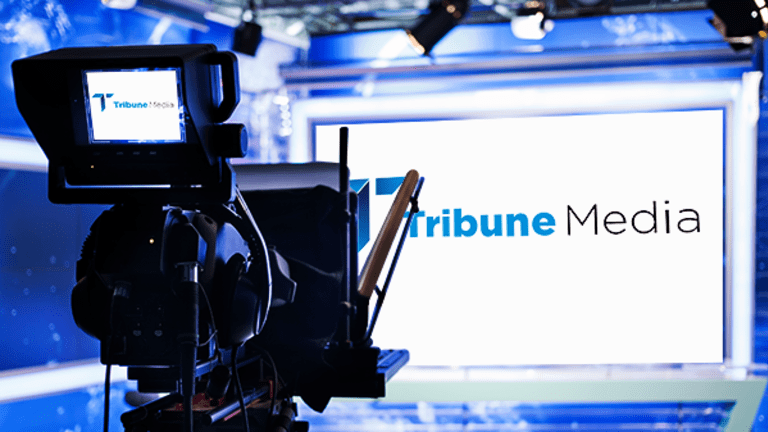 Publish date:
Sinclair Broadcast Group Said to Be Considering Bid for Tribune Media
A deal between Sinclair and Tribune and a shift in FCC rules could spur action by CBS, Nexstar and others.
A deal between Sinclair and Tribune and a shift in FCC rules could spur action by CBS, Nexstar and others.
As the FCC considers loosening restrictions on TV station ownership, Sinclair Broadcast Group (SBGI) - Get Report is reportedly considering a bid for Tribune Media (TRCO) - Get Report in the upper $30s per-share range.
Shares of Tribune gained 1.9% to $38.41 on Wednesday, and were unchanged after-hours. Sinclair increased 3% to $40.40 on Wednesday and gained another 1.4% to $40.95 after the close.
"We don't see a better buyer for (Tribune) given (Sinclair)'s diversified portfolio and size," Marci Ryvicker of Wells Fargo Securities wrote in a Wednesday note.
Tribune has a "complicated mix of assets," she wrote. The Chicago broadcaster owners or operates 42 TV stations, the WGN America cable network and the Tribune Studios programming production unit, and has stakes in Career Builder and the Food Network. Tribune was even more complex before the company spun off its newspaper division into the unfortunately named Tronc (TRNC) in 2014.
Sinclair owns or provides programming services to 173 TV stations and has a portfolio of cable networks such as the Tennis Channel and American Sports Networks, which covers college and high school sports.
Tribune has been taking a close look at its assets since February 2016. The company divested $506 million worth of real estate and sold its Gracenote digital media business to Nielsen (NLSN) - Get Report for $560 million. 
In January the Chicago broadcaster announced a $499 million special cash dividend equal to $5.77 per share. 
Both broadcasters plan on having more capital following a groundbreaking FCC auction. The process allows TV station owners to sell  TV broadcast licenses to wireless companies, with the government acting as a middle man.
Sinclair will receive $313 million from the auction and Tribune will collect $190 million. All together, broadcasters will pocket $10 billion.
TV station owners will pay especially close attention to the FCC's meeting on Thursday, as the agency considers  governing how many stations a single broadcaster can own.
Fitch analyst Patrice Cucinello suggested in a report that a merger of Sinclair and Tribune could set the table for more deals.
"CBS (CBS) - Get Report has publicly stated that it would be interested in acquiring additional television stations if there was a loosening of the FCC's ownership rules," Cucinello wrote. "Nexstar Media Group (NXST) - Get Report  closed its acquisition of Media General in January 2017 and, in Fitch's opinion, would continue to be a consolidator of TV assets."
A merger of Sinclair and Tribune would need approval from both the FCC and the Department of Justice.
The post-merger company would hold more than 30% of 21st CenturyFox's (FOXA) - Get Report TV households, Jefferies analyst John Janedis noted, and if Fox is not happy it could oppose the transfer of affiliates. "On a practical level it would be very difficult for Fox to then replace the owner in each market, but at a minimum this gives the networks a voice in the process," Janedis wrote.
So even if the FCC allows station owners like Sinclair to have larger sway, the purchase of Tribune might not be free of conflict.