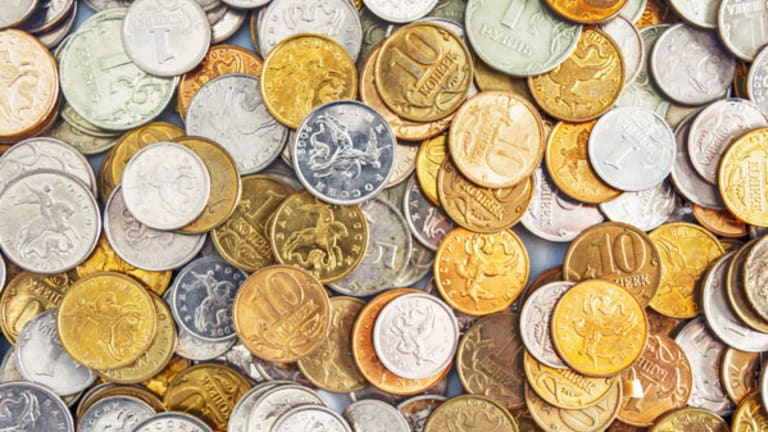 Silver Miner Gussies Up for Big Buyers
Bradford Cooke, CEO of Endeavour Silver, breaks down the company's growth and exit strategy.
DENVER (TheStreet ) -- Endeavour Silver (EXK) - Get Endeavour Silver Corp. Report is working hard to drag itself up from junior status to a mid-tier mining company in order to entice big buyers.
Endeavour Silver has two large silver mines in production with total silver resources and reserves of 59 million ounces. The company also has a "gold sweetener" with more than 250,000 ounces of gold. The miner recently announced that third-quarter silver and gold production grew 20% and 28%, respectively, from the same period a year earlier.
Shares have rallied 18% year to date and trade at a forward price-to-earnings ratio of 14.77, a discount to the industry average. Despite the fact that the company is excelling in organic growth, CEO Bradford Cooke told me at the Denver Gold Forum that his long-term exit strategy is to be bought out.
Silver producers with a $1 billion plus market capitalization include
Silver Standard Resources
(SSRI)
,
Pan American Silver
(PAAS) - Get Pan American Silver Corp. Report
,
Coeur D'Alene Mines
(CDE) - Get Coeur Mining, Inc. Report
and
Hecla Mining
(HL) - Get Hecla Mining Company Report
, but Cooke says he is nowhere near ready to sell.
Organic growth seems to be your strategy right now, are you also looking to be bought
?
Cooke
: Our first strategy was to acquire fully built and permanent mines in Mexico that were put up for sale because they had run out of ore. We've executed that strategy twice now in the last five years.
Our first mine and our largest mine is the Guanacevi mine and again it was a fully built and permanent facility that had been put up for sale for lack of ore. We came in, negotiated a purchase price and immediately invested our time money and expertise to try to find new ore. Fortunately, we were successful very quickly and we were able to restart the mine within six months of signing the contract, so six months from discovery to production.
We duplicated that feat in 2007 almost an identical concept. We bought the Guanajuato mines ... It wasn't quite as fast from discovery to production because these mines needed a lot more work, rehabilitation work, in order to access old historic reserve areas. While we were doing that rehabilitation work, we got going on exploration.
In September of 2008 we made a discovery called the Lucera discovery by drilling. Two months later we had access to that ore body from underground and in January of 2009 we were pulling ore from it so that was actually four months from discovery to production. So that' s one aspect of our business model ... that's pure organic growth right.
Another aspect of our business model
is recognizing that we are in historic districts and that we finally got these mines up and running was just the start not the end ... These districts were prolifically produced in the past but very poorly explored. That seems like a conundrum but in fact if you look at the history of mining in Mexico you'll recognize that all of these companies both historically and even in recent days really had no access to capital ... The business model for Mexican mining companies ... was everything was done out of cash flow. There was no capital market for exploration or research and development so those mines all basically survived on very little cash flow.
We have enjoyed five years of organic growth at these two mines
and now we are forecasting two more years of organic growth to get to the inherent capacity of these size of ore bodies. By 2012 we expected to be producing about 4.5 million ounces of silver, 6.5 million ounces if you count gold as an equivalent.
In the second quarter your company reported a net loss of 1 cent a share. Why
?
Well .... this is the first year we are actually expecting full-year earnings, however, our earnings are lumpy quarter to quarter. We had 3 cents earnings in the first quarter, a 1 cent loss in the second quarter, probably breakeven in the third quarter, and just like almost every other year in the last five years the fourth quarter is normally a big quarter for us because the capital expansion for the year is complete. We enjoy the benefits of higher production and lower cost in the fourth quarter.
What are you finding and development costs like
?
Well, I think all of the costs in the industry have cost pressures, principally labor ... You know, its steady as she goes. Typically as the price of the metal rises you'll see that the costs chasing the metal price up.
So do you need to combat them at all
?
Well, we fight back by economies of scale by focusing on growth, by growing our two existing mines and looking for either finding or buying our third mine. We should be able to enjoy the economies of scale, for instance our cash costs two years ago were $9 an ounce, today they are in the mid-$5s. Long term, we would like to be below $5.
What are your silver and gold price targets then for the long term
?
I consider myself a modest bull in the precious metals. However, we are in a precious metals cycle. It started for gold in March of 2001 and for silver in November of 2003. If you look at the average life span of a precious metals cycle, the bare minimum in the last 200 years was 10 years and the average is 18 years so I think we have many years left in this cycle.
My short term for this year is that we've already seen a very healthy run-up in the price of gold and silver this year ... time for a pullback. We're way overdue for a summer correction which is part of the seasonal pattern for the precious metals ... I'm not expecting a crash or a major correction or anything like that. But these metals are overheated. They need a few weeks off to consolidate their gains. And then my forecast for the rest of this year is actually quite bullish. I think we are going to see new highs on both metals this year.
Going forward ... I think it's reasonable to assume that we will surpass on the gold side the constant dollar peak registered in 1980 which for today would be about $2,300, $2,400 gold and on the silver side I think we'll get back to that $50 peak. I don't think it will be this year or next year but I think within three years it could be very doable and typically these things move in cycles.
So if you see that run-up that might mark the end of this phase of the market. When gold made its move in the (19)70s from $35, it took a run all the way to $800 but when it came back it didn't come back to $35, it came back to $250. So that's the type of move I'm expecting from the $250 base in March of 2001. We could see a run to $2,500 maybe even $3,500 but where will the base be? Might be somewhere between $1,200-$2,000.
So what are some changing trends you've noticed in the silver community
?
When the silver market first got going in earnest in late 2003, it was very much fundamental supply and demand driving the market. For many years post WWII there was a huge above ground silver inventory because silver, being the world's best known natural conductor of electricity, was hoarded for the war effort.
Now there are two countries actually that have the biggest stock piles of silver -- China and the U.S. It literally took decades to slowly but surely draw down those above ground inventories. That move in silver in late 2003 marked inventories falling from years of supply to weeks of supply and that's why the price took off at that time.
All the while in the last decade and a half we've seen a boom of electronic instruments and, of course, anything electronic does have
small amounts of silver ... The price of silver does not affect the price of an electronic gadget, a TV, a cell phone, what have you, but I can assure you the price of silver is affected by the number of electronic gadgets. If you look at the electronic growth year on year back around 2002-2003 it was about 24%. Now that's faded into the background in recent years. In particular investment demand has outstripped fundamental demand both in gold and silver and the reason for that is simple: both of these are precious metals for a reason, they have been historically for thousands of years. They can be used as money, we forgot that.
Nobody needed gold and silver as money in the boom times in the 70s, 80s and 90s, but a lot of those boom times were built off of borrowed money, other's peoples' money. Now other people want their money back. I'm talking about U.S. debt in particular. How does that reconcile itself? Through the printing of money to settle debt and that means that if you're looking at a rising gold and silver price, you're really looking at a falling dollar, a falling euro.
So what does $1,300 gold mean for your company
?
Thirteen hundred dollar gold means just the next step on the path.
What's the No. 1 trend you are noticing coming out of the Denver Gold Forum
?
Well short term, it's a very bubbly environment -- a lot of optimism and that's usually a sign that we're due for a correction, a short-term correction. But also if you look at the fundamentals and talk to the senior investors in the sector there's lots of time left in this cycle, lots of opportunities left in this cycle.
--
(SYMBOL) by Alix Steel in
New York.
>To contact the writer of this article, click here:
Alix Steel
.
>To follow the writer on Twitter, go to
.
>To submit a news tip, send an email to:
.
Disclosure: TheStreet's editorial policy prohibits staff editors and reporters from holding positions in any individual stocks.