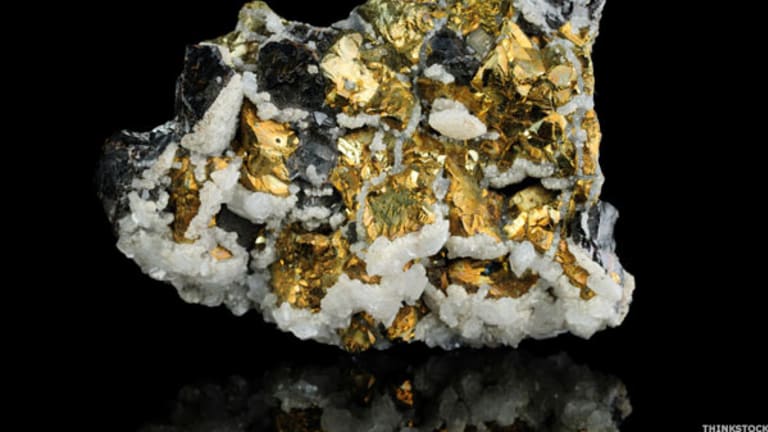 Silver, Gold Prices Settle Off Highs
Gold and silver prices were volatile Monday as they backed off early morning highs.
NEW YORK (
) --
and
had a bumpy ride Monday as profit taking and a recovering U.S. dollar capped recent highs.
Gold for June delivery added $5.30 to settle at $1,509.10 an ounce at the Comex division of the New York Mercantile Exchange. Gold was backing off from its recent record of $1,519.20. Physical buying rose slightly with the spot gold price adding $6, according to Kitco's gold index.
Silver prices had been close to conquering their record high of $50 an ounce
Monday, adding more than $3 to $49.82 an ounce. This 6% plus daily move for silver was sizable, and silver couldn't hold it. The metal settled up $1.09 to $47.14 an ounce.
Silver has been particularly volatile Monday. As the metal approached $50, buy orders were triggered where traders automatically bought silver at a pre-determined price, but the steep move also ignited profit taking. Also adding to silver's volatility were those traders betting against the metal's recent rally.
Because precious metals can see corrections of 10%, which would bring silver back to the $43 level, many traders and analysts have been calling for a selloff. The assumption of a selloff has led traders to short the metal who had been forced to forfeit those positions and buy silver at much higher prices. The shorts got lucky with today's intra-day selloff but the bulls led silver to the close.
Vote: Where will gold prices finish in 2011?
Scott Redler, chief strategic officer at T3Live.com started shorting silver last week, "I am still net short and I
was getting hurt into this parabolic move ... do not get excited and buy into silver."
Redler trades the
iShares Silver Trust
(SLV) - Get Free Report
which added 106 tons last week as investor demand ballooned, and added to his short position at the open.
Vote: How High Will Silver Prices Go in 2011?
Silver could also be experiencing a knee-jerk reaction as the metal almost touched $50. "The first time around is always great to get short because you can stop yourself out," says Mihir Dange, trader at
Arbitrage
. "I am looking for a pullback before silver attempts to make another high." A similar pattern could emerge if silver makes a run for a new record.
Although technical trading was playing a big factor Monday, a weaker U.S. dollar has been the most recent catalyst. The U.S dollar index was 0.14% lower at $74, recovering from a deeper selloff earlier this morning which has added to volatility in the metals.
The dollar has been suffering recently as investors worry the U.S. government won't be able to control rising debt and that the currency will continue to lose value.
The dollar's recent slide has also prompted China to hint at diversifying its reserve holdings away from the dollar. The state owned newspaper, Xinhuanet.com, reported that the chairman of
China Everbright Group
, Tang Shuangning, said "the amount of foreign exchange reserves should be restricted to between $800 billion to $1.3 trillion US dollars." As of February 2011, China lent $1.2 trillion to the U.S. alone.
If China reduced its foreign exchange reserves, gold and silver would be leading candidates to take their place.
The dollar will also take its cue from Ben Bernanke's press conference Wednesday following the Federal Reserve's two-day FOMC meeting. No policy change is expected, but investors will be looking for signs as to how the Fed will exit its easy money policy when QE2 runs out in June.
Imaru Casanova, equity research analyst at MLV & Co., says that the Fed won't tighten but that the market could see the end of loose money "that necessarily doesn't mean that the metals will crash down .... Eventually we are going to see higher inflation."
Casanova sees a 2.5% annual gain on gold until 2030 based on the forward curve in the futures market. "Gold has typically traded in a contango," that is where the spot month trades lower than contracts further out.
"
It is shallow in the first couple of years and then steepens ... why should I assume that gold is going to trade at a lower price than it is trading now if the market suggests that it trades in contango." Casanova is conservative in her gold estimates with her average gold price target for 2011 at $1,400, although "I do think it could go higher by the end of the year."
In terms of silver, Casanova is more conservative predicting that the gold/silver ratio will rise to 55 in 2011 and 60 after that, echoing the average for the past 10 years; currently the ratio is 30. "That assumption assumes that silver will eventually come down ... that might be too bearish on silver ...
but I tend to think gold and silver should trade equally .... Silver has a much higher chance of starting to trade down."
Casanova recommends buying gold and silver on weakness, that gold could still see a $30 selloff, but that the real value is in gold stocks. The sector hasn't lived up to its 2 to 1 leverage promise but if gold miners report higher cash flow and better earnings this season, "the market should react to that ...
the stocks aren't looking that expensive."
, a risky but profitable way to
, were trading mostly lower.
Barrick Gold
(ABX)
was falling 6.53% to $52 after the company announced its intention to buy
Equinox
for 8.15 Canadian dollars a share, an 30% premium based on Thursday's closing price on the Toronto exchange. Barrick was the last big gold miner to resist making an acquisition and had $4 billion in cash at the end of the fourth-quarter. Barrick will report earnings on Wednesday.
Equinox will give Barrick 100% ownership over the Lumwana copper mine in Zambia and over the developing Jabal Sayid copper-gold project in Saudi Arabia. The Lumwana mine has measured, indicated and inferred resources of 905.6 million tons of copper. The acquisition would double Barrick's copper output.
Barrick is planning to produce between 7.6 million and 8 million ounces of gold in 2011 at cash costs of $450-$480 an ounce. More impressively, CEO Aaron Regent wants Barrick to produce 9 million ounces of gold in the next 5 years.
The bigger a miner gets the harder it is to grow but Lumwana's massive copper reserves will make it cheaper to produce an ounce of gold, using the copper sales to offset the cost, and the acquisition also expands its gold concentrates with the Jabal Sayid project. If Barrick, however, sells copper on its own, then the company would no longer be a pure gold play.
Leo Larkin, metals and mining analyst at
Standard & Poor's
, has a buy rating on the stock and wrote "while the proposed merger would somewhat lessen ABX's appeal as a pure gold play, we do not believe that it plans to become a diversified miner."
Other gold stocks were also struggling.
Eldorado Gold
(EGO) - Get Free Report
was down 2.33% at $17.64 while
Harmony Gold
(HMY) - Get Free Report
and
Yamana Gold
(AUY) - Get Free Report
were trading at $15.27 and $12.69, respectively.
--
Written by Alix Steel in
New York.
>To contact the writer of this article, click here:
Alix Steel
.
>To follow the writer on Twitter, go to
.
>To submit a news tip, send an email to:
.
Disclosure: TheStreet's editorial policy prohibits staff editors and reporters from holding positions in any individual stocks.