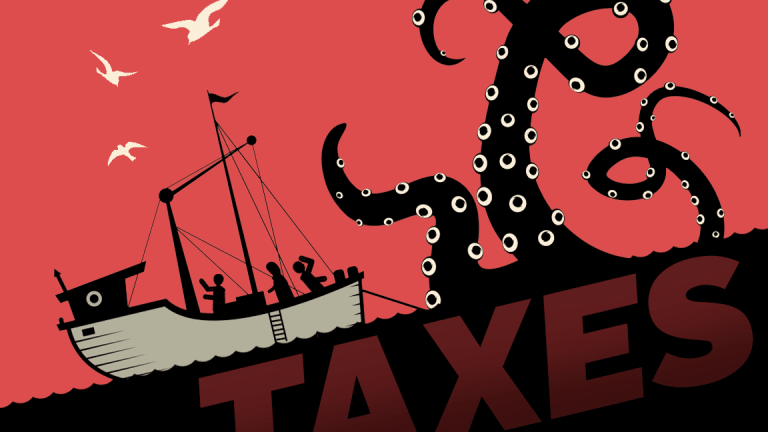 Why Tech Firms' Big Tax Breaks Are a 'GILTI' Pleasure
In 2018 companies will pay 10.5% of their foreign profits on what is dubbed global intangible low-taxed income, or GILTI, as opposed to the 21% rate imposed on U.S. profits.
Silicon Valley scored some wins in the Republican tax package. But tech companies will still have to navigate changes to the code -- and diminishing benefits -- in the years to come.
The headline is that Apple (AAPL) - Get Apple Inc. (AAPL) Report , Microsoft (MSFT) - Get Microsoft Corporation (MSFT) Report , Cisco (CSCO) - Get Cisco Systems, Inc. Report and others can bring back cash earnings at a rate of 15.5% rather than the prior rate of 35%. As of year's end, Moody's Investors Service estimates, the three will have $265 billion, $137 billion and $70 billion, respectively, in cash held outside the U.S.
"The tech sector has a significant win with respect to the fact that it can bring home its cash related to profits," said Channing Flynn, an International Tax Partner at Ernst & Young LLP. "They got what they wanted."
Profits that are held in cash get different treatment than profits that have been invested in, say, constructing a building. "Let's say a U.S. company with a foreign subsidiary has $100 in profits," Flynn said. Of that, $20 is held in cash and $80 is invested in illiquid assets."On the 20 of cash you're going to pay 15.5%," Flynn said. "On the balance, the 80% of earnings ... that aren't cash, the tax on that is 8%."
Next year, the rules change. Companies could pay a tax of up to approximately 10.5% on what is dubbed global intangible low-taxed income, or GILTI, if they pay no tax to a foreign government.
If a company pays about 13.125% or more in foreign tax, however, it receives a credit that would wipe out any residual tax in the U.S. "Of course, U.S. international taxation is complicated, but this is pretty much the new regime in which U.S. [multi-national corporations] operate," Flynn said. "For U.S. domestic income and other income not subjected to the above new rules, the top corporate rate is now 21%." Companies also pay state income taxes.
"The government, in a very sardonic way, said all of your income that you earn overseas you must feel guilty about," Flynn said, "because they labeled this new bucket of income GILTI."
The penitent feeling may abate, however, as the overseas tax rates will increase in the coming years. "The consequences for tech is they have only been given these super low rates for a little bit of time and they creep up, which I think for tech or any industry is not really great tax policy but the government had to balance the budget," Flynn said.
"Will that cause a slowdown in the industry?" Flynn asked. "I don't know the answer to that."
The industry survived a scare with the treatment of stock-based compensation. Startups have long used stock to entice skilled employees who could make a higher salary working for an established company. 
"In the original proposed bill, the House of Representatives had suggested taking stock compensation away from tech companies by limiting the ability of a company to deduct it and limiting the ability of the employee who received it to defer it from income," Flynn said.  
Stock compensation was a "cashless tool" that tech has used to for 30 years in Silicon Valley and other tech enclaves to provide incentives to workers, he added. "It's a huge win," he said.  
While investors and companies sift through the details of the tax cuts, Flynn suggests that there is a larger question. 
"Our government gave us a tax stimulus package at a time when one wasn't really needed," he said, noting that tech companies have not exactly been hurting for cash.
"The government pulled a lever to give them this cash but I don't know of any tech company in the U.S. that was struggling to advance its growth agenda because it didn't have access to funds," he said.
Whether Apple, Microsoft, Cisco and the rest of Silicon Valley needs the cash, they are going to get it. "I'm curious as to how great our economy gets in tech as a result," Flynn said. 
Apple and Microsoft are holdings in Jim Cramer's Action Alerts PLUS Charitable Trust Portfolio. Want to be alerted before Cramer buys or sells AAPL or MSFT? Learn more now.
More of What's Trending on TheStreet: