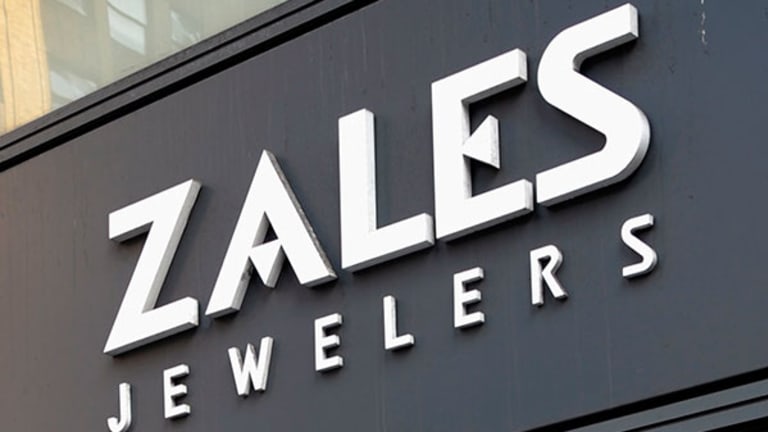 Signet, its Results Sagging, Announces Capital Infusion From Leonard Green
Signet posts disappointing quarter, and tries - seemingly ineffectively - to blunt the fallout with the announcement of an investment from noted retailer investor Leonard Green.
Signet Jewelers (SIG) posted second quarter results Thursday that showed sales fell in the period, and cut its outlook for the balance of the year, while trying to offset some of the fallout from the disappointment with the announcement that it has attracted an investment from noted retailer investor Leonard Green & Partners.
With the stock trading off nearly 13% at just under $83 a share - near its recent lows for the year - it's not clear of the extent to which the capital infusion announcement blunted the fallout from the results.
Signet has always carried some measure of controversy. It's occasionally been described as a subprime lender masquerading as a jewelry retailer, because of the extent of its lending to customers who want to buy the company's jewelry products on credit. To be sure, the extent of it's bad loans - less than 4% - would compare with the levels of credit card lenders.
There have also been allegations lodged against the company that it's ripped off customers by replacing gems in items brought in for servicing with lower-quality stones. The company said the complaints are a fraction of the 4 million products it services each year, and that it deals with any such complaints with individual customers.
Nevertheless, there are some suggestions that the adverse publicity regarding the allegations may be slowing traffic and sales at the company's stores. Sales at its Jared the Galleria of Jewelry stores retreated 7.6% in its fiscal second quarter.
Perhaps in an attempt to offset the fallout, Signet, which also owns Kay Jewelers and Zales, said it would add $625 million to its buyback program. That's the amount that it's receiving from Leonard Green & Partners.
The investment from Leonard Green, a noted investor in retail brands, comes in the form of convertible preferred shares. The transaction is expected to close in the current quarter.
The investment affords Leonard Green a 5% dividend, and the promise that the convertible preferred shares can be exchanged at an 18% premium to where Signet stock has traded - with some terms and conditions associated with the agreement - after a two-year lockup, though the exchange rate is capped at $100 a share.
Leonard Green declined to comment on the investment.
There's been a measure of expectations that Signet shares were poised to tumble, and the doubters, for the most part, have been rewarded. The short interest in the stock has risen dramatically over the course of the last year, and the stock has responded in the fashion the skeptics have anticipated: shares were down 23% for the year before Thursday's tumble. The stock traded at more than $150 a share as recently as October.
Other retailers typically farm out their credit operations to third party vendors. In fact, Zales, which Signet purchased in 2014 for nearly $1.5 billion, has outsourced its credit operations. But Signet's other jewelry lines, which, in addition to Kay and Jared include Peoples and Piercing Pagoda - making the company's brands mainstays in malls across the country - offer customers the option of financing their jewelry purchases through an operation called Sterling Jewelers. That business has accounted for as much as one-quarter of Signet's profits in some quarters.
Signet has said that it has been reviewing options for its financing business, a position it reiterated Thursday in an email response to The Deal's inquiries.
There have also been issues with Signet's accounting methods regarding its warranty offerings, with some critics saying that the company's approach, called the "recency method," allows it to book the revenue from such warranties too quickly.
Signet's sales had been expected to rise incrementally, supposing to show a gain of 1%. Obviously, like all jewelry retailers, the company is heavily seasonal, with its sales patterns trending with holiday occasions, so second quarter results aren't typically the better-performing period. Nevertheless, Signet, as a whole, recorded a 2.6% decline in sales.
Its profits fell well short of estimates - $1.14 a share versus forecasts of $1.45.
Retailers often have inventive reasons for sales shortfalls. Weather is a common obstacle. Sometimes it's too hot. Others, too cold. Days of the week have been known to ruin restaurants' quarters. National tragedies that keep prospective shoppers on their couches watching the news have had adverse effects on retailers' sales.
Signet blamed low oil prices. Apparently wildcatters aren't springing for baubles with their customary gusto.
As part of the agreement with Leonard Green, one of the firm's managing partners, Jonathan Sokoloff, will join the Signet board, which expands to 11 members from 10. In a press release, Sokoloff called Signet "an outstanding company."
In its response to our inquiries, Signet said, "What we therefore get from the transaction is not capital, but the experience, resources, financial acumen, and retail expertise that Leonard Green brings to the table. Having a large owner with skin in the game and their skill set will strengthen our board and add a tremendously valuable perspective as our business model continues to evolve."
J.P. Morgan Securities acted as financial advisor and Weil, Gotshal & Manges LLP acted as legal advisor to Signet. The Weil team was led by Michael Aiello, partner, who was assisted by Naomi Munz, Dov Kogen, Dening Kong and Brennan Gumerove.
Guggenheim Securities acted as financial advisor and Latham & Watkins acted as legal advisor to Leonard Green & Partners. The Latham team was composed of partners Howard Sobel, Jason Silvera and Gregory Rodgers, and associates Jordan Miller, Arash Aminian Baghai and Caitlin O'Brien, according to the firm.