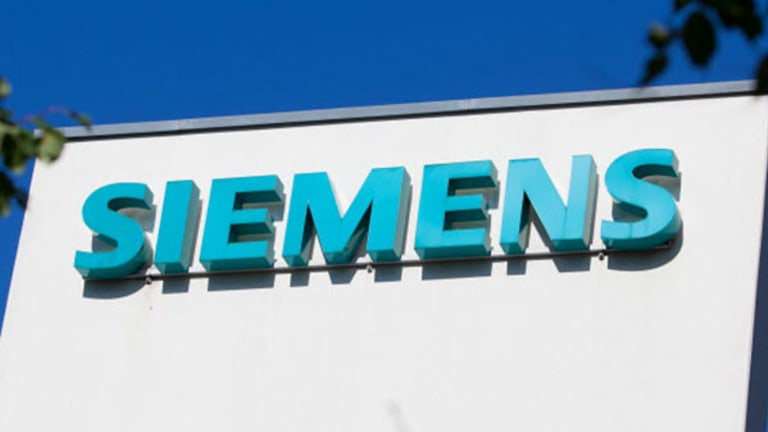 Siemens Rises on Strong Third-Quarter Earnings
Europe's largest engineering group beats analysts' earnings expectations and raises its full-year outlook.
German engineering group Siemens (SIEGY) (SMAWF)  on Thursday announced good third-quarter growth in its order book, an above-forecast 20% increase in profit in its industrial business to €2.19 billion ($2.44 billion) and a positive full year outlook.
"My global team [...] delivered excellent performance, especially with regard to growth, in an increasingly difficult market environment," said Siemens President and CEO Joe Kaeser, in a statement.
The shares were up 3.2% at €99.80 in early trading in Frankfurt.
Munich-based Siemens raised its earnings outlook for the year after beating analysts' estimates for industrial operations profit. Analysts had predicted an average of €2.09 billion, according to a Bloomberg survey.
But it conceded that foreign exchange issues had knocked three percentage points off growth in profit and four percentage points off growth in the value of new orders. It said net profit for the three months from April to June was almost unchanged from the third quarter of its last fiscal year at €1.37 billion. Revenue was slightly below analysts' estimates at €19.8 billion, though still a healthy 5% up on the third quarter of 2015.
The big drivers of growth were large orders in Europe and the Americas, particularly in the power and gas, wind power and renewables sectors. But the company said that market headwinds continued in its process industries and drives segments.
Siemens said it raised its earnings per share outlook for the full October-to-September financial year from a range of €6.00 to €6.40 to a higher, but narrower, range of €6.50 to €6.70.