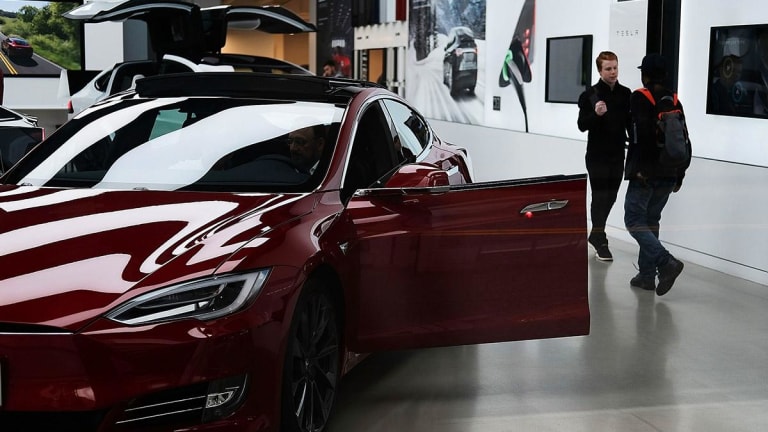 Should You Buy the Weakness in Tesla on Big Delivery Miss?
Tesla stock is falling more than 8% after deliveries came up short. Here's where the stock price needs to hold now.
Tesla stock is falling more than 8% after deliveries came up short. Here's where the stock price needs to hold now.
Shares of Tesla (TSLA) - Get Report are taking a beating on Thursday. Shares quickly fell about 10% near the open, but close lower by 8.2% at $267.78.
What's driving this miss, with shares of Tesla threatening to breakout just a day prior? The automaker reported first-quarter delivery results that failed to wow Wall Street. In Q1, Tesla says it delivered just under 51,000 Model 3 sedans, widely missing consensus expectations of 58,900. Model S and X shipments came in at 63,000, a decline of 31% from the fourth quarter.
It's been a tough -- but potentially exciting -- quarter for Tesla. The automaker introduced the Standard Range Model 3 at $35,000 and began Model 3 shipments to China and Europe. While exciting news for the company, the move has risk and potential opportunity written all over it. Tesla hit several shipment snags in its first few attempts to ship to these markets, as the Model 3 is produced in Fremont, CA.
Because a large number of these vehicles were still in transit at quarter end, the deliveries number fell quite short of analysts' expectations. That puts extra importance on the second quarter. If these numbers come in far stronger than expected, then the bullish story still has legs. However, if Tesla can't work through some of these logistic headaches in Q2, there could be an issue.
The bears are jumping on the news, driving shares lower and view this as just another nail in the coffin. Bulls believe this is a one-quarter hiccup and it will be back to business as usual in the second quarter. After all, the Model 3 is going global and management reiterated its guidance for 360,000 to 400,000 deliveries for the year. Analysts are more cautious after the results.
Tesla Stock Price
Another tough realization in the first quarter? Because Tesla entered March below $359.88, it could not pay back its convertible debt with a mix of cash and stock. As a result, it had to pay back $920 million in cash, which put a further strain on its balance sheet. The less cars it delivers, the less cash it receives and that only strains the balance sheet even more. As a result, it's no surprise to see its stock price under pressure.
On Wednesday, shares rallied to the 50-day moving average and downtrend resistance, but pulled back during the session. The disappointing delivery update timed up perfectly with the chart, as Tesla stock promptly failed again at resistance.
The $250 to $260 range has been vital support Tesla stock. While he stock is bouncing from this spot so far on Thursday, but it's not out of the woods just yet. If Tesla takes out its lows from last month, $248 to $250 is on the table. Below that would spell trouble for the bulls.
Will I Have Enough Money to Retire?
Want to learn about retirement planning from some of the nation's top experts? Join TheStreet's Robert "Mr. Retirement" Powell live in New York on April 6 for our Retirement Strategies Symposium. For a limited time, tickets are available for $99 for this full-day event. Check out the agenda, learn about the speakers and sign up here.
This article is commentary by an independent contributor. At the time of publication, the author had no positions in the stocks mentioned.