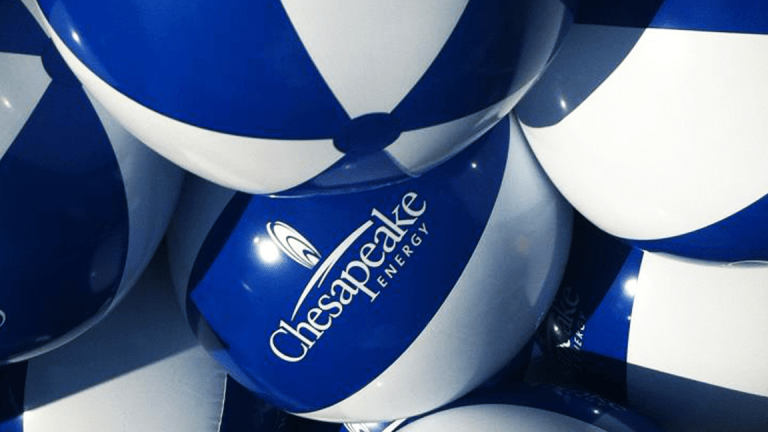 Should You Buy Chesapeake Energy Like This Insider?
Chesapeake Energy saw a 26% gain on Wednesday after its chairman bought more stock. Is the bottom in?
On Monday, the stock market experienced its worst Christmas Eve trading session ever. Following the holiday, U.S. stocks bounced back on Wednesday in what was the best post-Christmas trading sessions ever.
While we saw a 1,000 rally in the Dow Jones, a 5% bump in the Nasdaq and a near-10% rally in names like Amazon (AMZN) - Get Report , few outperformed Chesapeake Energy (CHK) - Get Report . The struggling shell of a company bolted higher by more than 26% on Wednesday.
The move came after Chairman Emeritus Archie Dunham bought 2.1 million shares of stock, good for more than $4 million. The investment nearly doubled his position in the name, giving him ownership of roughly 1% of the company. Shares of Chesapeake were down just 0.5% a day later on Thursday, following the 2% decline in oil and despite the 1% bounce in natural gas prices. The late-session bounce in U.S. stocks -- with all three major moving averages now positive for the session -- helped give Chesapeake a lift into the close.
Shares are still climbing Friday, up 3.2% to $2.28 in the first half hour of trading. 
Dunham argued that he is a very long-term investor in Chesapeake. After a big swoon like this -- were the stock fell about 40% for the month of December before Wednesday's rally -- he reasoned that it "would be foolish not to take advantage of it."
Trading Chesapeake Stock
Dunham might consider Chesapeake stock a buy at this point, but not every investor is looking out 10 to 20 years from now. Heck, some aren't even looking out one to two years, with many investors using even shorter timeframes than that.
Above we have a three-year weekly chart, which shows the acceleration lower over the past few months. Just earlier this quarter, Chesapeake was trying to breakout over $5. Now it's fighting to stay above $2.
Should it break back below prior downtrend resistance (blue line), we could get a further decline in Chesapeake stock. That may bring it back down to its February lows near $1.50. If it can rally, I want to see Chesapeake get back to the 10-week moving average and if possible, $3 per share. While it's a wide range, this gives investors a few different levels to shoot against whether they are playing the name long or short. 
This article is commentary by an independent contributor. At the time of publication, the author had no positions in the stocks mentioned.