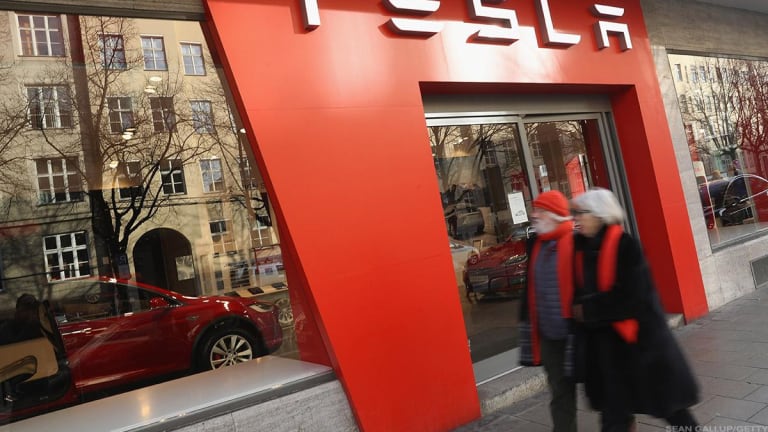 Should Tesla Have Looked Outside the Company for Its New Chair?
Tesla is hiring Robyn Denholm, one of its board members, to serve as chair.
Tesla is hiring Robyn Denholm, one of its board members, to serve as chair.
After tweeting that he planned to take Tesla (TSLA) - Get Report private, CEO Elon Musk was quickly engulfed in controversy.
It led to an investigation for fraud by the Securities and Exchange Commission -- or the "Shortseller Enrichment Commission," if you ask Musk; it ended with him accepting a settlement. Part of that settlement forced Musk to relinquish his role as chair of the company for three years.
Thursday at almost 2 a.m. ET, news broke of Tesla's new hire, that's 11 p.m. on the West Coast headquarters. Still, it's an odd time of day to announce such a significant title as chair. 
Tesla said Robyn Denholm would take the role. She currently serves as the finance chief and head of strategy at Telstra, an Australian telecom company where she has now put in her six-month resignation notice. She also sits on Tesla's board of directors.
Shares are up about 2.5% to $356 in Thursday morning trading, but it begs the question, should Tesla have gone outside of its company to bring in a new chair?
Reason to Go Outside of Tesla
For better or for worse, Tesla hasn't really done well in the personnel department when it comes to adding outside members to its team. Specifically, it's a bit of a revolving door at the company, as one can see in the graphic below. The C-suite, in particular, is a bit thin and Musk could surely use a competent COO to help shoulder some of the burden.
In any regard, bringing in a rockstar chairman could have been the first step in reshaping its leadership team. 
For a lack of better terms, Tesla has a less-than-ideal financial situation and at times, has run into credibility issues. This would have been a great time to bring in a well-known name, either from Silicon Valley or the auto industry. Names like Alan Mulally, formerly with Boeing (BA) - Get Report and Ford Motor (F) - Get Report , Facebook's (FB) - Get Report Sheryl Sandberg, or one of Alphabet's (GOOGL) - Get Report (GOOG) - Get Report prior leaders like Eric Schmidt or Larry Page, may have been too "big time," but there are a number of well-known players who could have stepped into the role and made a splash for Tesla. 
It would have been a perfect opportunity for Tesla to bring in a fresh perspective and an outside force to help to keep Musk in check.
Alphabet, Facebook and Apple are holdings in Jim Cramer's Action Alerts PLUS member club. Want to be alerted before Jim Cramer buys or sells GOOGL, FB or AAPL? Learn more now.
Reason to Pick an Insider
All that said, Tesla is far from a traditional company. It's had trouble retaining C-suite talent and the last thing the automaker needs is for its newly-named chairman to step down in 6 to 12 months.
Further, Denholm has served on Tesla's board since 2014, so she understands plenty well how Musk and Tesla operate. The fact that she serves as CFO at her current company is also comforting to investors, who hope she will alleviate some of the automaker's financial burden.
On the checks-and-balances front, shareholders want someone who will help keep Musk in check, but not try to boot him out. As much as a "rockstar" might have been cheered by Wall Street, it could have put too much ego in the room. The last thing investors want is the chairman trying to wrestle control away from Musk or creating a Steve Jobs situation, where he was forced out of the very company he founded in Apple (AAPL) - Get Report .
The Winner Is...
"I believe in this company, I believe in its mission and I look forward to helping Elon and the Tesla team achieve sustainable profitability and drive long-term shareholder value," Denholm said.
And that's that. Tesla opted to promote from within and that's not too surprising based on its past hires. They could have brought in an outsider and attempted to bolster its image and reputation. But hiring Denholm isn't a shot against Tesla's reputation. Further, the hope is that she can bring a lot to the table in terms of her financial prowess without rocking the boat from a management standpoint.
In that sense, Denholm as chairman checks a lot of boxes.
What Are "Closed-End" Mutual Funds and How Do They Fit into Savvy Investors' Portfolios?
to register for a free online video in which TheStreet's retirement expert Robert Powell and an all-star panel run down all you need to know.
This article is commentary by an independent contributor. At the time of publication, the author had no positions in the stocks mentioned.