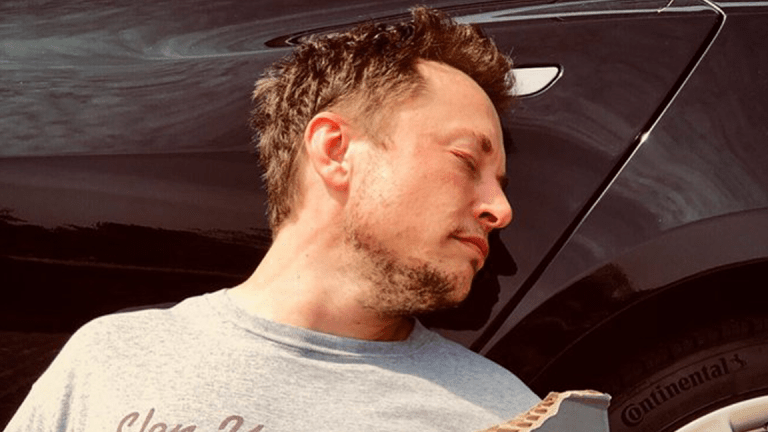 Should Tesla Actually Fire Elon Musk?
Elon Musk's comments over the weekend may put the Tesla board of directors in a pickle.
In a since-deleted post on Twitter (TWTR) - Get Twitter Inc. Report , Tesla Inc.  (TSLA) - Get Tesla Inc. Report CEO Elon Musk made some rather disparaging remarks regarding a British cave diver who aided in the rescue of 12 boys trapped in a cave in Thailand.
Taking a quick step back, after some call-to-action on Twitter, Musk said he would try to assist in the dangerous cave-dive rescue. He had some of his top engineers design and test a miniature submarine that could hold one of the children while professional cave divers guided it out to safety. Although the capsule was flown to Thailand, it was never used.
While Musk has provided proof that the project was encouraged by and coordinated with those on the rescue team, many others have seen Musk's actions as a PR stunt. That is essentially what the diver, Vern Unsworth, said of Musk and his rescue efforts; that all of it was a coordinated PR stunt, in his view.
That raised some eyebrows, but not quite as high as when Musk retorted on Twitter, saying, "You know what, don't bother showing the video. We will make one of the mini sub/pod going all the way to Cave 5 no problemo. Sorry pedo guy, you really did ask for it."
More on Tesla's Future From TheStreet
To a tweet that criticized Musk for calling the diver a pedophile, Musk responded with, "Bet ya a signed dollar it's true."
So this obviously has people in the Tesla community talking. I don't personally know Musk and the same can be said of Unsworth. However, that's a pretty serious claim to make on Twitter and in what was probably a smart move, Musk has since deleted the tweets.
But the rocks have been thrown and the damage has been done. Unsworth has said the matter is not over as he weighs whether to sue Musk for his remarks.
What Now for Tesla and Musk?
All of this brings up the question of whether the Tesla board of directors should do anything to Musk at this point. Various users on Twitter, Reddit and elsewhere have questioned how the board can continue to back the CEO and co-founder. Others have asked whether Musk should be removed from the CEO role as a result.
At this point, though, that seems pretty unlikely. While theoretically it's possible, what would become of Tesla without its leader? Papa John's (PZZA) - Get Papa John's International Inc. Report clearly showed how it would handle the non-acceptable remarks from its chairman and founder. But would Tesla do the same?
I'm not defending Musk's comments or putting him up on some kind of pedestal. But this guy owns almost 34 million shares and is the largest shareholder among both individual and institutional stakeholders. At the company's recent annual meeting last month, shareholders overwhelmingly supported Musk staying on as both chairman and CEO of Tesla.
Say the headline tomorrow read: "Musk Resigns From Tesla Board, CEO Role."
The stock would be hammered and there's no getting around that. The idea that someone else could run Tesla is certainly plausible. In fact, bringing in a new leader would be far from the worst idea. But Musk would need to stay with Tesla in some capacity -- he is the magic that has helped elevate Tesla to where it is now. And truth be told, there's no changing that. Without him, much of the luster is lost. 
That doesn't mean the board won't call for change or shouldn't publicly condemn the comments. Some of them could step down if they wanted to. 
What was a great story of overcoming great odds in a story that gripped the world, is now turning a bit more sour. To be honest, the entire thing has gotten out of control. Musk has given himself two public black eyes rather than just letting things die down on their own.
Now we're left wondering if anyone on the board will step down or if there will be public pressure on them to do something about Musk. He himself has hinted about not staying on as CEO forever and his recent compensation package reflects that. But it also requires him to remain on a significant part of the company. Either way, should a shakeup ensue, this one singular event is unlikely to be the driving force. 
In any regard -- and as a large shareholder said just last week -- Musk needs to dial in and focus. And it would probably be a good idea to tone down the social media use for a while. 
Shares of Tesla are down about 3.6% to $307 Monday and are getting to a precarious place on the charts. 
This article is commentary by an independent contributor. At the time of publication, the author had no positions in the stocks mentioned.