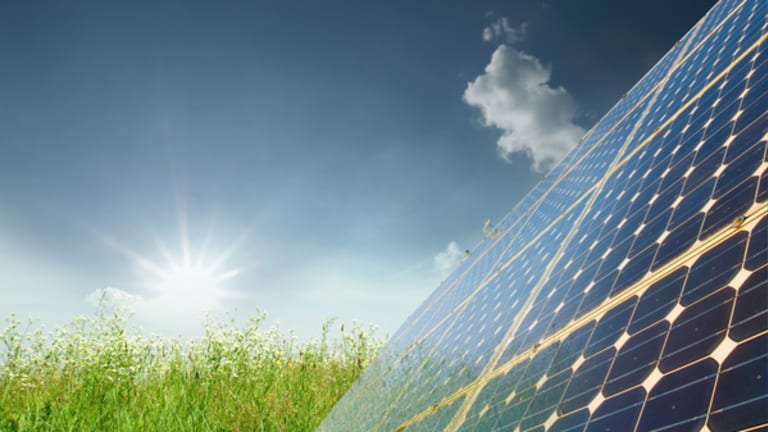 Should Solar Stocks Trade on Oil Prices?
Solar stocks, such as First Solar, often mirror bullish trading in the price of oil, but it's less than clear why this well established trading trend should be the case.
NEW YORK (
) -- You've heard the rhetoric before: a rising price of oil will shift more attention to alternative sources of energy, and that's a trigger for bullish trading in solar stocks, and clean energy stocks more generally.
In fact, investors are hearing the rhetoric again nowin. Between President Obama's State of the Union call for 80% of energy from renewable sources by 2035, to the political unrest in Egypt and the spike in crude, the solar/oil trading rhetoric is back in the headlines. Talking heads on
CNBC
will point to a rising price of oil as a reason for investors to give solar stocks a look.
Indeed, on Thursday afternoon,
CNBC
aired the latest in what's become a regular, if ad hoc, segment the past week, among all the Egypt/oil market news coverage, which more or less amounted to the statement, "Buy First Solar because of the rising price of oil." The latest talking head, Brian Stutland of Stutland Securities, said investors should take a look at the solar index ETF, also the
Claymore/MAC Global Solar Index
(TAM)
. We have not charted the performance of the Claymore/MAC Global Solar Index in this story, but it follows the same pattern as the charts included in this article: as oil moves up and to the right, so does solar.
Should this really be in the minds of investors among all the reasons to trade in solar stocks?
The facts don't support the rhetoric, but that doesn't mean the rhetoric won't support trading action.
The case can be made that the trading action linking solar stocks to oil prices was obvious this week in both directions. First, as Brent crude rose above $102 and WTI oil rose above $92 with the escalation of the political unrest in Egypt stoking fears about a Middle East contagion and Suez Canal shut down, solar shares rallied. It wasn't just the price of oil. A bullish outlook from
MEMC Electronic Materials
(WFR)
seemed to push the solar sector higher, too. Likewise, when crude prices dropped by 2% on Friday, it coincided with a weak outlook from solar inverter company
Power-One
(PWER)
and solar stocks dropped.
It certainly wasn't all about oil. A Chinese solar stock like
JA Solar
(JASO)
, for example, didn't pop on Monday or Tuesday when the Egypt crisis was in full swing, but it did pop on Wednesday after the MEMC report, and it was down not just 2% on Friday like crude oil, but close to 5%.
Vote Now About the Oil Price-Solar Stock Trading Connection
Should Solar Stocks Trade With Rising Oil Prices?
Theodore O'Neill, analyst at Wunderlich Securities, wrote a research note on Wednesday stating that
First Solar
(FSLR) - Get First Solar, Inc. Report
, as one prime example, is a stock that may sustain recent trading gains as long as the price of oil is high. First Solar rose to an 18-month high this week and as a result, was hit with two downgrades, purely based on valuation and lack of any near-term trigger to justify buying First Solar shares at the current level.
>>Put Brakes on First Solar: Analyst
It's no surprise that First Solar is often the featured solar stock in market pundit arguments in favor of a link between the oil and solar stocks. It's the darling of the U.S. solar crowd and the low-cost leader in solar holding the line for U.S. "excellence" in all things versus the onslaught of the low-cost Chinese solar companies.
The chart above illustrates that the coupling of the First Solar and oil trade is not without its merit, however, is it really a credible trade on alternative energy sentiment, or does it reflect the fact that solar stocks rise during periods when all equities rise, and oil has more recently been linked to the performance of the global equities market?
Let's come back to that question in a moment.
The Wunderlich analyst O'Neill thinks that First Solar shares will continued to be linked to oil, and as long as oil prices stay above $80, it's a good thing for the solar bellwether. "As the price of oil rises, so should the price of FSLR shares. Our analysis shows that FSLR shares trade with the price of oil because as the price of oil rises, investors assume the market will seek alternatives to generating power," the analyst wrote on Wednesday, as First Solar hit another 52-week high.
"We recognize in the near term the price of WTI spot has an overwhelming impact on the
First Solar stock. Why? Because investors view alternative forms of energy creation as becoming more cost competitive as prices of traditional energy generating raw materials increases. Indeed, if WTI were at $100 tomorrow, the model we developed to show the relationship to oil would peg FSLR stock at $197, more or less," the Wunderlich analyst wrote on Wednesday.
O'Neill says the best chart version of the oil price-dependent First Solar trade is the XOI Amex oil index (see chart above).
"Based on the XOI, FSLR stock should be trading at $158, which is about where it is right now," the analyst wrote on Wednesday. By the end of a big bullish day of solar trading on Wednesday, First Solar shares were above $164. On Friday, as crude oil dropped 2% in trading, First Solar declined by 2.6%, sending it back to the $158 mark.
A recent Goldman Sachs upgrade of First Solar, which included adding First Solar to Goldman's conviction buy list, has been among the headlines sending First Solar shares higher in the past week -- and given Goldman Sachs' global influence and its poor Main Street image, a cynic might suggest that maybe it's behind the political crisis in Egypt as a way to bid First Solar up while it and its hedge fund pals like
short the entire solar sector! This satirical market cynicism might at least have more investment logic than a straight line between point A rising oil prices and point B rising solar stock values.
Vote Now About the Oil Price-Solar Stock Trading Connection
Should Solar Stocks Trade With Rising Oil Prices?
Is trading in solar shares as oil prices rise a leap of faith on the part of investors when it comes to predicting the long case for clean energy stocks based on the short-term oil price outlook?
Pavel Molchanov, analyst at Raymond James, who covers both traditional and alternative energy stocks, said that, historically, oil has traded in an inverse relationship to the equities market. In the past few years, that has not been the case, as rising oil prices have coincided with rising equities prices. This correlation explains the rise of the price of a solar stock like First Solar amid a general equities market and oil price upswing.
The Raymond James analyst says that since the financial crisis, oil has been closely correlated to the broader market, and it's not because the equities market causes oil to be up or vice versa, but the fact that both are trading on the same macro drivers: employment, consumer confidence, the Fed policy and China, for example. Solar stocks have a link to the broader markets and are high beta plays, too.
Yet the Raymond James analyst cautions that there is no direct cause and effect between a higher oil price and solar stock performance. In November and December 2010, specifically, solar stock prices swooned, while the price of oil was rising. For the past one-year period, the MAC Global Solar Index (see chart above) was down 26%, while oil was rising, the Raymond James analyst noted.
"Rising oil prices reflect improving oil demand but the average solar stock shouldn't care; it should care about supply and demand in solar," Molchanov said.
Well-established trading psychology related to oil doesn't hurt, but in the end, solar stocks will trade on earnings and demand outlook in the solar sector, and that's not linked to the price of oil -- which raises the biggest fallacy in the trade.
Oil is not what developed markets use as an input for power generation. In some developing markets, like India and Kenya, diesel is used as a source of power generation. Indeed, solar is expected to grow as an alternative for mini-grid community power solutions in India, and as a replacement for diesel fuel, but that's on the margins and not relevant for solar stock trading.
"For some investors generalists, when they think about anything in energy, they look at price of oil, and that's where psychology comes in. They see the price of oil and assume that every energy product becomes more competitive by comparison," Raymond James' Molchanov said.
Vote Now About the Oil Price-Solar Stock Trading Connection
Should Solar Stocks Trade With Rising Oil Prices?
If the solar index didn't mirror oil in the latter part of 2010, a case can be made for the correlation between the price of oil and the clean energy universe of stocks more broadly, as the chart above showing the links between the Wilderhill Clean Energy Index and the price of oil demonstrates.
The reality is that the economics of solar power don't have much in the way of a substantive connection to liquid transportation fuels. "If we're talking algae or ethanol, a higher price of oil helps, but for wind and solar, coal and natural gas pricing is more impactful," the Raymond James analyst said.
"Not only does oil not generate electricity, but you can use oil for lots of things that have nothing to do with solar, from transportation to killing mosquitoes," said Wunderlich analyst O'Neill. "Solar probably shouldn't trade like this, and I don't think it makes sense, but it's a real trade, even if the meaning behind it is that it is purely trading related," the analyst concluded.
On the other hand, given the prominence of the political events in Egypt and the Middle East, there's an argument to be made in favor of the alternative energy-oil trading link based on energy policy in the Middle East.
The speculative case for a changing approach to energy policy in the Middle East as a boon to solar and other renewable sources of energy was laid out in a research piece from Jefferies this week. What Jefferies argues has been "less obvious" in the recent energy headlines is that with potentially rising energy prices, and robust population and electricity demand growth, the longstanding regional government policy of subsidizing domestic energy prices may be unsustainable.
"We believe oil- and gas-producing nations are likely to deploy renewables and sell oil rather than burn it at subsidized prices for local energy generation, and this may accelerate with rising energy demand and prices," Jefferies' clean tech team wrote.
Taking Egypt as an example, Jefferies writes that energy prices are rising 4% to 5% annually, but are heavily subsidized by the government. Total subsidy comprised roughly 23% of Egypt's national budget in 2008, and was mostly energy-related, and is likely to be lowered in years ahead forcing energy prices higher.
Jefferies noted that the Minister for Trade and Industry in Egypt had said previous to the latest political unrest that reducing energy subsidies to certain energy intensive industries would save some £15 billion over three years. The energy subsidy is the largest item on a bigger subsidy bill of around $18 billion in Egypt. Wind, solar and natural gas vehicles are among the alternative energy and alternative transportation trends that Jefferies links to the debate surrounding fuel subsidies.
It's a debate that is not limited to the Middle East, either. Bolivia's President Eva Morales recently set off a political firestorm in his country when he proposed removing a huge subsidy for the purchase of gasoline.
More generally, the International Energy Agency highlighted worldwide fuel subsidies programs in a recent report, citing the subsidies as one of the biggest impediments to alternative energy adoption and calling for an end to the programs.
>>Energy Watchdog Calls for End to Fuel Subsidies
Indeed, the recent headlines involving the rising oil prices and the link to solar stocks don't just make for valuable
CNBC
slot filling fodder during market hours, but raise the question for investors,
Should trading in solar stocks be directly linked to the price of oil?
-- Written by Eric Rosenbaum from New York.
RELATED STORIES:
>>Power-One is 'Dead Money': Analysts
>>MEMC's Big Rally: Why is This Solar Stock on Fire?
>>Energy Watchdog Calls for End to Fuel Subsidies
>To contact the writer of this article, click here:
Eric Rosenbaum
.
>To follow the writer on Twitter, go to
.
>To submit a news tip, send an email to:
.