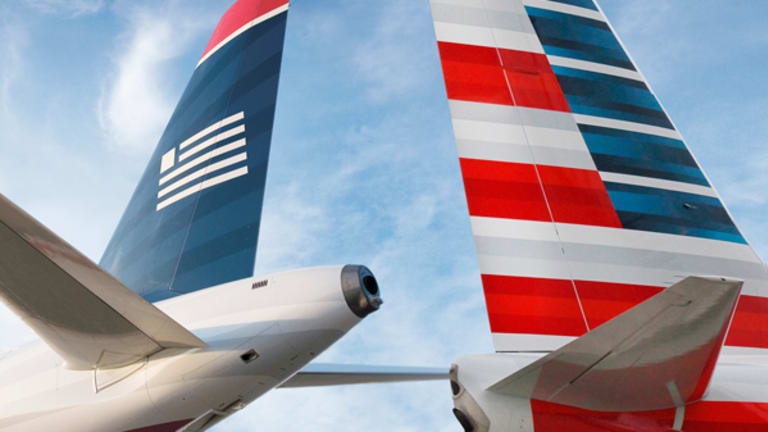 Should American Air Tout Record Profit as It Seeks a Merger?
The Justice Department says American will do fine without a merger: The airline's July results appear to back that up.
CHARLOTTE, N.C. (
) -- Now it gets tricky for
American
( AAMRQ) and
US Airways
(LCC)
.
The two carriers are trying to merge, making the case that consumers are entitled to a third global U.S. carrier that can compete with
Delta
(DAL) - Get Delta Air Lines Inc. Report
and
United
(UAL) - Get United Airlines Holdings Inc. Report
. They are also trying to show investors, employees and potential customers that they are operating successfully.
American reported on Monday that July was the best month in its history, with a net profit, excluding items primarily bankruptcy-related items, of $352 million. Including items, American earned $292 million.
"Today is a very good day," wrote CEO Tom Horton, in a letter to employees. "We are completing one of the most successful turnarounds in aviation history. We are building a strong, competitive and profitable new American poised to lead again."
In his letter, Horton said the July profit was not only the best monthly profit in American's history, but also was nearly equal to the $357 million second-quarter profit, which was also a record. He said consolidated July revenue of $2.48 billion also set a monthly record. He also extolled American's expansion of its partnership with LATAM to Brazil and Colombia, the July delivery of its first Airbus A319 and the launch of service with the 76-seat Embraer E-175.
Does that make it sound like American needs to merge in order to prosper? No doubt the Department of Justice doesn't think so. In its lawsuit challenging the proposed merger, DOJ alleged that "a revitalized American is fully capable of emerging from bankruptcy proceedings on its own with a competitive cost structure, profitable existing business, and plans for growth.
"As recently as January 8, 2013, American's management presented plans to emerge from bankruptcy that would increase the destinations American serves in the United States and the frequency of its flights, and position American to compete independently as a profitable airline with aggressive plans for growth," the DOJ said.
It seems reasonable to assume that when the court case begins, the letter Horton wrote Monday will become an exhibit in the DOJ's case.
Following the eight paragraphs in which he lays out all the progress an independent, growing American has made, Horton includes two paragraphs voicing support for the merger. "Finally and most important, we are focused on completing our merger with US Airways," he wrote. "You probably saw last week's news that we are seeking a November trial date, and the American team is standing strong together with US Airways to get this merger closed."
He noted that "in the coming days we'll be sharing ways you can get involved to express your support. We're ready to make our case in court for the merger's significant benefits to all of our stakeholders and the communities we serve."
Unions are readying petition drives, although they have been told by attorneys for US Airways and American not to stage demonstrations directly protesting against unpopular Attorney General
, sources said.
Asked whether completing its best month in history helps American to make the case for a merger, Ankur Kapoor, an antitrust attorney at Constantine Cannon in New York, responded: "It doesn't.
"After all, the DOJ alleges in its complaint that American is doing great on its own and does not need US Airways," Kapoor said, and the July report underscores that belief.
At the same time, Kapoor said, "The bigger issue is long term. Can American and US Airways thrive on their own and in such a way as to challenge United and Delta? That's the real question."
Additionally, he said, "It could be that market expectations that a deal will go through are giving American an operational boost, giving consumers confidence that AA is going to be around and be a stronger competitor."
In any case, the next major step in the saga comes Thursday, when Bankruptcy Court Judge Sean Lane will conduct a hearing to consider whether he should confirm American's plan of reorganization in advance of a U.S. District Court ruling on whether the merger violates antitrust statutes. In the bankruptcy case, attorneys for US Airways and American will argue in favor of a merger.
In other news on Monday, oil prices hit a five-month high of more than $111 a barrel. As Airlines for American economist John Heimlich
last week, it doesn't take much oil price fluctuation to push most carriers from a profit to a loss.
The Justice Department could look silly if it prevents a merger only to have a weakened carrier right back in bankruptcy court in a few years, arguing that it is simply too small to continue to operate in a global economy dominated by bigger competitors. By then, those low one-stop fares offered by US Airways in select markets, which DOJ cites in its complaint as the principal reason to stop a merger, could be long gone.
-- Written by Ted Reed in Charlotte, N.C.
>To contact the writer of this article, click here: