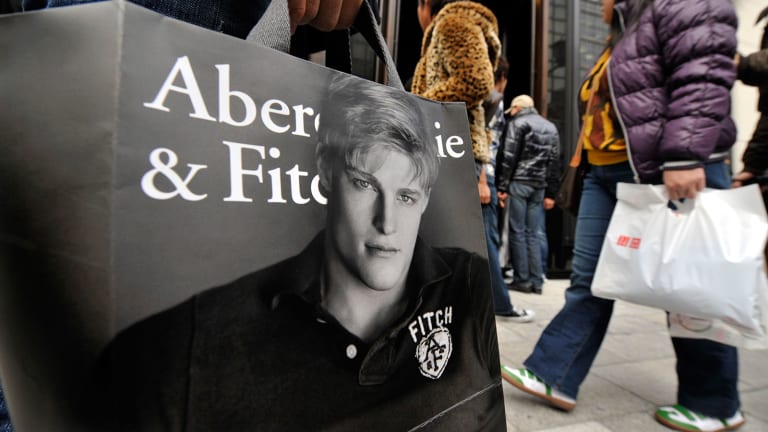 Should Abercrombie Bow Out While It's Still Ahead?
ANF pulled itself up by the bootstraps this past year, but some say its explosive growth is a signal to sell.
Just nine months ago, at the pit of its 20-year stock low, mall merchant Abercrombie & Fitch Co. (ANF) - Get Free Report was on the verge of selling itself, exploring rumored bids from Express Inc. (EXPR) - Get Free Report and American Eagle Outfitters (AEO) - Get Free Report in conjunction with Cerberus Capital Management.
Now, after calling off a sale, its stock is up by nearly 160%. Instead of betting on continued recovery, however, some analysts are questioning whether Abercrombie should take advantage of its rebound to reconsider putting itself back on the block. 
"There seems to be momentum right now, but it won't be long-lived," Forrester analyst Sucharita Kodali told TheStreet's sister publication, The Deal. "It's only been two quarters of growth. And it will not last."
If Abercrombie wants an exit strategy, the window of this optimal time to sell could be closing soon, she added. "Investors have a tendency to believe that the future is what the present looks like, so where they are now would appear promising."
Abercrombie shares spiked 14% Tuesday, after beating Wall Street forecasts for fourth-quarter earnings and sales. Its Hollister brand posted same-store sales growth of 11%, reflecting an incredibly swift turnaround since last year. On Friday morning, shares were down slightly, trading at $22.33. 
Nonetheless, ANF's most impressive feat is its e-commerce growth, according to L2 analyst Jane Fisher. In 2017, Abercrombie ranked 12th on L2's comprehensive e-commerce index out of more than 100 retailers — that's up from 32nd in 2016. The Hollister brand alone ranked seventh in 2017. 
In the fourth quarter, Abercrombie saw "record digital sales across all brands," CEO Fran Horowitz said in the earnings call. While the retailer did not disclose its rate of digital growth or the percentage of sales that are online, digital presumably played a huge role in its sales total of $1.2 billion-up $1 billion from the previous year.
"They've been laying the groundwork for a long time and it's going to keep them on better footing," Fisher said. "This makes them a very attractive acquisition target, whether they want to stay public or not."
Online growth, however, will not be enough for Abercrombie to recover to its glory days, given the climate of the industry at large, according to Deutsche Bank analyst Tiffany Kanaga. "We're highly skeptical of Abercrombie's ability to stabilize its gross profit margin against this competitive mall backdrop," she said.
Kanaga declined to comment on the prospect of an Abercrombie deal, but there's consensus on Wall Street that consolidation in general will take place this year as the industry as a whole is struggling. 
"To compete against Amazon, there will be some interesting acquisitions this year. We really do think 2018 will be a year of strange bedfellow," Fisher said.
Nonetheless, the pool of buyers is dwindling, as other mall merchants struggle alongside Abercrombie.
"The idea of two mall retailers getting together sounds good, but the last thing you need is a Kmart and Sears [both owned by Sears Holdings Corp. (SHLD) ] getting together to prolong their deaths," Konali said, pointing to private equity players like Cerberus instead. "If it's a strategic buyer, they'd need to raise debt or pay with cash, and retailers aren't exactly flush with cash these days." 
So if it's not American Eagle or Express, which company could it be? Konali pointed to the usual suspects in retail: Bain, KKR and TPG Partners as well as Leonard Green, which is already putting together an burdensome deal to take Nordstrom Inc. (JWN) - Get Free Report private.
Nordstrom is a holding in Jim Cramer's Action Alerts PLUS Charitable Trust Portfolio. Want to be alerted before Cramer buys or sells JWN? Learn more now.