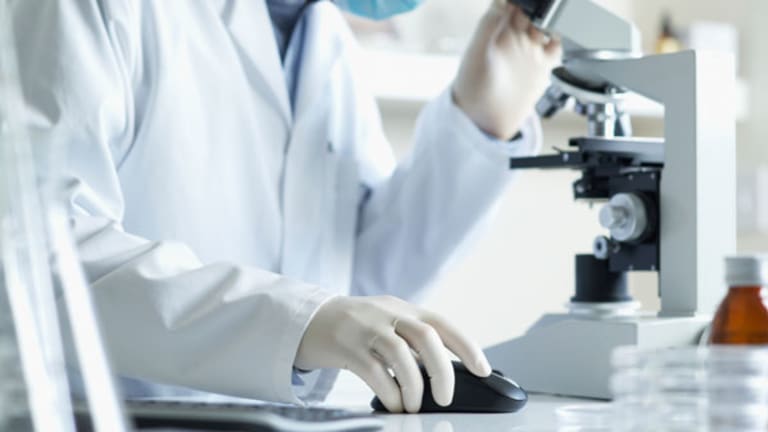 Shorting Alexza Pharma On FDA's Adasuve Approval
Alexza is setting up as a classic biotech run-down stock, says trader Mark Messier.
NEW YORK (
) --A true stock trader is agnostic, freely shifting his position in the same stock, going long or short, sometimes multiple times, whenever the situation warrants. Biotech traders profit most from this flexibility when biotech stock prices "run up" into catalysts and then "run down" after the catalyst passes.
The biotech run down most often occurs following an FDA drug approval. Recent examples include
Exelixis
(EXEL)
,
Discovery Labs
(DSCO)
,
Vivus
undefined
,
Arena Pharma
(ARNA)
,
Talon Therapeutics
( TLON) and
Horizon Pharma
(HZNP)
. All of these stocks trade today at values substantially lower than their respective highs reached during the "run-up" into FDA drug approval. Just last Friday,
Ariad Pharmaceuticals
(ARIA)
received early FDA approval for its leukemia drug and the share price dropped 20%.
Getting a drug approved by the FDA is an amazing achievement, so why do so many biotech and drug stocks fall following this happy event?
The answer, of course, is markets are forward looking, so drug approvals are often baked into stock valuations well before the event takes place. This is particularly true in cases where drug approval is widely expected. When drug approval is actually announced, stocks are already fairly valued. In worst cases, the run-up causes drug-approval stocks to overshoot on valuation. When this happens, profit taking can get manic as traders trip over each other to exit positions as quick as possible.
Alexza Pharmaceuticals
(ALXA)
is setting up nicely for a run-down trade ahead of Friday's FDA approval decision on the company's Adasuve therapy for schizophrenia agitation. I wrote a column on Nov. 20
recommending Alexza as a run-up trade
and now it's time to reverse course.
The stock is trading at new highs following this week's decision by European regulators to recommend Adasuve for approval. Run-up traders locked in gains before the European decision was announced and now wait for the FDA to make its ruling known on Dec. 21.
Alexza's stock price is likely to sell off on news of Adasuve's approval by FDA. At these levels, the stock is pricing in FDA approval and unrealistic Adasuve sales.
Zacks analyst Jason Napodano's
take on why Alexza is overvalued
is a must read.
How to profit from the coming Alexza run down: The most common method is to short Alexza shares on the approval spike and cover into the run down. I'd expect to see a price spike in Alexza following the Adasuve approval announcement, followed by multiple days where shares will close lower than they open.
Traders who prefer options can buy puts or sell calls on the approval price spike, betting the share price will pull back before the options expire. More experienced traders can also build complex options setups, such as butterflies or condors, to take advantage of the implied volatility in share price and creating windows of maximum profitability before the actual FDA decision is announced.
Traders who don't mind taking a bit more risk can even short Alexza just before the expected FDA decision. If FDA surprises the market by rejecting Adasuve, Alexza's stock price will plummet and the trading profits will be huge. An advantage to shorting pre-approval is that finding shares to short post approval can be difficult.
Messier has no current position in Alexza but he may short the stock following the FDA decision on Friday.
Mark Messier is the founder of
. Messier is a DOJ-certified Criminal Intelligence Analyst and former IT professional, specializing in law enforcement applications. In 2008, Messier began trading biotech stocks, using his analytical expertise to detect and capitalize on human and market patterns. Starting with only $2,200 in his trading account, he has booked over $400,000 in profit in just 4 years. In April 2010, Messier founded the subscription-based stock-trading web site
to share his biotech trading ideas with the online investor community. Messier enjoys spending time with his wife and two young boys and visiting his "home away from home" in Costa Rica.