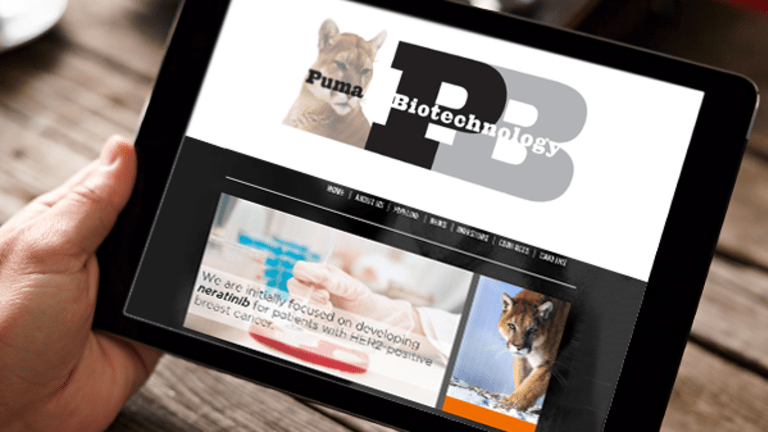 Shortened FDA Advisory Panel Is Bad Omen for Puma Bio's Controversial Breast Cancer Drug
Over the past five years, the FDA has often used half-day sessions of the Oncologic Drugs Advisory Committee (ODAC) to administer public floggings to flawed cancer drugs.
FDA cancer drug chieftain Rick Pazdur allotted five hours, or half a day, to review Puma Biotechnology's (PBYI) - Get Free Report breast cancer drug neratinib at an advisory committee meeting scheduled for May 24.
If FDA history is a guide, an abbreviated turn in front of a panel of outside experts spells a bad outcome for Puma. Over the past five years, Pazdur has often used half-day sessions of the FDA Oncologic Drugs Advisory Committee (ODAC) to administer public floggings to flawed cancer drugs.
Puma is seeking accelerated approval for neratinib as an extended adjuvant treatment of HER-2 positive breast cancer. The company's FDA submission is based largely on a phase III clinical trial showing a modest improvement in disease-free survival at the expense of high rates of severe diarrhea.
There's little about neratinib that isn't controversial, providing ample fodder for Puma bulls and bears to argue over.
The FDA has until July 21 to render a verdict on neratinib. Before making that decision, the FDA's cancer branch, led by longtime agency veteran Pazdur, will vet the neratinib clinical data at the morning session of the ODAC meeting scheduled for May 24.
Puma bulls argue FDA's decision to apportion only half of the ODAC meeting on May 24 to neratinib is positive. Why? Because an abbreviated review session suggests FDA has few concerns with the neratinib clinical data. [If Pazdur hated the neratinib data, he would have scheduled the drug for a full-day hearing, Puma bulls believe.]
They might be right but precedent says otherwise. Over the past five years, Pazdur has brought together the FDA and its ODAC experts for 12 half-day sessions where cancer drugs were reviewed and voted on.
At eight of these sessions -- two-thirds of the time -- the FDA was sharply critical of the cancer drugs being reviewed, leading to ODAC panel votes against approval.
At the remaining four half-day ODAC sessions, the cancer drugs received positive recommendations supporting approval.
In September 2016, ODAC concluded a half-day session to vote against a bladder cancer drug from Spectrum Pharmaceuticals (SPPI) - Get Free Report . The negative vote was prompted by a blistering attack against the drug by the FDA's cancer division.
The same thing happened in April 2016 to Clovis Oncology (CLVS) - Get Free Report . The FDA scheduled an abbreviated ODAC meeting to review the company's lung cancer drug. The FDA review was negative and the experts on the panel decided the drug was not approvable.
In both cases, it was clear FDA only scheduled half-day ODAC sessions because there was little need to waste extra time reviewing drugs not ready for approval.
Here's a breakdown of the ODAC half-day sessions going back to 2012:
2015: Positive vote for Eli Lilly's lung cancer drug necitumumab.
2014: Negative vote for Novartis panobinostat in multiple myeloma.
2013: Negative votes for AVEO Pharma's tivozanib and Delcath System's Melblez.
2012: Positive votes for Onyx Pharma's Kyprolis, Talon Therapeutics' Marquibo and GlaxoSmithKline's pazopanib. Negative votes for Merck's ridaforolimus, Eisai's Dacogen and Amgen's Xgeva.
Adam Feuerstein writes regularly for TheStreet. In keeping with company editorial policy, he doesn't own or short individual stocks, although he owns stock in TheStreet. He also doesn't invest in hedge funds or other private investment partnerships. Feuerstein appreciates your feedback; click here to send him an email.