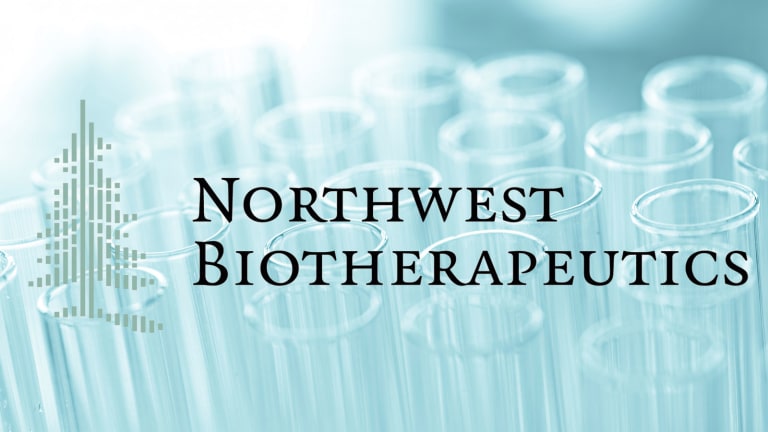 Short of Cash, Northwest Bio Flirts With Insolvency
The cancer immunotherapy company's cash position has plunged to the point where it may no longer be capable of paying its operating expenses.
Is Northwest Biotherapeutics (NWBO) financially insolvent?
The cancer immunotherapy company's cash position has plunged to the point where it may no longer be capable of paying its operating expenses, according to the latest quarterly report filed with the Securities and Exchange Commission.
Northwest Bio did not respond to questions about its financial health Thursday.
As disclosed in its 10-Q for the second quarter, Northwest Bio exited June with $2.1 million in cash on hand. On July 4, right after the second quarter ended, the company raised another $3.3 million in a follow-on stock offering.
The $5.4 million in cash on hand at the beginning of July would have barely covered Northwest Bio's cash burn of $5 million per month. [The company used $31.8 million in cash to pay for operating expenses during the first six months of 2016, according to its 10-Q.]
We're now well into August, which means Northwest Bio has racked up another $1 million to $2 million in operating expenses, assuming the previously disclosed burn rate. How the company has paid for August expenses without raising additional cash remains a mystery.
Northwest Bio does not hold quarterly conference calls and its management team rarely says anything publicly about ongoing operations. The company didn't even issue a press release telling investors that its most recent 10-Q had been filed.
In the past, Northwest Bio has relied on short-term loans from CEO Linda Powers and Les Goldman, head of investor relations, to resolve a cash crunch. The company's last five stock offerings were priced at a per-share price of $7.40, $5.50, $3.60, $1.70 and 50 cents.
To illustrate just how far Northwest Bio has fallen, last year, the company was selling $180 million in stock to well-known British investor Neil Woodford. The company's stock price peaked at $12 per share last July.
Today, the price of Northwest Bio's stock has plummeted to around 40 cents per share. Woodford is sitting on huge losses in his premier healthcare fund due, in part, to the company's collapse and he's criticized management for its poor corporate governance practices.
To raise additional money and keep the company afloat, Powers has been forced into deals with investment funds specializing in distressed financing for down-on-their-luck companies.
Presumably, Powers will turn to vulture investors again in the coming days or weeks to prevent Northwest Bio from shutting down, but with an even weaker stock price and balance sheet today, deal terms are likely to be tilted badly against the company.
The deep plunge in the value of Northwest Bio shares coincides with the "temporary" halt to the company-sponsored phase III study of its brain cancer vaccine DCVax-L. Since last August, almost one year ago, Northwest Bio has been unable to enroll patients into the study. Without patients to complete enrollment, the DCVax-L study has been effectively shut down for one year.
Adam Feuerstein writes regularly for TheStreet. In keeping with company editorial policy, he doesn't own or short individual stocks, although he owns stock in TheStreet. He also doesn't invest in hedge funds or other private investment partnerships. Feuerstein appreciates your feedback; click here to send him an email.