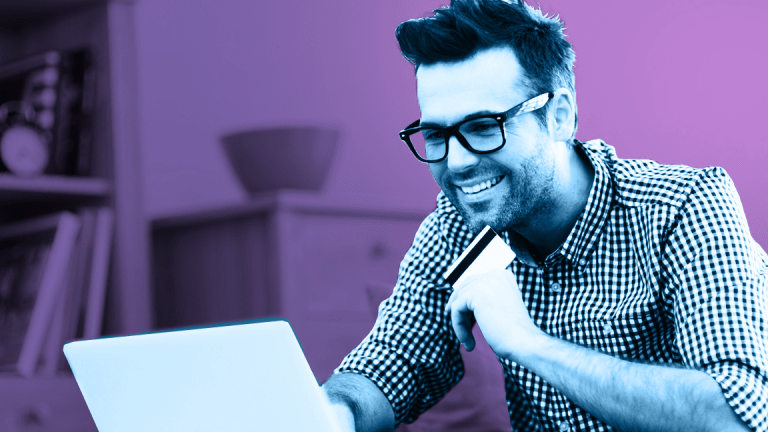 Shopify, PayPal Among Stocks Defining Tomorrow's E-Commerce
These four stocks are building profits on the future of e-commerce.
Let's talk about e-commerce. We're going to talk about the future, really, because no matter how brick-and-mortar retailers try to adapt, e-commerce is the future of retail. According to Statista, in 2018, online sales of physical goods amounted to $504.6 billion and are projected to surpass $735 billion in 2023.
So, let's use TipRanks market data to look at two vital facets of online selling: the platforms, and the payment services. Between them, they validate an observation by Peter Thiel, co-founder of PayPal: "Customers won't care about any particular technology unless it solves a particular problem in a superior way." Here we focus on two up-and-coming e-commerce platforms, and two payment stocks that are worth following now:  
Shopify Inc.
Shopify is a Canadian company, and one of the web's leading online retail platforms. The company boasts over 600,000 merchants using its platform. On Black Friday weekend, 2018, Shopify's system completed more than $1.5 billion in sales transactions. The platform just makes online stores work, and work well.
That smooth functioning has translated into profits. In its Q3 2018 earnings report, Shopify reported a beat on EPS, showing 4 cents per share of earnings instead of the expected 2 cent loss. It marked the fourth quarter in a row that Shopify has beaten earnings expectations. Since the stock market bottomed out on Christmas Eve, (SHOP) - Get Shopify, Inc. Class A Report is up 33%, or $40 in absolute terms.
Analysts have noticed, of course. On Dec 18, Wells Fargo analyst Timothy Willi initiated coverage of Shopify, anticipating strong results. He set a price target of $175 - at time when SHOP shares were trading at $134 - which gives a 9% upside to today's share price.
At the same time, Tom Forte of D.A. Davidson upgraded his outlook on SHOP, moving his rating from 'Neutral' to 'Buy.' He may need to look at this stock again, as SHOP has already passed his $150 price target. In his note last month, Forte described Shopify as "an exceptionally well-run company with the potential for open-ended growth, especially relating to its early-stage international expansion and enterprise solution efforts." He added that the low price at Christmas-time was an attractive entry point. The stock's performance since then has shown how right he was.
SHOP shares hold a 'Strong Buy' rating on the analyst consensus, based on 9 recent 'buy' reviews and 3 'holds.' The average price target is $170, giving a 7% upside to the current share price of $158, but that average is based on price targets set three weeks ago, when SHOP traded $40 lower.
Etsy Inc.
Where Shopify is a general platform for online merchandisers, Etsy (ETSY) - Get Etsy, Inc. Report has built a reputation as the online store for crafty geeks. That's 'crafty' as in arts and crafts, with a heavy emphasis on vintage and handmade items. Most of the merchandise sold on Etsy ranges from original artwork and photography to handmade quilts and toys, and supplies for the crafters. It's an eclectic collection, on a modern platform.
Etsy is in a unique position right now, in terms of pricing and forecast. The stock suffered a price slump in December, like the markets generally, and hit bottom the day before Christmas at a price of $43 per share. Since then, ETSY has climbed steadily and regained its pre-holiday trading levels. The stock has been helped along by the powerful momentum of its Q3 earnings report (released in early November), which showed EPS at more than double the estimates - 15 cents, compared to the forecast 7 cents. The revenue beat was smaller, at $150.3 million versus $149.9 million, but still clear.
Performance like this generates fans. Writing of Etsy back in November, before the Q3 report, Marvin Fong, of BTIG, said, "Investors are underestimating the upside potential of Etsy's estimated 32M dormant buyers." Fong gives the stock a $59 price target, for an upside of 5.6%.
In December, Loop Capital's Laura Champine boosted her price target on Etsy to $70 - a 25% upside from current prices - and said, "Improvements to the company's buyer experience and marketing investments should drive buyers' frequency." She also sees the company becoming "a better marketer as it gains experience in a broader array of vehicles."
Finally, Etsy's most recent analyst review came on Jan 4, during the stock's current round of gains. Heath Terry, a five-star analyst from Goldman Sachs, upgraded his rating of ETSY shares from 'hold' to 'buy', saying, "Consensus estimates remain too low for 2019 as the company optimizes the incremental growth investments... A company delivering both accelerating organic growth and margin expansion alongside a buyback warrants a premium valuation." In an ironic twist, Terry also set too low an estimate - ETSY has already passed his price target of $54.
Looking at the analyst consensus, ETSY shares are rated 'Moderate Buy' based on 5 'buy' and 3 'hold' ratings. Putting some context on that, the three most recent ratings were all 'buy,' while the 'holds' are all two months old or older. In addition, the stock price has surpassed its average price target, indicating that ETSY's gains have come faster than the analysts had anticipated.
PayPal Holdings Inc.
Shifting gears, we'll move from merchant platforms to payment processors. We quoted PayPal co-founder Peter Thiel at the top of this article; now we'll look at his company.
PayPal boasts over 230 million active customers - not accounts, but active customers making transactions. The company saw more than 9 million new accounts and a 25% jump in payment volume during its Q3 2018, reported this past October. Earnings per share stood at 58 cents, and gross revenues at $3.68 billion, both modest beats of the forecasts.
Looking ahead to PayPal's upcoming Q4 2018 report (scheduled for January 30), Merrill Lynch analyst Jason Kupferberg sees nothing but upside. He points out that (PYPL) - Get PayPal Holdings, Inc. Report , in the current quarter, has outperformed competitors Visa and Mastercard, as well as the S&P 500 generally, by 12% to 16%. Referring to PayPal's approaching break from eBay, he says, "We expect robust eCommerce spending trends in the quarter will make up for any softness in eBay/cross-border volumes... We believe 2019 could be a steadier year for PYPL shares than 2018, which was marked with volatility related to eBay."
Kupferberg set a $102 price target on PYPL, suggesting a 12% upside from current prices. He is not alone among top-rated analysts to take such an upbeat view of this stock. Morgan Stanley's James Faucette set his target at $99, for an 8.6% upside, while Ramsey El Assal from Barclays gives PYPL a 26% upside, with a $115 target. El Assal is batting 1.000 on PYPL, with 8 out of 8 ratings giving a profitable return.
Overall, PYPL has a 'Strong Buy' rating based on 11 recent analyst reviews, including 10 'buys' and 1 'hold.' The average price target, $101, gives an 11% upside from the current share price of $91.
Square Inc.
Like PayPal, Square processes payments in the e-commerce world, but it has differentiated itself by building interesting niche: it also provides hardware for merchants to run credit cards. Square's first product, the Square Reader which was introduced in 2010, plugs into a mobile phone's audio jack and turns any smartphone into an instant payment terminal. Since then, Square has released devices allowing payment processing on Apple's iPhones, a variety of tablets, and via Bluetooth devices.
Like the other companies noted here, Square is in the midst of a strong growth trend. In its Q3 2018 earnings, reported in the first week of November, (SQ) - Get Block Inc Class A Report had earnings of 13 cents per share compared to 11 cents predicted, while revenues also beat the forecast by a wide margin: $431 million compared to $413.9 million forecast. In another boost to the bottom line, the company is making a successful effort at diversification, with 62,000 business loans facilitated during the quarter, and $43 million in revenue generated from cryptocurrency trading.
So, Square is a company on the way up, and recent changes at the company are simply underscoring that. While acclaimed CFO Sarah Friar is leaving, her place is being taken by the well-respected Amrita Ahuja from Activision Blizzard. Also, Square's 2017 $25 million stake in Eventbrite, the event management and ticketing website, has almost tripled to a value of $61.9 million.
All of this is coming out in the analyst ratings, too. Mizuho's Thomas McCrohan focused on Ms. Ahuja's joining the company, saying "While Ms. Ahuja does not have the rock-star status of ex-CFO Sarah Friar, she does have a wide-ranging background that lends itself to the CFO role." McCrohan's price target, $75, is at the low end for SQ, which currently trades at $72.
Nomura analyst Dan Dolev, on the other hand, focused on the benefits that Eventbrite brings to Square. He says, "Eventbrite could contribute $2B-$4B in 2019 to Square's gross payment volume and $5M-$11M to adjusted net revenue." Dolev believes that Eventbrite's contribution is not fully reflected by consensus estimates and gives SQ a 49% upside with a $108 price target, on the high end of the estimates.
That consensus on SQ is a 'Moderate Buy,' with an average price target of $86 giving a 19% upside potential compared to the $72 share price. The consensus is based on 23 recent analyst reviews: 14 'buys', 8 'holds,' and 1 'sell.' In evidence of a positive trend, five the six most recent reviews were 'buys.'
offers exclusive insights for investors by focusing on the moves of experts: Analysts, Insiders, Bloggers, Hedge Fund Managers and more. See what the experts are saying about your stocks now at
. Author: Michael Marcus.