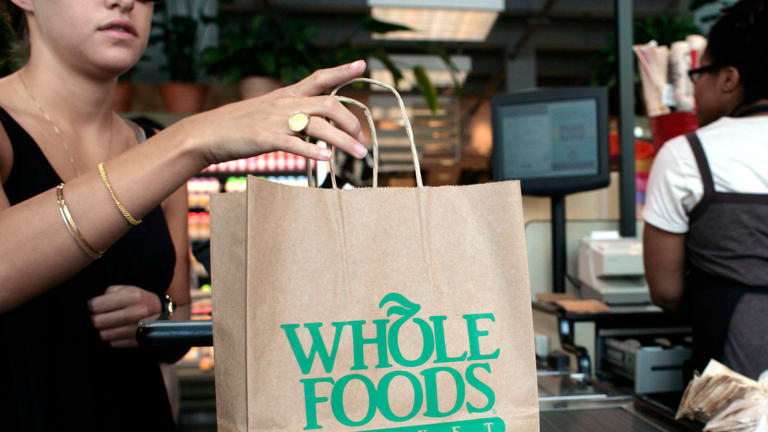 Millennials Want Private Label Goods Because, Duh, They're Cheaper
Data provider IRI expects private label products to become even more popular as millennial and low-income shoppers struggle to buy food.
Brands, schmands! Millennials are buying private label goods instead of brand-name ones.
Almost a third of U.S. households struggled to buy groceries last quarter, according to a new IRI survey released Wednesday, Oct. 25. That's roughly in line with the same quarter last year, and up from 28% in the first quarter of 2016.
Unsurprisingly, it's millennial and lower-income shoppers who are the most likely to conserve funds by seeking better prices on food. Some 59% of households earning less than $35,000 per year and 36% of millennials report such cash crunches, prompting 89% and 90%, respectively, to buy private label brands. More than 80% of millennial and lower-income households are also willing to try lower-priced brands, compared to 73% of all consumers.
Private label brands are slowly gaining traction. Two-thirds of consumers plan to up their private label purchases over the next six months, including 75% of millennial and lower-earning shoppers. The beauty, beverage and frozen food categories are seeing the strongest private label dollar sales, IRI found.
In 2017, private label unit sales fell 1.2%, an improvement from the 1.7% fall in 2016. In contrast, national brand unit sales fell 1.5% in 2016 after rising 0.3% in 2016. In dollar terms, private label sales fell 1.6% in 2017 after falling 3.2% in 2016, while national brands rose 0.3% in 2017 and fell 1.6% in 2016.
Many traditional retailers are amping up their private label offerings, with UBS analyst Michael Lasser estimating that private labels account for 14% of packaged food sales, with more growth expected.
Amazon.com Inc. (AMZN) - Get Amazon.com, Inc. Report is now selling Whole Foods 365 private label products through its grocery service AmazonFresh, two months after closing its $13.7 billion acquisition of the upscale grocer; IRI expects Amazon to sell $4 billion in private label goods across industries in 2017, including $700 million from Whole Foods. More than 20% of Costco Wholesale Corp. (COST) - Get Costco Wholesale Corporation Report sales come from its Kirkland private label brand. Kroger Co.'s (KR) - Get Kroger Co. Report intends to expand its private label brands, which accounted for 27.7% of unit sales and 25.4% of dollar sales in its most recent quarter, ending Aug. 12. Walmart Stores Inc.'s (WMT) - Get Walmart Inc. Report Jet.com e-commerce unit yesterday rolled out its own "more premium" private label brand, Uniquely J, although Jet founder Marc Lore noted that Walmart's "many billion-dollar private label brands" include three of the five largest in the United States. Target Corp. (TGT) - Get Target Corporation Report is expanding its private label offerings, including the $2 billion Cat & Jack children's brand. Private equity-backed Albertsons created a new executive position, president of own brands, in April to develop private label offerings. Dutch food retailer Ahold Delhaize (ADRNY) is revamping its private label offerings across the world, including in its U.S.-based Stop & Shop chain.
Private label adoption and e-commerce innovations are two strategies adopted by mainstream grocers as they contend with e-commerce giants like Amazon and hard discounters like Aldi and Lidl, the cut-price German grocery chains rapidly expanding in the United States which stock almost exclusively private label products. Credit Suisse analyst Robert Moskow estimates that these grocers' market share could decline 6% over the next four years, making meeting consumer tastes for private label all the more important.
"The transforming marketplace certainly warrants close monitoring," said IRI's Susan Viamari. "As the players in the game change, existing players will continue to evolve their private label strategies to protect and grow share. Private label is anyone's game to win, and the winners will be those that stay in lockstep with the rapidly evolving needs, wants and behaviors of today's CPG [consumer packaged goods] shoppers."
More of What's Trending on TheStreet:
Editors' pick: Originally published Oct. 25.