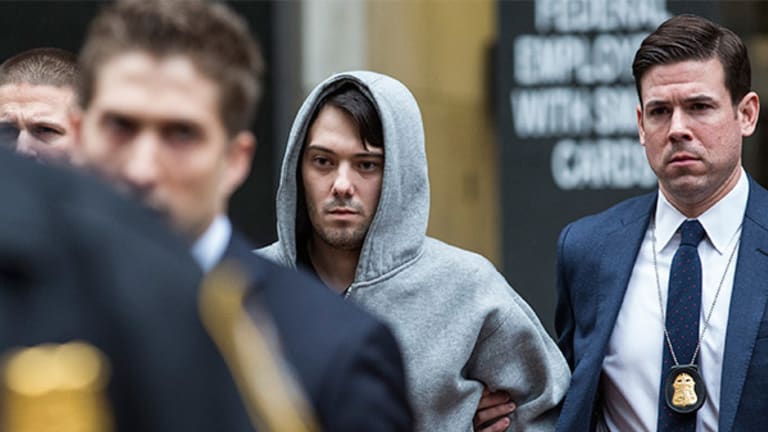 Shkreli Arrest Won't Stop Drug Price Debate but Could Kill KaloBios
The charges brought against Martin Shkreli are not related at all to the drug-price gouging which made him a public villain and the target of politicians like Hillary Clinton.
The charges brought against Martin Shkreli aren't related to the drug-price gouging which made him a public villain and the target of politicians led by Hillary Clinton.
Privately, I'm sure pharmaceutical and biotech executives are thrilled to see Shkreli get his comeuppance for sparking much of the recent debate and public furor over rising drug prices. But that anger and the calls for action to control drug prices aren't going away just because Shkreli performed a perp walk in New York on Thursday morning.
If you believe drug pricing issue is weighing negatively on valuations and investors' appetite for biotech and drug stocks,  and I do, then today's news doesn't change your fundamental outlook.
When the biotech universe gathers in San Francisco in January for the J.P. Morgan Healthcare Conference, biotech and drug company executives will still be peppered with questions about their pricing strategies and how they plan to deal with insurance companies and pharmacy benefits managers who are aggressively reining-in drug utilization.
The fraud charges leveled against Shkreli on Thursday aren't a surprise for people who have known him for a long time (and I include myself in that group.) Like ImClone Systems CEO Sam Waksal, Shkreli is a really smart guy who took shortcuts and believed the law didn't apply to him. And like Waksal, when Shkreli found himself in deep trouble, he tried to cover-up his transgressions.
In the process, he allegedly broke laws. Waksal, of couse, was convicted and served prison time.
What's crazy and paradoxical about this insane story is that Shkreli, despite his alleged misdeeds, has created real drug companies. (Another parallel with Waksal.)
Retrophin (RTRX) - Get Retrophin, Inc. Report , the drug company that Shkreli founded after his stint running a hedge fund, is selling and developing real drugs, some of which might one day save the lives of people with rare diseases.
Having said that, Retrophin was a total mess when Shkreli was CEO but recovered and is now operating far better under adult supervision.
Whether Turing Pharmaceuticals and KaloBios Pharmaceuticals (KBIO) -- the two companies that Shkreli ostensibly continues to  oversee -- can survive into the future is unclear.
After buying a controlling stake in the nearly defunct KaloBios last month (sparking an epic short squeeze in the process), Shkreli raised $8 million in a private placement to fund development of the company's cancer drug. But Shkreli's financing plan was to raise $15 million. He couldn't generate the investor demand he wanted because of all the negative publicity he was attracting, according to investors pitched on the deal. A previously announced deal for KaloBios to acquire a Chagas disease drug (and raise its price dramatically upon FDA approval) may be in jeopardy given present circumstances.
For many investors, Shkreli had become toxic.
As late as Monday, Shkreli was holding a series of meetings with investment funds in New York and Boston to further pitch KaloBios. Shkreli's ultimate plan was to merge privately held Turing into KaloBios, according to investors briefed on the matter. 
Thursday's arrest obviously puts a big kink in Shkreli's plans. KaloBios stock has been halted by Nasdaq and it's not clear when trading will resume. As a private company, Turing remains under Shkreli's control but investors who backed him (and own debt in the company) could try to oust him and reorganize with a new CEO, just like they did with Retrophin.
Adam Feuerstein writes regularly for TheStreet. In keeping with company editorial policy, he doesn't own or short individual stocks, although he owns stock in TheStreet. He also doesn't invest in hedge funds or other private investment partnerships. Feuerstein appreciates your feedback; click here to send him an email.