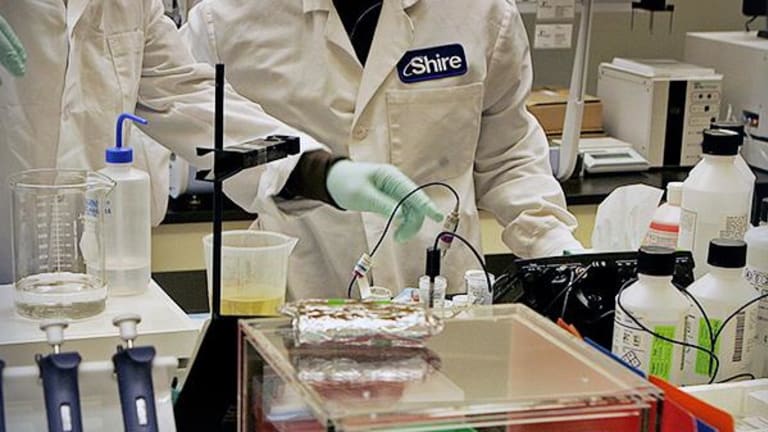 Shire Gains as it Seeks European Approval For Dry Eye Treatment
The drug would be the first such treatment in Europe.
Shire plc (SHPG) - Get Report is seeking European approval for its dry eye treatment, the pharmaceutical company said Tuesday, sending shares up in London.
Shire was marked 2.12% higher in early London trading, changing hands at 3,873 pence each and outpacing the 0.5% advance for the Stoxx Europe TMI Pharmaceuticals index. U.K. rivals GlaxoSmithKline plc (GSK) - Get Report  and AstraZeneca plc (AZN) - Get Report  were marked 0.61% higher in the opening 90 minutes of trading. 
The Dublin-based specialty pharma company said Tuesday that its Marketing Authorization Application for lifitegrast, submitted on Aug. 7, has been validated by the U.K.
The U.K. is the reference member state under what's called the Decentralised Procedure, which would also allow the drops to go on sale in Denmark, Norway, Sweden, Finland, Germany, the Netherlands, France, Italy, Portugal, Spain and Greece.
If approved it would be the first and only treatment in a new class of drugs to address the signs and symptoms of dry eye disease in adults in Europe, the company said Tuesday.
"This submission is another important milestone for lifitegrast and the millions of patients living with dry eye disease, which can impact a person's vision-related quality of life, affecting daily activities such as reading and using computers," Head of Clinical Development for R&D Howard Mayer said in a statement. "Shire is committed to continued innovation in ophthalmics, where there are opportunities to address unmet need and improve the lives of patients."
The U.S. Food and Drug Administration approved lifitegrast under the brand name Xiidra in July 2016.
Shire's ophthalmology franchise contributed $57.4 million to total product sales, which soared 55% year over year to $3.6 billion in the second quarter reported in early August.
The company holds 23% of the U.S. ophthalmology following the launch of Xiidra.
More of What's Trending on TheStreet: