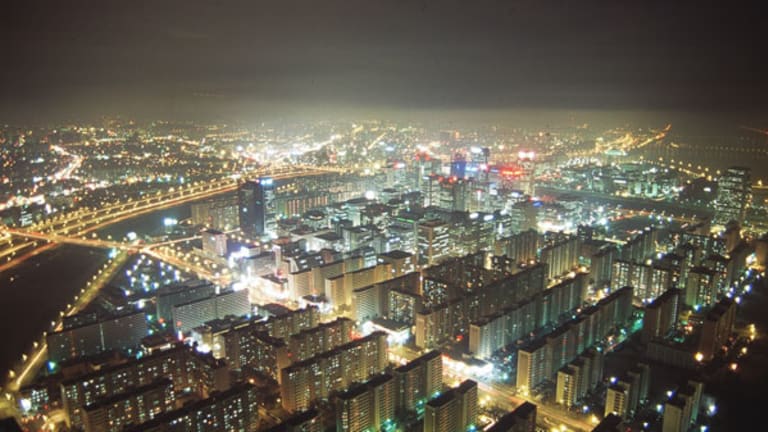 Shelter From Solar's Political Storms Is ... New Jersey?
New Jersey's market-based approach to solar growth may be an important model for the U.S. solar market as politicians remain fickle fans of renewable energy.
(New Jersey solar story updated with comments from SunPower)TRENTON, N.J. (TheStreet) -- New Jersey Governor Chris Christie pictured below is not proving to be the biggest fan of clean energy.

With all eyes in the solar sector focused on solar growth in Europe and China, as well as large-scale solar projects in the desert Southwest, it might seems insignificant to chart the alternative energy attitude of the New Jersey governor. Here's a a solar trivia question that would indicate otherwise: Which U.S. state has the largest solar market?
If you think the correct answer is California, you'd be wrong, at least, when ranking U.S. solar growth by per-square mile of installed solar capacity.
New Jersey, because of its population density and small size relative to Western states, is the fastest-growing solar market in the U.S. A more important question for solar investors about New Jersey's solar profile today, however, is whether the state's solar renewable energy credit program (SREC) may be a model for the growth of U.S. market-based incentives. The SRECs can be purchased by electricity suppliers to meet the state's renewable portfolio standard requirement.
Last week, New Jersey Governor Chris Christie unveiled his budget plan for 2011, and it is not an understatement to say that New Jersey's solar market could have died if not for the SREC program. At a time when lessening solar support from European governments in the form of feed-in tariff programs, led by Germany, has dominated the performance of solar stocks, the development of market-based incentives to shelter solar from political storms could not be more important.
How bad is the clean energy budgetary blood-letting in New Jersey? Governor Christie's new fiscal plan not only slashes support levels for clean energy rebates, but is diverting revenues generated from clean energy programs like the Regional Greenhouse Gas Initiative to patch New Jersey's general budget cracks -- in effect, using clean energy revenues as a "cash cow" for New Jersey's bleak economic situation.
"Every source of clean energy money in the state is being raided, but it also shows that we were smart to move to a market-based system for solar," said Matt Elliott, clean energy advocate at
Environment New Jersey
.
An SREC works in contrast to the rebate system in New Jersey that depends entirely on government budgetary appropriations for rebate payments to be made to solar project installers. Each time an SREC-only system generates 1,000 kilowatt hours of electricity, an SREC is earned and placed in the customer's electronic account. SRECs can then be sold on the SREC tracking system, providing revenue for the first 15 years of the system's life.
Electricity suppliers, the primary purchasers of SRECs, are required to pay a Solar Alternative Compliance Payment (SACP) if they do not meet the requirements of New Jersey's Solar RPS. One way the electricity suppliers can meet their RPS is by purchasing SRECs.
U.S. solar companies like
First Solar
(FLSR)
,
SunPower
( SPWRA) and
MEMC Electronic Materials
(WFR)
are betting on growth in U.S. solar to pick up some of the demand that will be lost once Germany's reduces its feed-in tariffs.
Chinese solar players including
Trina Solar
(TSL)
,
Suntech Power
(STP)
and
Yingli Green Energy
undefined
are also banking on the U.S. market as a growth ballast.
There has been talk about the importance of feed-in tariffs, but the
U.S. electricity market is regulated state by-state and a national feed-in tariff system would be, to say the least, complicated to implement in the U.S. What's more, the budgetary problems in New Jersey should reveal to solar investors the efficacy of building a solar market not entirely dependent on government support.
Jim Torpey, SunPower's director of market development, said the major issue facing New Jersey is the same one that every other state is dealing with: how to create economic growth with good jobs and continued innovation.
"As we are seeing in Europe, FITs are subject to political forces that can create dramatic stops and starts in the market. There is no one right answer. New Jersey has chosen the SREC model and the market has responded. ..With a combination of long term financing mechanisms and a competitive price setting mechanism, we believe the SREC model is a viable and scalable model for other states to adopt. "
Figures from the New Jersey's Board of Public Utilities show that installations in one month alone (January, a typically slow month for installations due to winter weather) have risen over the last three years from 1 megawatt to 3 MW to 7 MW.
Solar business executives in New Jersey are breathing an SREC-sigh of relief, too.
"With the situation we are in now, without the SREC program we would not be building solar. It would stop. That's the forethought in having a market-based model and not being totally dependent on government money. It works better when the government is running out of money because there is nothing to cut from it,," said Howard Fleischer, managing partner at NJSREC.com.
"It's a good lesson in building a solar model that not only looks different from the rebate programs that have been more typical in the U.S., but that shelters solar from ups and downs," said Pamela Frank, vice president of New Jersey-based Sun Farm Network. "For solar companies only doing rebated projects, this could be fatal for them," Frank added.
New Jersey solar executives have been following the feed-in tariff situation in Germany, also. "Germany's tariff was set rather high, and exchange rates favored sales into Europe, and so all the solar product was being sent to Germany. The solar market gets perverted, and having been in solar for the last eight years, I've argued against the type of welfare subsidization forms like FITs and rebates, for exactly the reasons we are living today in New Jersey," Frank said.
SunPower, notably, mentioned on its recent earnings conference call that as sales to Germany have spiked in the rush ahead of the feed-in tariff reductions, it has not forgotten about its dealers in the U.S.
When the German frenzy is over in the second half of 2010, to what extent will SunPower and other solar companies in New Jersey be returning to a market dominated by the market-based SREC? For 2009, the data is revealing. While 80% of solar projects in the state continued to rely on government rebate checks, the 20% of projects that were SREC-only represented 80% of the installed solar capacity in New Jersey. Solar executives in New Jersey expect that SREC profile to reach above 90%, given the budgetary attack on government sources of clean energy money.
NJSREC's Fleischer noted that there is an effort underway in New York State to implement a feed-in tariff, and that some states may opt to move in that direction. "Some people believe strongly that the FIT is better because it is a mandate with a fixed amount, as opposed to a market with prices moving up and down, but so far, there has not been the political will to get an FIT done, and an SREC remains easier to do," Fleischer said.
In the least, New Jersey's new budget woes provides a cautionary tale about ways to build the solar market in the U.S. as more states -- and more solar companies -- look to the U.S. as a growth market, and have to choose between government or market-based programs.
Of course, the success of the SREC program does not lessen the frustration clean energy advocates in New Jersey are experiencing as a result of Governor Christie's budget plan. "It calls into question how serious the state is about green energy, and whether New Jersey will have a robust and permanent source of funding for clean energy. It was always promised, and now the state has broken that promise," said Environment New Jersey's Elliott.
Elliott and the solar executives in New Jersey said that clean energy sources other than SREC-only solar, such as onshore and offshore wind, are now left without support from the state. Also, small solar developers whose customers have relied on government rebate checks to install solar systems are also likely to feel the pain of the new economic reality in New Jersey.
Sun Farm Network's Frank maintains that the handwriting was on the wall for New Jersey's clean energy sector. "If the SREC didn't exist, the program would have come to a grinding halt, and that's why we've been fighting so hard to transition off the rebate model. We knew this day would come, whether due to a recession or some other issue. The political is always unpredictable," Frank said.
As the U.S. solar market becomes a focus for solar companies and solar investors, avoiding the unpredictable -- whether it takes the politically unpredictable form of state budgets or feed-in tariffs changes like in Germany -- might be a wise idea.
-- Reported by Eric Rosenbaum in New York.
RELATED STORIES:
>>Solar Outlier: Ascent Solar Goes Off-Grid
>>Renewables Q&A: Siemens Energy CEO Randy Zwirn
>>China's FIT May Hinder Thin Fillm
>>Are you a Bull or Bear on Sunpower?
Follow TheStreet.com on
and become a fan on
Copyright 2009 TheStreet.com Inc. All rights reserved. This material may not be published, broadcast, rewritten, or redistributed.