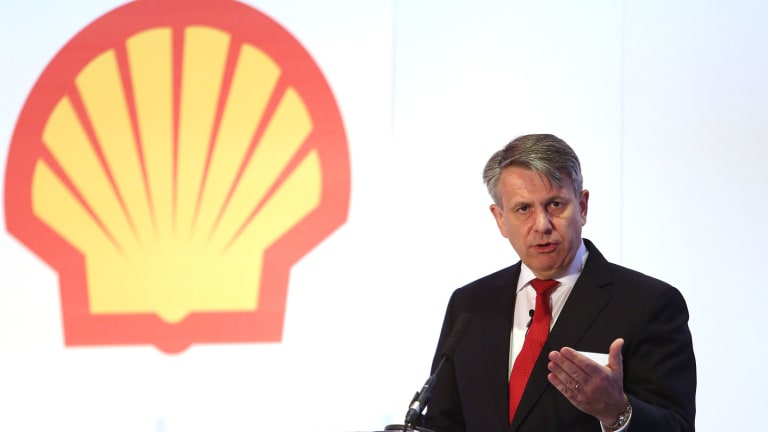 Shell Shares Drop After Big Second-Quarter Earnings Shortfall
The oil group's $1 billion profit lags forecasts by more than half after BG integration costs and a huge upstream miss.
Leading European energy company Royal Dutch Shell () posted a sharp fall in earnings for the second quarter, badly missing analyst estimates amid low oil and gas prices, weaker refining margins and the cost of integrating the recently acquired BG business.
Shell profit was $1 billion, down 72% on the same period in 2015 and less than half the $2.16 billion consensus of 22 analysts that cover the company.
Shell's shares fell in early trading Thursday to 1,968.5 pence ($25.98), down 75 penc,e or 3.7% on their Wednesday close.
All of the company's major operations disappointed, though none so much as its upstream oil business, which posted a loss of $1.3 billion. Analysts' consensus expectation was for a $556 million loss.
Shell's integrated gas unit posted earnings of $868 million, compared with analyst forecasts of $992 million, while downstream operations made $1.8 billion, compared with forecasts of $1.9 billion.
"Lower oil prices continue to be a significant challenge across the business, particularly in upstream," Shell CEO Ben van Beurden said in a statement. "We are managing the company through the down-cycle by reducing costs, by delivering on lower and more predictable investment levels, executing our asset sales plans and starting up profitable new projects."
Shell's weaker-than-expected results continue a trend for oil majors after BP (BP) - Get Report and Statoil (STO) also reported disappointing second-quarter numbers earlier this week. France's Total (TOT) - Get Report , which also reported its second-quarter numbers on Thursday, is the only European oil major to buck that trend, after it beat analysts' expectations by 14% with an adjusted net profit of $2.2 billion as its downstream business proved resilient and upstream production increased 5%.
Shell has been cutting costs to cope with historically low oil prices, though the company has also set itself apart from its rivals by massively expanding into natural gas with the $54 billion purchase of BG earlier this year. The consolidation of that business cost the company $1 billion in the second quarter, more than reversing a $900 million decline in operating expenses.
Capital investment for the second quarter was $6.3 billion. Shell said in June that it expected capital investment for the year to be about $29 billion and said it could cut that spending further if oil remained below $50 a barrel.
Shell needs oil prices of about $60 a barrel to cover its spending and its dividend, Goldman Sachs noted last month.
The company is also planning to sell about $30 billion of assets by the end of 2018 to help cut debt that has ballooned to about $70 billion with the acquisition of BG. Analysts' concerns about the sluggish progress that Shell has made toward this disposal target are likely to increase after the company made no major disposals during the second quarter.
Shell said it will maintain its dividend at 47 cents, with shareholders offered the choice of taking the payment in cash or shares. Shell's American depository shares will pay a dividend of 94 cents in cash. The payments will be made on Sept. 19.