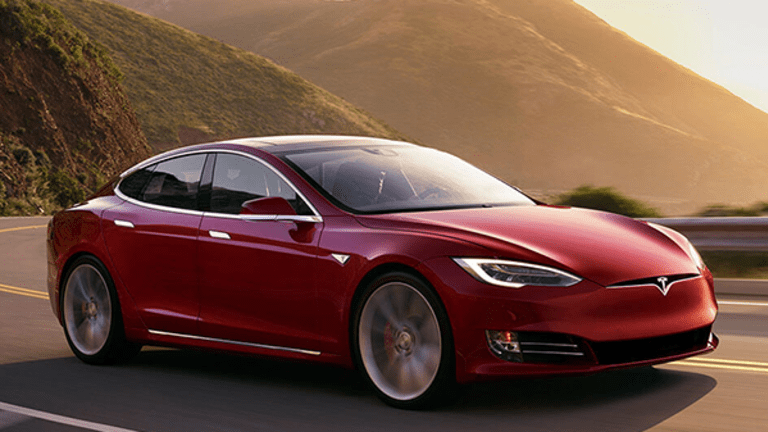 Tesla's Remarkable Rally Just Getting Started: Chart
If Tesla's chart confirms this breakout, then the stock is going much higher.
Shares of Tesla Inc. (TSLA)  surged 6.5% by Thursday's close, after the company reported a smaller-than-expected loss and said production of its new mass-market Model 3 sedan remains on pace to hit sales targets.
Tesla reported a loss of $1.33 per share, which topped Wall Street estimates of a loss of $1.88 per share. The company also reported revenue of $2.79 billion, which beat Wall Street estimates for revenue of $2.51 billion. The company said it's receiving an average of 1,800 orders per day for the Model 3 since the launch date was announced.
Elon Musk Reveals 63,000 People Have Canceled Tesla Model 3 Orders, Proving Several Key Things
The short-sellers in Tesla are once again taking it on the chin. At last check, the stock was trading up 6.5%, to $347 a share. The current short interest as a percentage of the float for Tesla is very high at 23%. That means that out of the 121.48 million shares in the tradable float, 27.99 million shares are sold short by the bears.
If we take a look at the chart for Tesla, you'll notice that this stock is gaping-up sharply higher this morning, back above its 20-day moving average of $328.99 a share and above its 50-day moving average of $344.89 a share with strong upside volume. Volume on the session has already hit 8 million shares, which is closing in fast on its three-month average volume of 8.12 million shares.
Shares of Tesla are also starting to flirt with a key breakout this morning, since the stock is testing some major near-term overhead resistance at $347.50 a share. At last check, Tesla has hit an intraday high of $350 a share and the intraday low so far is $343.15 a share. Shares of Tesla are setting up to potentially close above that key near-term resistance at $347.50 a share and trend notably higher from here.
Even with this big pop and gap higher, shares of Tesla are not overbought when we measure that condition using the RSI, or the relative strength index momentum oscillator. The current RSI reading for Tesla is about 56, which is considered a bullish signal and is nowhere near overbought readings, which don't really start until the RSI is over 70.
Traders should look for long-biased trades in Tesla if this stock can manage to confirm that breakout with a close over $347.50 a share with strong volume. Look for volume that hits near or above its three-month average action of 8.12 million shares. If that breakout confirms soon, then this stock will set up to re-test or potentially take out its next major resistance levels at $370 to its all-time high of $386.99 a share.
Traders can use that intraday low of $343.15 as your stop, or since the stock has gaped a significant amount, you could use the $340 to $333 a share as areas to exit if we fail to get a close into breakout territory over $347.50 a share.
The bottom line: shares of Tesla need to close over $347.50 soon to confirm that a larger move higher is in the cards. The stock is not overbought even with the big pop on Thursday, so watch for that breakout to confirm soon with a high-volume close.
Watch More with TheStreet:
This article is commentary by an independent contributor. At the time of publication, the author held no positions in the stocks mentioned.