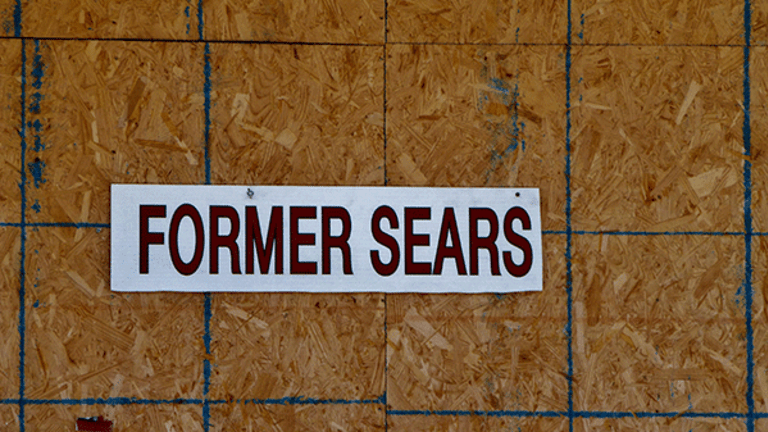 Shares of Sears May Be Rising, but Challenges Still Cast a Shadow
Unfortunately, the troubled retailing company's stock has become irreversibly tarnished.
A Christmas miracle sent Sears Holdings (SHLD) stock up about 10% on Thursday, but the struggling retailer's woes are far from over.
Unfortunately, there is little that can save this dinosaur stock. Sears Holdings, once the crown of many retirement portfolios, has become irreversibly tarnished.
Sears Holdings' Thursday jump came courtesy of news that the company had lined up $200 million in credit to keep its ship afloat. Shares are up more than another 1% on Friday.
That credit amount could be increased to as much as $500 million, according to a statement from the retailer.
The funding is being provided by affiliates of ESL Investments through Citigroup. ESL Investments is a financial firm run by Eddie Lampert, Sears Holdings' chief executive, as well as its biggest investor.
Clearly, he is dead-set on bailing out the company, despite the fact that the department store chain is bleeding cash and sales continue to plummet.
Lampert already made moves to resuscitate the ailing retailer, including spinning off assets such as Lands' End and selling real estate through a spin-off real estate investment trust called Seritage Growth Properties. The latter company is also being propped up by ESL Investments, recently announcing a $200 million unsecured line of credit.
However, Sears Holdings continues to stumble. The company did too little, too late when it came to getting into the ecommerce game led by Amazon.
Sears Holdings reported a $748 million third-quarter loss, bringing total losses for the past eight years to $9.35 billion, Bloomberg reported.
And according to Moody's analysts, Sears Holdings will need to raise about $1.5 billion to survive next year.
It is bad news that Sears Holdings is leaning on Lampert for life support. And it is worse that no one else seems to have enough confidence in this once-bright business to be willing to provide credit.
But worst of all may be the fact that the company is desperate for cash so soon after Christmas, a time when most retail companies are at their most flush.
Still, Sears Holdings vows to trudge on.
"We will take actions to adjust our capital structure, generate our liquidity, and manage our business to enable us to execute on our transformation while meeting all of our financial obligations," company Chief Financial Officer Jason Hollar said Thursday.
It isn't clear what transformation Sears Holdings expects to undergo. However, at this point, it looks as if bankruptcy would be the best course of action for the retailer.
With a stodgy business that is being practically ignored by shoppers and without having solved its problems already, Sears Holdings, sadly, looks headed for extinction.
---
A blistering financial storm is about to hit our shores. When it hits, weak companies and their investors will be washed away. You need to put yourself on solid ground. And that doesn't just mean changing your investment allocations or loading up on cash. I'll show you how to protect yourself and prosper when you click here.
The author is an independent contributor who at the time of publication owned none of the stocks mentioned.