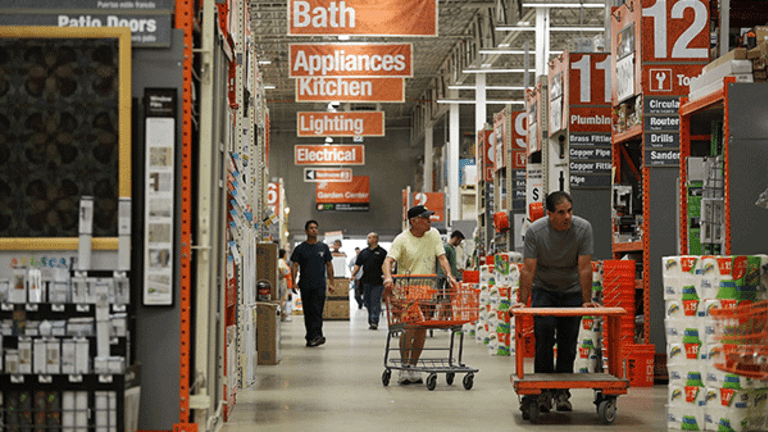 Shares of Apple, Home Depot Will Thrive When the Market Gets Ugly
The post-election rally masks an unpleasant truth: The economy is overdue for a recession. Get ready with these resilient equities.
Who is ready for the coming Trump recession?
The lessons of history don't bode well for the incoming administration. Recoveries typically last about eight years, which suggests that the U.S. is overdue for an economic downturn.
But two defensive growth stocks will not only survive but also thrive if a downturn occurs in 2017: Apple (AAPL) - Get Report  and Home Depot (HD) - Get Report . 
Apple is a holding inJim Cramer's Action Alerts PLUS Charitable Trust Portfolio. See how Cramerrates the stock here. Want to be alerted before Cramer buys or sellsAAPL?Learn more now.
Since 1854, over the course of 34 expansions, the duration of recoveries from trough to peak in the U.S. has averaged 39 months, with a median of 30 months. Since 1961, recoveries on average have lasted about eight years.
We are more than eight years into a recovery from the Great Recession. As Homer Simpson might say: "D'oh!"
Nonetheless, investors are betting that President-elect Donald Trump will be good for corporate profits, with the S&P 500 gaining 6% since Election Day.
They are also betting that his promised spending plans will stimulate the economy and fuel inflation. Accordingly, the yield on 10-year U.S. Treasury bonds has risen to 2.6% from 1.85% since the election.
The problem is that the stock market is overvalued, and expectations about Trump's policy effectiveness are probably overblown.
Although stocks typically have a trailing price-earnings ratio of 15, they are hovering at a trailing P/E of about 25. The forward P/E is 17.1, above the 10-year average of 14.4.
Often compared to a carnival barker, Trump has a habit of making grandiose promises and then either discarding them or reversing his position. It remains to be seen whether he can fulfill his promise to simultaneously boost military spending, launch a massive infrastructure rebuilding program and slash taxes.
Fiscal hawks in the GOP-controlled Congress already are pushing back against some of Trump's spending plans. He also faces united opposition among Democratic Senators, who can wield the filibuster.
The upshot is that this aging bull market, now entering its eighth year, is running on many assumptions that are shaky at best. Some analysts contend that Trump faces a double-digit market correction and a recession.
Get ready with these two "survivor stocks."
Apple enjoys best-of-brand software, brand loyalty, engineering prowess, sustained profitability and widely used operating systems. The IOS, the operating system of the company's iPhone, is renowned for its flexibility and speed, as well as pervasive developer support.
Consumers don't just buy the company's products: They embrace the logo with something akin to love. The customer base of this Cupertino, Calif.-based giant is cult-like.
Meanwhile, Fortune magazine's ranking this year of the 500 top companies in the U.S. showed that, once again, Apple is the country's most profitable company, racking up $53.4 billion in earnings last year.
Apple continues to release innovative products and make new forays into lucrative emerging markets, notably India. Earnings growth momentum is in the cards.
The average analyst expectation is that Apple's earnings will grow 12.6% in the next quarter, 8.4% this year, 11.9% next year and 8.7% over the next five years on an annualized basis.
Meanwhile, Home Depot is the world's largest home improvement retailer, with 2,274 locations, including 1,977 in the U.S., 182 in Canada and 115 in Mexico. The company is the fourth-largest retailer in the U.S. and the largest in both Canada and Mexico.
Most of Home Depot's sales derive from kitchen equipment, paint, flooring and other hardware bought by homeowners who are remodeling. The company also provides installation services for products such as windows, roofing and siding, furnaces and central air systems.
The home remodeling market is booming, with strong gains expected well into next year. The housing market is on an upward trajectory that should weather a downturn, as Americans capitalize on higher home prices and increasingly regard their homes as investments.
Home Depot's stock has consistently outperformed chief rival Lowe's because of greater economies of scale and higher worker productivity, as well as exposure to segments that afford more long-term growth potential. Home Depot's stores benefit from locations in areas that are geographically more desirable, with more affluent customers and higher foot traffic.
The average analyst expectation is that Home Depot's earnings will grow 11.8% in the next quarter, 17.4% this year, 12.9% next year and 13.6% over the next five years on an annualized basis.
To play a housing recovery and remain cautious in case the market tanks, Home Depot is the best choice for pragmatic optimists who want to stay invested but fear a Trump recession.
---
Worried about a bear market? We've found a genius trader who makes this bold promise: "If I don't deliver 24 triple-digit winners in the next year...I'll give up $1,950." His top-tier trading service reeled off twenty-four triple-digit winners in less than a year, along with more than thirty double-digit winners thrown in for good measure. And he racks up these profits in up or down markets. Get the details here.
John Persinos is an investment analyst at
Investing Daily.
At the time of publication, he owned stock in AAPL.