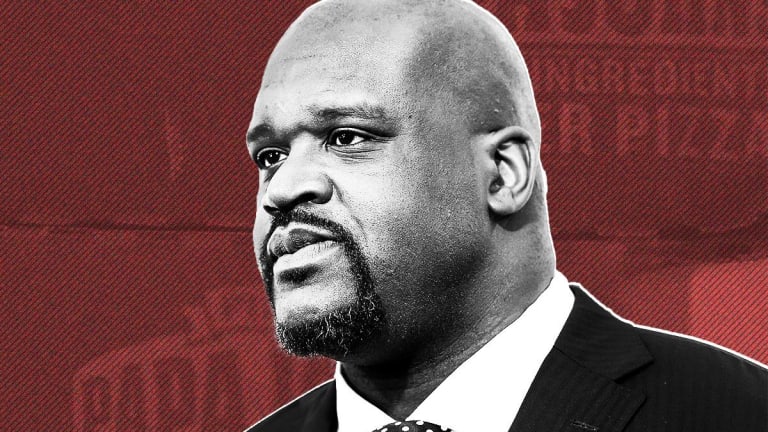 Papa John's Stock Rallies After Shaquille O'Neal Joins Troubled Chain's Board
Shares rise as much as 6% as pizza chain hopes Shaq can help it recover from founder John 'Papa John' Schnatter's racist comments.
Shares of Papa John's (PZZA) - Get Papa John's International, Inc. Report , the embattled pizza chain that ousted founder John "Papa John" Schnatter as CEO and chairman after Schnatter made racist comments, are rallying Friday after the chain named NBA legend Shaquille O'Neal to its board of directors.
Chairman Jeff Smith said the company is "thrilled to partner with Shaquille and welcome him to the Papa John's board. Shaquille has an excellent entrepreneurial background, including as a restaurant-franchise owner, and is a natural creative marketer."
In addition to joining the board, O'Neal is investing in nine Papa John's franchises in his hometown of Atlanta and will serve as the company's "brand ambassador." The news sent (PZZA) - Get Papa John's International, Inc. Report shares up 6.21% to $49.80. 
The four-time NBA champion said in a statement that "I have truly enjoyed the high-quality Papa John's product for years and am excited to be able to help Papa John's raise their game to new heights. This is a triple-threat opportunity for me. I am excited to join the board and to help lead from the top while also investing in nine stores in my hometown [and] being an ambassador for the brand. I look forward to working with my colleagues on the board and using my experience in business and community to build on the progress being made at Papa John's."
Papa John's noted that Shaq already owns a Krispy Kreme Doughnuts franchise in Atlanta, a Big Chicken restaurant in Las Vegas and a Los Angeles eatery named Shaquille's. He also formerly owned 27 Five Guys Burgers and Fries franchises and is a minority stakeholder in the Sacramento Kings NBA franchise.
O'Neal, who's African-American, is joining the board as Papa John's tries to recover from a series of scandals involving founder Schnatter, who still owns some 30% of the company and retains a board seat. However, Schnatter stepped down as CEO in 2018 after criticizing the NFL's handling of players kneeling during the U.S. national anthem to protest racial inequality in America. Later that year, he quit as board chairman after word emerged that he had used a racial slur in a company meeting.
Schnatter later sued the company and reportedly investigated launching a hostile takeover of the chain, but eventually agreed as part of a lawsuit settlement to step down from the board once his current term ends next month. The ongoing scandals have helped push PZZA shares down some 13% over the past year even after factoring in Friday's rally. 
O'Neal's deal with the company not only represents an apparent attempt to counter Schnatter's scandals, but also fits with Papa John's traditional attempts to brand itself as a place for sports fans. The chain long had a major advertising deal with the NFL, but that ended last month as PZZA's sales had suffered. Papa John's also had an advertising deal with the New York Yankees' YES Network, which was just sold to a group of investors including Amazon.com (AMZN) - Get Amazon.com, Inc. Report .
How Much Money Will I Need to Retire?
Want to learn about retirement planning from some of the nation's top experts? Join TheStreet's Robert "Mr. Retirement" Powell live in New York on April 6 for our Retirement Strategies Symposium. For a limited time, tickets are available for $99 for this full-day event. Check out the agenda, learn about the speakers and sign up here.