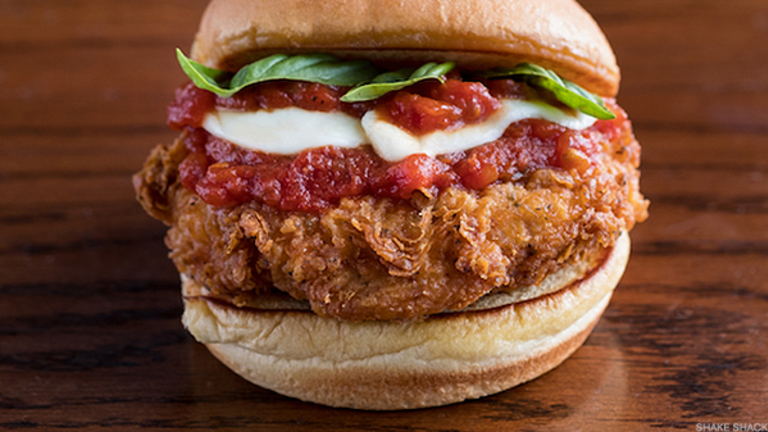 Shake Shack Will Put Pizza on Chicken
And it doesn't look half bad.
And it doesn't look half bad.
Fine-dining may have done fusion first, but fast food is taking it to another level -- and not necessarily a higher one.
Earlier this year, KFC, owned by Yum! Brands (YUM) - Get Report , introduced the Chizza, the fried chicken crust pizza to a slightly less-than-chipper reception. Now, Shake Shack Inc. (SHAK) - Get Report is debuting a more sophisticated version of the pizza on chicken: the Chick'n Parm sandwich (see below), to be served in select Washington D.C. and Philadelphia locations next month.
The Italian-inspired sandwich is a collaboration between Shake Shack and pizza chain Pizzeria Vetri, which will also serve a new menu item inspired by Shake Shack. The pizza chicken sandwich will be available starting Sept. 1 through Sept. 10. It will feature "crispy chicken breast topped with Pizzeria Vetri marinara sauce, fresh mozzarella and basil," the restaurant said in an Aug. 15 announcement.
While there are no permanent plans for the Chick'n Parm, which will be offered at $6.99, it could possibly expand its reach to other locations, a spokesperson told TheStreet Monday, Aug. 28.
Shake Shack's collaboration with Pizzeria Vetri was the first of its kind, culinary director Mark Rosati said in the announcement. 
The burger chain rolled out this month another new item: the Hot Chick'n, a play on its original chicken sandwich, the Chick'n Shack. Shake Shack seems to be having a huge year in terms of development: It will open its first-ever outposts in China in the next two years.
More of What's Trending on TheStreet: