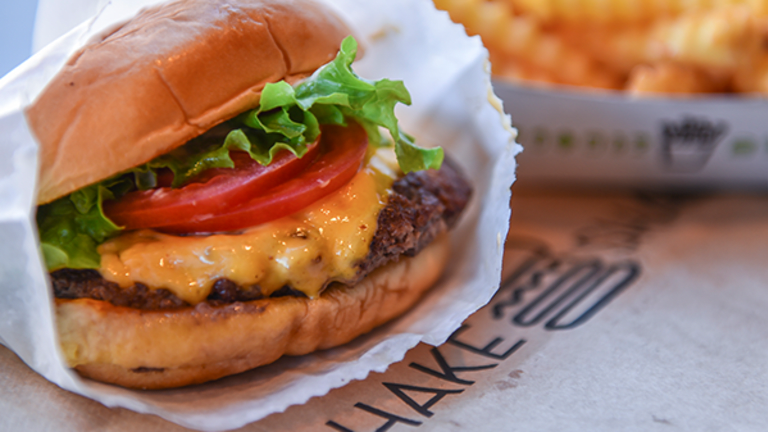 Finally a Wall Street Firm Shows Shake Shack Some Love -- Here's Why
The stock landed an upgrade, finally.
Finally, some love on Wall Street for Shake Shack (SHAK) .
Shares of the better burger joint were up more than 3% to $37.65 in afternoon trading Thursday after the company was upgraded to "outperform" from "neutral" by analysts at Wedbush who also increased their price target to $43 from $33. 
The price target represents a potential 16% upside from the stock's previous closing price of $36.65.
Wedbush estimates the burger chain's earnings before interest, taxes, depreciation and amortization (EBITDA) will grow by 29% in 2018, much higher than its peers' expected average growth of 17%. The firm is also confident that beef prices will not affect Shake Shack's bottom line and that the company will be able to meet its comparable store sales growth guidance. 
The upgrade comes at an interesting time for Shake Shack. 
Since the better burger chain's sizzling IPO on January 30, 2015, when the stock just about doubled to nearly $46, shares have fallen about 22% despite several quarters of strong sales and profits. Wall Street, as it typically does, has pushed Shake Shack to pick up the pace on opening restaurants and bringing new food on the menu to boost sales. But, the company has resisted the urge to go too fast and risk losing sight of its identity.
"Look at any great entrepreneurial story, when you veer away from what got you there things change real fast -- we aren't going to do that," explained Shake Shack CEO Randy Garutti in an interview with TheStreet. "You have to remember that Wall Street has an insatiable appetite that will never be fully satisfied -- we go to bed every night knowing that, and most importantly we know who we are."
Retail's downturn giving you the blues? Jim Cramer has a list of retailers that are currently oversold, giving investors a leg up one of the market's most volatile sectors.