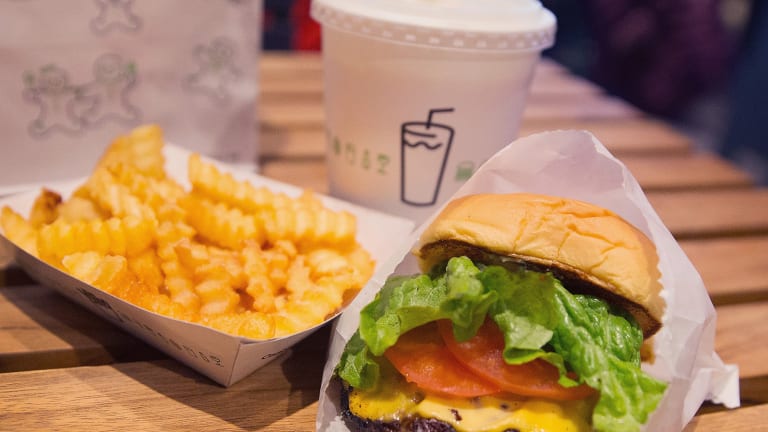 Shake Shack CEO: Listen Up Wall Street, We Have a Sizzling Future
Shake Shack CEO Randy Garutti is full steam ahead on trying new things in his restaurants and expanding mobile ordering. Here's what he told TheStreet about the year ahead.
Shake Shack (SHAK) - Get Report CEO Randy Garutti has a better burger joint to position for the future of eating out -- if the stock price doesn't immediately go up in a straight line, that's OK. Build it, and the investors will come.
"I think the people that have been long-time shareholders and want to be, understand the long-term mindset on how we run this company," Garutti told TheStreet in an interview. "We do not run this company for the next quarter, we do not run it for percentages -- we run it for long-term value creation."
Shake Shack shares have gained about 24% over the last year, slightly trailing the S&P 500. Old school burger players have seen their stock prices catch fire during the same stretch. McDonald's (MCD) - Get Report , Wendy's (WEN) - Get Report and Restaurant Brands (QSR) - Get Report (Burger King, Popeye's) have notched respective gains of 43%, 25% and 27%. 
It's not as if Shake Shack has been standing still, in fact it's the complete opposite.
Garutti's team has uncorked a slick new mobile ordering app that is creating additional sales from those on-the-go. The company hasn't sacrificed on its trademark food quality. About 26 new domestic locations were opened in 2017, with another 35 or so on tap for 2018. Heck, the company is even planning a fall opening in Silicon Valley. Because hey, even $500,000 a year app programmers need to eat every now and then. 
TheStreet talked with Garutti about what's on tap for 2018 and beyond. What follows is a condensed and edited version of our conversation.
TheStreet: Some of your biggest thoughts on the future of eating out while chowing down on a Shack burger?
Garutti: I think we are in an environment of shifting retail preferences, in the way people move around and choose to eat and interact with brands. I would say food is as susceptible to the shift online as retail is.
So when we think about Shake Shack and the future, we are building the company for a community gathering experience. We want to do that in the future better than ever before. What we want to add more of is that with a great experience, you need great convenience. Just look at the digital transformation of our brand and how people are choosing to interact with us more and more, such as through our app or delivery options or kiosks. 
To me, the brands in any industry that will be the most successful will be those that have a strong brand, continue to build great places to experience that brand and when I can't get to those places, they make it really easy to experience the brand on my own terms. 
TheStreet: Does the soul of Shake Shack -- one that is focused on customer service -- change over time as you try to get people food on the go?
Garutti: I don't think it does. First off, people will not stop gathering with other human beings. I don't believe we are headed to a world where we just exist in our living room online and we never go and meet people. As more and more people connect online, especially on social media, I believe people will crave places to meet more than ever. That's what we have built at Shake Shack and plan to build even better. 
That soul will stay. However, what we think is additive is when people want to experience the brand when they can't get to our locations for whatever reason. In those times you want to make it really convenient. I think people will connect in an even deeper way when you give the opportunity to experience the brand on their terms. 
Obviously, the app is the best example of this because I can sit here and order my food and pick it up in any Shake Shack. You can then meet me there. So you got to experience the brand and we eliminated all the friction we used to have. We can focus on our time together. 
On the kiosk front, I just left our Astor Place Shake Shack where we are experimenting with a kiosk. What people are telling us is that they don't have the pressure of face to face interaction. Now here, I can just come and take my time in front of the screen, dig through the menu and find new items. What we have learned through the years is that people could wait around an hour on line, they get up there and after all that time, you actually have this stressful moment of remembering what you wanted to order. 
TheStreet: Are kiosks the future?
Garutti: Well, we only have one Shake Shack with a kiosk. We just launched a couple kiosks at our Midtown east Shake Shack to test what a normal, mature location with a couple kiosks would look like. It's really new. We aren't headed towards a company-wide roll-out just yet. We want to make sure we understand it. But I do like the early signs of what we are seeing. 
TheStreet: So in this world on the go environment, how do you think about restaurant design? Smaller locations?
Garutti: We still want to make sure we capture the sales opportunity. So, we aren't really shrinking anything. We are going after premium, A-rated sites in the best parts of this country and overseas. We want to capture the places where people want to be. 
No plans to decrease square footage. You will see some smaller Shake Shack locations such as in airports and kiosk locations, like sports stadiums. 
TheStreet: How big could delivery be for Shake Shack 10 years from now?
Garutti: I think it has huge potential. We have done a number of pilots, currently we are piloting with Postmates. We are still thinking through this strategy. It's an obvious sales opportunity for us. We are hearing from guests they really like Shake Shack brought to them. The data is clear. 
Delivery to the country for us is still a pretty new thing. We just want to make sure we are doing it well. So we will evolve our packaging for delivery orders. The orders will be warmer. It's not an easy business.
TheStreet: Considering the delivery push, do you have to re-engineer your food? Do the processes of making the food change?
Garutti: We have looked at what matters in terms of getting food to people. There is always going to be some differences in quality. We have zero desire to mess around with our food. Our food for 14 years has made us great, we aren't going to start cooking or making it differently in order to deliver. That is not how we think about it. 
What we want to make sure is that we have the amount of time it takes to deliver down cold. That matters more than anything in the process. 
TheStreet: Workers are going to be asked to do even more in this on-the-go world. How do you keep them happy besides raising wages?
Garutti: Hey, it's real work working in a Shake Shack. I have worked in restaurants since I was 13 years old, it's a hard business. But, it's also a really satisfying business. Our job is to make sure we are developing leaders, showing them there is an opportunity for them to grow. If we do that, we will have leaders and the development opportunities so they can move to new locations and lead. 
Hope and opportunity is the number one motivator for people in our industry and company. 
TheStreet: Sounds like a lot of investment here overall. How do you communicate that effectively to a Wall Street that has always wanted your bottom line to grow even quicker?
Garutti: I think we have been really consistent on this front. We are a public company, we have shareholders that want to know our plans. I think the people that have been long-time shareholders and want to be, understand the long-term mindset on how we run this company. We do not run this company for the next quarter. We do not run it for percentages. We run it for long-term value creation. 
We do not intend to allow Wall Street to pressure us to make decisions that aren't right for the long-term. 
TheStreet: One surprise over the next ten years in the restaurant industry that could shock everyone?
Garutti: I don't think we know it yet. I think it's coming, but we don't know it. If we were to look back five years and said delivery would be one of the most impactful opportunities for our industry know one would have guessed it. 
Check out TheStreet's Other Influencer Interviews