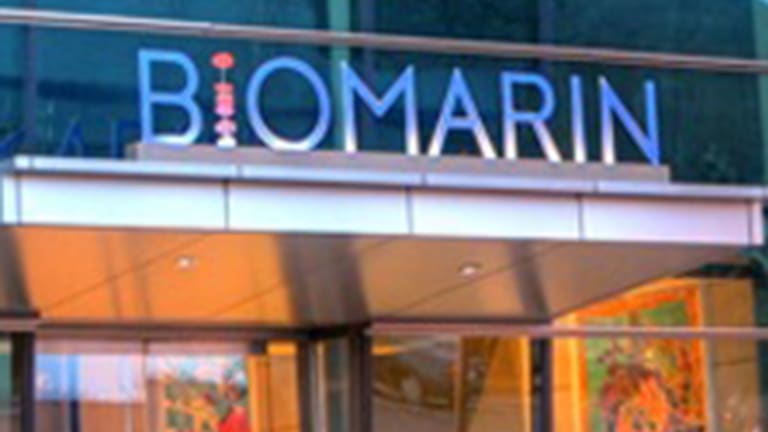 Seven Reasons to Love Biomarin's Duchenne Drug Falls One Short
RBC Capital analyst Michael Yee offers seven reasons why Biomarin Pharmaceuticals will secure U.S. approval for drisapersen to treat Duchenne muscular dystrophy, a rare, genetic muscle-wasting disease.
NEW YORK (TheStreet) -- RBC Capital analyst Michael Yee offers seven reasons why Biomarin Pharmaceuticals (BMRN) - Get BioMarin Pharmaceutical Inc. Report will secure U.S. approval for drisapersen to treat Duchenne muscular dystrophy, a rare, genetic muscle-wasting disease. Yee predicts a 65% chance of drisapersen's approval by the end of the year.
Biomarin shares are worth $180 -- another $6 billion upside -- if the U.S. Food and Drug Administration approves drisapersen. If drisapersen is rejected, Biomarin's downside risk is $110 per share, or a $5 billion fall, Yee predicts.
Here are Yee's seven reasons to be optimistic about drisapersen's U.S. approval:
1) no post-approval studies appear to be required at this time (reiterated on EPS call), 2) drug got FDA Breakthrough Therapy, 3) significantly more pts treated and very large safety database of 300+ pts treated, 4) political urgency to approve one of the drugs and we doubt they reject both drugs, 5) extension data appears to hold up and continue to separate over time, 6) specific use for a very rare, identified population and overall safety supports a decision unlikely to harm patients, 7) mgmt diligence on the complete package of data and with Prosensa mgmt, and historically 67% of orphan drugs are approved with subjective decision based on reviewers.
Regarding reason No. 1, Biomarin Chief Medical Officer Henry Fuchs, speaking on the second-quarter earnings call Monday night, said nothing about FDA easing up on the requirement for a drisapersen post-approval study. This is what Fuchs said in response to a question about a post-approval study:
And what we have said is that, first of all, that the specific design of a confirmatory study can really only be finalized once there has been adequate review of issues that have been identified during review. And as you know, although the submission has been made and the FDA has filed the submission, we're still relatively early in the review process. So we are now -- we are not now able to identify what the final design of the confirmatory study is.
Yee must have misheard. Fuchs didn't say a confirmatory study won't be required, he said BioMarin is still unsure how to design the confirmatory study. I agree with Forbes' Matt Herper's Twitter comment this morning, "That we haven't heard about [a confirmatory study] is an argument FDA won't be ready to approve [drisapersen.]

Yee's reason No. 2 means little. Reason Nos. 3, 4 and 6 generally work in BioMarin's favor, agreed, but that doesn't alleviate all the risk. A safety database of 300-plus patients on drisapersen is far more than what rival Sarepta Therapeutics (SRPT) - Get Sarepta Therapeutics, Inc. Report is bringing to FDA with its eteplirsen submission. But the data from those 300-plus patients is also equivocal on the (arguably more important) question of whether or not drisapersen actually works.
Biomarin likes to remind investors that its drisapersen regulatory submission is based on three randomized, placebo-controlled studies. The company glosses over the fact that one of these studies -- the large, phase III -- failed to demonstrate a drisapersen benefit over placebo. Biomarin believes the "totality of the evidence obtained" from the three studies supports drisapersen's efficacy in DMD patients.
Fine, but "totality" also means going back into the studies to dig up subgroups of DMD patients (younger, relatively healthier) in which drisapersen appears to be effective. Maybe. Possibly.
BioMarin's biggest challenge is convincing FDA and the experts on the still-unscheduled advisory committee that "dirty" data supports approval.
Which brings up a reason to be optimistic about drisapersen conspicuously absent from Yee's list.
Drisapersen works?
Adam Feuerstein writes regularly for TheStreet. In keeping with company editorial policy, he doesn't own or short individual stocks, although he owns stock in TheStreet. He also doesn't invest in hedge funds or other private investment partnerships. Feuerstein appreciates your feedback; click here to send him an email.