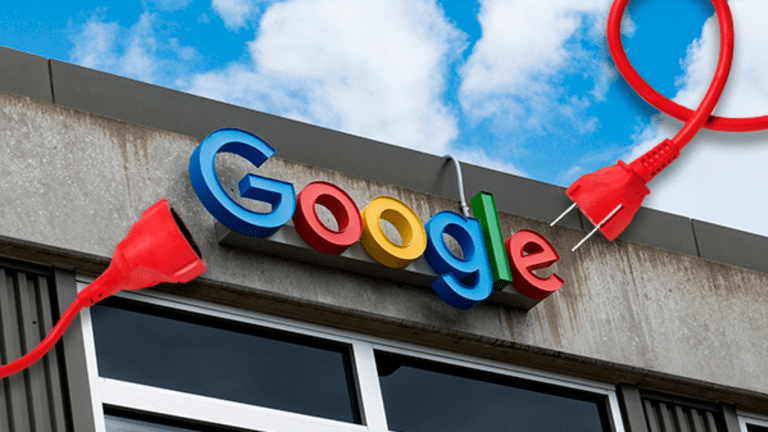 Google's Android Settlement With Russian Regulators Bodes Well for Its future
Though Google's agreement with Russia allows rival services to be pre-installed on Android phones, it looks as if Google's own services will remain pre-installed as well.
Of the dozens of acquisitionsAlphabet/Google (GOOGL) - Get Alphabet Inc. Class A Report has made over its history, none -- not even its $1.6 billion 2006 purchase of YouTube -- arguably tops its $50 million purchase of a mobile software developer called Android in 2005 in terms of either financial payoff or long-term strategic value.
Not only did the deal help Google eventually possess the most widely-used mobile OS in an era where a smartphone is the main computing device for hundreds of millions of people, it allowed the company's well-monetized services to be baked into a majority of the world's phones, and typically at a low cost to Google.
But this very lucrative business model has come under fire over the last couple of years, as regulators in Washington, Brussels and Moscow probe complaints from disgruntled rivals. If the settlement that Google just struck with Russian regulators is a sign of things to come, the probes will hurt Android's profitability to Google a bit, but won't do massive damage.
Seventeen months after Russia's antitrust watchdog ruled that Google is abusing its mobile market position by requiring that phones running Google Android pre-install the company's apps and services, Google has agreed to stop demanding its offerings be exclusively pre-installed on Android phones sold in Russia, and pay a modest $7.8 million fine. The company will also replace the Google Search widget that appears on Android home screens with a Chrome browser widget that lets Russian users select their default Chrome search engine.
Russian search firm Yandex (YNDX) - Get Yandex NV Class A Report, whose local market share has been gradually dropping thanks to Google's strong mobile position, was up 6.7% today in New York. Though research firm LiveInternet estimates Yandex has a 55% Russian search share to Google's 40%, Yandex claims it has only a 38% share on Google Android.
However, Alphabet's shares rose 1.8% today, amid a 0.9% gain for the Nasdaq. A bullish Credit Suisse note seems to be helping, but so might the specifics of the Russian settlement.
While Google is no longer allowed to prevent a mobile OEM such as Samsung (SSNLF) or Huawei from pre-installing rival third-party apps/services on their Android phones, it isn't prevented (from all indications) from continuing to require that its own apps/services be pre-installed. Google has defended such requirements with the solid argument that it incurs R&D, intellectual property and other costs to support Android, and with the OS given away for free, app/service bundling is the only way it can recoup its expenses.
This means Google's very profitable Search app should still be pre-installed. As will other monetized apps such as YouTube, Maps, Gmail and of course Google Play. Mobile search and YouTube ad growth led Google's paid ad clicks/views to rise 36% annually in the fourth quarter.
Moreover, while Google's new Chrome widget will make it easier for Russian consumers to use Yandex and other rival search engines, it won't allow a rival offering to be Chrome's default search engine out of the box either. And should Google agree to provide a similar tool for U.S. and EU consumers, one has to assume most of them will choose Google as their default engine, given its dominant search share in both regions. The fact Google Search can also now be accessed on Android phones by saying "OK, Google" or pressing and holding the home button doesn't hurt either.
One negative side-effect to losing the right to demand Google Search exclusivity is that Google may have to give OEMs a larger ad revenue cut to have a Google Search widget appear on a phone's main home screen. As it is, mobile revenue-sharing deals -- including one with Apple (AAPL) - Get Apple Inc. (AAPL) Report to make Google the default search engine for the Safari browser on iOS devices -- led Google's traffic acquisition costs to grow to 10% of the ad revenue recorded on Google's own sites in the fourth quarter from 8% a year earlier.
Jim Cramer and the AAP team hold positions in Apple and Alphabet for their Action Alerts PLUS Charitable Trust Portfolio. Want to be alerted before Cramer buys or sells AAPL or GOOGL? Learn more now.
But again, the popularity of Google Search gives the company some leverage. Whether or not they're showcased on the home screen, Google can trust a large percentage of Android users in most markets to use its search apps and Chrome. After all, Samsung has been pre-installing its own browser and e-mail client (among many other things) on its phones for years, but from all indications, the rival Google apps that are also pre-installed are still used by many Samsung phone owners.
Whereas IDC believes Samsung accounted for 21.2% of 2016 smartphone shipments, StatCounter estimates Samsung's browser has just a 6.3% mobile share, well below Chrome's 47.1%. Safari (18%) and Alibaba's (BABA) - Get Alibaba Group Holding Ltd. Sponsored ADR Report UC Browser (17% and big in China, where Google is largely absent) are in second and third place, respectively.
It's not a given, of course, that any agreement with other regulators will be similar to the one Google struck with Moscow. However, the Android-related demands made by EU regulators aren't too different from the ones previously made by their Russian counterparts. Brussels wants Google to stop incentivizing mobile OEMs to exclusively pre-install Google Search, and to stop denying access to the Play Store to OEMs that fail to make Google the default search engine or use another version of Android such as Amazon.com's (AMZN) - Get Amazon.com, Inc. ReportFireOS.
Just like Moscow, Brussels wants to give phone makers more freedom to support offerings that compete with Google's, but isn't going as far as to demand Google's products no longer be pre-installed on its version of Android. The FTC, meanwhile, is probing Google's Android deals, but hasn't made a formal complaint yet.
Ultimately, Google's regulatory battles could lead to a small amount of search share loss, and cause its traffic acquisition costs to tick higher. But as long as Google Search, Google Play, YouTube and the rest remain attached to Android, the company's mobile position should remain quite enviable.