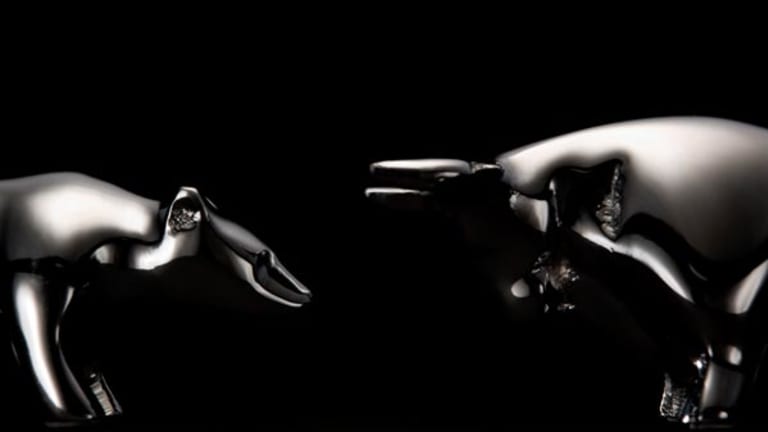 September 19 Premarket Briefing: 10 Things You Should Know
U.S. stock futures rise as Alibaba is set for its first day of trading in New York; Scots reject independence; Oracle CEO Larry Ellison steps down.
U.S. stock futures rise as Alibaba is set for its first day of trading in New York; Scots reject independence; Oracle CEO Larry Ellison steps down.
NEW YORK (TheStreet) -- Here are 10 things you should know for Friday, Sept. 19:
1. -- U.S. stock futures were rising Friday ahead of Alibaba's (BABA) - Get Report trading debut in New York while European stocks rose after voters in Scotland rejected independence from the U.K.

2. -- The economic calendar in the U.S. on Friday includes the Conference Board's Leading Indicators report for August at 10 a.m. EDT.
3. -- U.S. stocks on Thursday closed higher Thursday and the Dow Jones Industrial AverageI:DJI  hit another new high.
The Dow Jones Industrial AverageI:DJI rose 0.64% to 17,265.99. The S&P 500I:GSPC climbed 0.49% to 2,011.43. The NasdaqI:IXIC  rose 0.68% to 4,593.43.
4. -- Alibaba shares will begin trading Friday on the New York Stock Exchange after the e-commerce giant's initial public offering was priced at $68 a share, the top end of the expected price range.
The IPO values Alibaba at about $168 billion, which is bigger than the current market value of companies such as Amazon, Cisco, and eBay.
Yahoo! (YHOO) , which holds a 22.6% stake in Alibaba, is in line to make anywhere from $8.3 billion to $9.5 billion from the initial public offering.
5. -- Scottish voters resoundingly rejected independence, deciding to remain part of the United Kingdom following a historic referendum.
The decision prevented the rupture of a 307-year union with England, bringing a huge sigh of relief to Britain's political establishment, including Prime Minister David Cameron, who faced calls for his resignation if Scotland had broken away.
The vote on Thursday -- 55% against independence to 45% in favor -- saw an unprecedented turnout of just under 85%.
6. -- Oracle CEO  (ORCL) - Get ReportLarry Ellison is stepping aside as CEO of the business software maker after 37 years at the helm.
Two of Ellison's top lieutenants, Safra Catz and Mark Hurd, were named as co-CEOs.
Ellison, 70, is taking over as Oracle's executive chairman. He will oversee the engineering departments as chief technology officer.
Ellison remains Oracle's biggest shareholder with a 25% stake in the company.
7. -- Home Depot (HD) - Get Report  said that a data breach that lasted for months at its stores in the U.S. and Canada affected 56 million debit and credit cards, far more than a pre-Christmas 2013 attack on Target (TGT) - Get Report customers.
Home Depot, the nation's largest home-improvement retailer, said that the malware used in the data breach that took place between April and September has been eliminated.
8. -- JetBlue (JBLU) - Get Reportsaid Thursday that Dave Barger, its embattled CEO who has been under pressure from Wall Street, will step down in in five months when his contract expires.
The iconoclastic consumer-friendly carrier, founded in 1998, has had just two CEOs in its history, and now both have been hounded out of office by Wall Street investment banks and investors. Founder David Neeleman left in 2007, after a snowstorm led to an operational meltdown at the carrier's JFK hub, and on Thursday, Barger, an operations guy who was part of the founding group and Neeleman's successor, stepped down.
Barger will be replaced on Feb. 16, the day after his contract is up, by JetBlue President Robin Hayes, who had been widely expected to succeed him.
9. -- SAP (SAP) - Get Report , the business software maker from Germany, said it would buy Concur Technologies (CNQR) , a maker of travel and expense management software, for $129 a share, or about $7.36 billion.
The purchase price is a premium of 19.7% to Concur's closing price on Thursday of $107.80.
The deal is expected to close in the fourth quarter or the first quarter of 2015.
10. -- Apple's (AAPL) - Get Report newest phones go on sale Friday morning when the iPhone 6 and iPhone 6 Plus hit the market. 
To contact the writer of this article, click here:Joseph Woelfel
To submit a news tip, send an email to:tips@thestreet.com.
Copyright 2014 TheStreet.com Inc. All rights reserved. This material may not be published, broadcast, rewritten, or redistributed. AP contributed to this report.