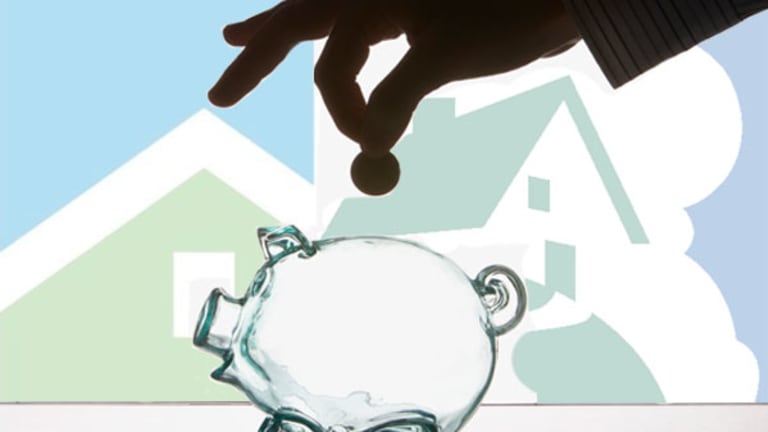 Senators Give Hope to All GSE Shareholders
A draft bipartisan Senate bill would dissolve Fannie Mae and Freddie Mac, while giving consideration to all classes of shareholders.
NEW YORK (
) -- Senators Bob Corker (R., Tenn.) and Mark Warner (D., Va.) are drafting a bill to dissolve
Fannie Mae
(FNMA)
and
Freddie Mac
(FMCC)
, while at least giving some consideration to the interest of the companies' common and junior preferred shareholders, according to a
Bloomberg
report.
Bloomberg
describes the bill, which is still being drafted: "the first serious bipartisan effort to shape a new housing finance system, it could frame a discussion that is heating up as the market rebounds."
Fannie and Freddie, known as the government-sponsored enterprises, or GSEs, together hold roughly $5.2 trillion in mortgage loans and mortgage-backed securities, and continue to play a very important role in mortgage financing in the U.S. Together, the GSEs purchase roughly 90% of newly originated mortgage.
The two companies were taken under government conservatorship in September 2008.
The U.S. Treasury holds $117.1 billion in Fannie Mae senior preferred shares and $72.3 billion in Freddie Mac senior preferred shares, for bailout funds provided over a period of several years. Both GSEs returned to profitability last year, and have been making very large dividend payments on the senior preferred shares, while dividends on junior preferred shares have remained suspended since September 2008.
Also see: Fannie, Freddie Still Have Enormous Potential >>
Per their amended bailout agreements, Fannie and Freddie are required to pay dividends to the government equal to all of their earnings, less $3 billion apiece in retained earnings, to provide a minimal equity buffer.
The government holds warrants to purchase common shares in Fannie and Freddie in sufficient quantities to give the Treasury a 79.9% stake in each GSE, at a very low price of $0.00001 a share.
According to the report, Senators Corker and Warner would see Fannie and Freddie liquidated within five years, with the U.S. Treasury taking over GSE mortgage guarantees, and "liquidation first would go to the U.S. government as the senior preferred shareholder in each of the companies, and then to holders of junior preferred shares, followed by holders of the common shares."
It is very significant that senators of both parties are finally taking all classes of Fannie and Freddie shareholders into account.
With Fannie and Freddie paying such large dividends to the government, while the dividend payments on the junior preferred shares remain suspended and while the GSEs aren't allowed to repurchase any of the government-held preferred shares, the senators may be responding to growing anger among investors.
Two high-profile investors recently discussed their holdings in shares of Fannie and Freddie, pointing the way to possible lawsuits against the government, depending on whether Fannie and Freddie are allowed to move past the bailout and go on operating, or on the precise way they are "dissolved."
Ralph Nader in an op-ed piece published in the
Wall Street Journal
on May 24 said he was a shareholder in both GSEs and that common shareholders of Fannie and Freddie should fight against the federal government's "great Fannie and Freddie rip-off."
Bruce Berkowitz's
Fairholme Capital Management
on Monday said that its clients, including shareholders including shareholders of
The Fairholme Fund
(FAIRX) - Get The Fairholme Fund Report
and
The Fairholme Allocation Fund
(FAAFX) - Get The Fairholme Allocation Fund Report
, "own approximately $2.4 billion par value of Fannie Mae and Freddie Mac Preferred Stock and are ready to help with a restructuring that accelerates the return of meaningful investment to the secondary mortgage market."
Also see: Fannie Freddie Seesaw Ride Far From Over >>
The comments from Fairholme could point the way to a deal under which government-held preferred shares could be converted to common shares, thus making the earnings of Fannie and Freddie available to all shareholders, and enabling the GSEs eventually to repurchase the government-held preferred shares. This would be similar to the way in which the massive bailout of
American International Group
(AIG) - Get American International Group, Inc. Report
was resolved.
In a note to clients on Tuesday discussing the senators' draft bill, FBR analyst Edward Mills wrote "while this legislation faces significant hurdles and GSE reform is still a long ways off, this legislation is significant as it marks the most constructive bipartisan effort yet to move Fannie and Freddie beyond conservatorship."
According to Mills, the inclusion of any consideration for non-government shareholders of Fannie and Freddie at this early stage of the political process could lead to a "negative press reaction."
"Should the press develop the narrative that Congress is rewarding 'speculative bets' on these securities, we could see efforts to change or modify this provision," Mills wrote. "Not knowing how the final bill will be drafted, it is also difficult to determine what, if any, economic value would be left after Treasury has been repaid its investment."
A knee-jerk hostile press relation to the "evil investors" holding junior preferred and common shares of Fannie and Freddie may make for a rough ride in Washington, but the senators will also have voters in mind. After all, Fairholme in its announcement on Monday referred to "thousands of shareholders" of mutual funds holding GSE shares.
-- Written by Philip van Doorn in Jupiter, Fla.
>Contact by
.
Philip W. van Doorn is a member of TheStreet's banking and finance team, commenting on industry and regulatory trends. He previously served as the senior analyst for TheStreet.com Ratings, responsible for assigning financial strength ratings to banks and savings and loan institutions. Mr. van Doorn previously served as a loan operations officer at Riverside National Bank in Fort Pierce, Fla., and as a credit analyst at the Federal Home Loan Bank of New York, where he monitored banks in New York, New Jersey and Puerto Rico. Mr. van Doorn has additional experience in the mutual fund and computer software industries. He holds a bachelor of science in business administration from Long Island University.