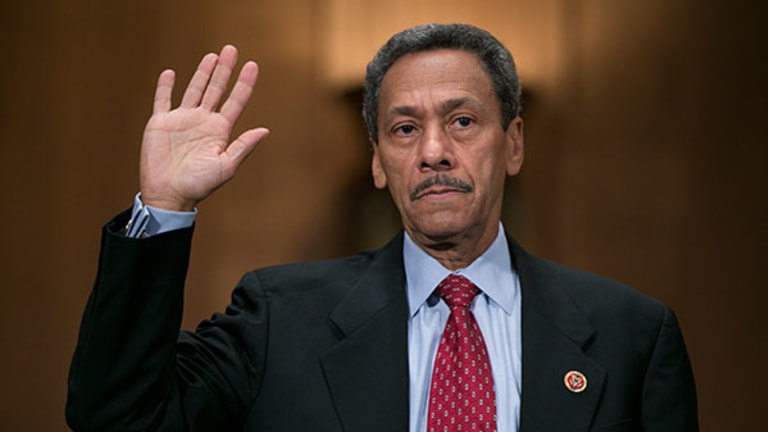 Now Watt? Senate GOP Blocks Another Obama Nominee for Housing Agency (Update 1)
Mel Watt, Obama' s nominee to head the Federal Housing Finance Agency, failed to secure the 60 votes needed to advance to a confirmation vote.
Updated from 2:44 p.m. ET with analyst commentary.
NEW YORK (
) -- Senate Republicans on Thursday blocked a vote on the nomination of Congressman Mel Watt (D., N.C.) to the head of the Federal Housing Finance Agency, regulator of housing giants
Fannie Mae
(FNMA)
and
Freddie Mac
(FMCC)
.
The Senate voted 56-42 in favor of the nomination, falling short of the minimum 60 that would have paved the way for an easy and swift confirmation.
This is the second nominee to the FHFA that Senate Republicans have rejected. It has also raised eyebrows since few Congressmen get rejected for cabinet posts.
But the vote was expected to be controversial. Although Watt had the backing of influential groups such as the Mortgage Bankers Association and the National Association of Realtors, Senate Republicans have been wary of Watt's nomination and what he could bring to the table at the FHFA.
Conservative groups worry that Watt would favor a bigger role for the government in mortgage finance and would support relief measures such as principal reduction, which has been opposed by current FHFA acting director Edward DeMarco on the grounds that it created a moral hazard.
While DeMarco has clashed with the administration on this issue, he has won the approval of many Republicans who see him as a technocrat who does not align himself with either party.
A new director for the FHFA is seen as a crucial step toward ensuring a smooth overhaul of the mortgage finance system as the government works to reduce the footprint of the housing giants. Fannie Mae and Freddie Mac along with the FHA back more than 80% of mortgages originated today, leaving the taxpayer on the hook for trillions of dollars' worth of loans.
"A Watt-led FHFA would be a considerable departure from DeMarco's tenure," according to Edward Mills, analyst at FBR Capital. "He would be expected to re-examine the use of principal reduction on underwater mortgages and expand the eligibility date for HARP. He would be less likely to lower the loan limits at Fannie and Freddie and would be unlikely to make aggressive changes to their multi-family lending programs. We believe that Congressman Watt could change the course of some of DeMarco's strategic goals and could be more accommodative to lender concerns on clarity for representations and warranties."
Liberal groups expressed disappointment at the blocked cloture vote.
"Homeowners across the country have been waiting for more than six years for a new regulator to oversee Fannie Mae and Freddie Mac and deserved more from the Senate," National People's Action Campaign said in a statement.
Senate Banking Committee Chairman Tim Johnson (D., S.D.) said the setback did not mean it was over for Watt and that he will continue to fight for his nomination.
Deutsche analysts believe the Obama administration will explore various options including nomination someone else to the post, possibly Sandra Thompson, deputy director at the FHFA.
They could also keep DeMarco in the chair and do nothing. But barring that option, in all other cases, there would be significant changes at the housing agency which would likely have implications for investors of mortgage-backed securities and borrowers.
"The pace and direction of change under a new director is hard to predict. For a nominee like Watt with limited industry experience, the process could be slow," Deutsche analysts wrote in a note. "Sandra Thompson, who is already working within the FHFA and has prior experience at the FDIC, might be able to launch into a new agenda more quickly."
-- Written by Shanthi Bharatwaj New York.
>Contact by
.
Disclosure: TheStreet's editorial policy prohibits staff editors and reporters from holding positions in any individual stocks.