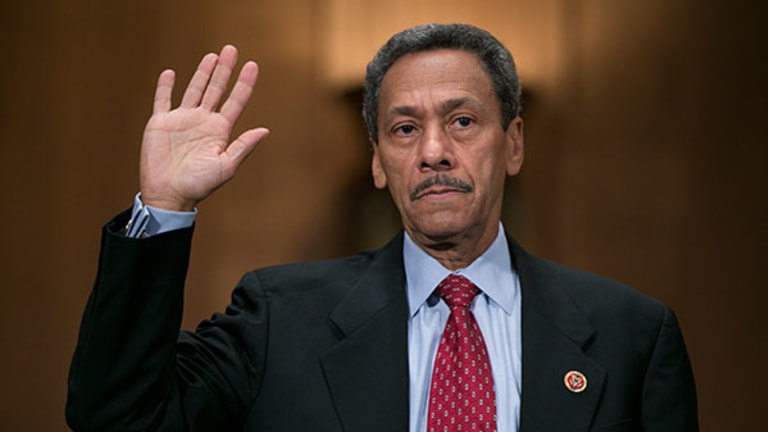 Senate 'Nuclear Option' Could Lead to Mel Watt Confirmation to FHFA
The confirmation of Mel Watt is now more likely under the new confirmation process in the Senate, which means there are changes up ahead at the regulator of Fannie Mae and Freddie Mac.
NEW YORK (TheStreet) -- The Senate's vote on Thursday to ease the confirmation process for executive and judicial presidential nominees might clear the way for the confirmation of Rep. Mel Watt (D., N.C.) as director of the Federal Housing Finance Agency.
Democrats voted to overturn an existing rule that required a minimum of 60 votes to break a filibuster blocking a floor vote for a presidential nomination. Under the new rules, a simple majority of 51 is sufficient.
Senate Majority Leader Harry Reid (D., Nev.) said that he decided to invoke the "nuclear option" to change the rules after Republicans blocked several Presidential nominees.
In October, Republicans blocked the nomination of Watt to head the FHFA, marking the first time the nomination of a sitting member of Congress was blocked in 150 years.
But with an easier confirmation process, Watt will likely be confirmed to head the FHFA, which regulates bailed-out mortgage giants Fannie Mae (FNMA) and Freddie Mac (FMCC) , according to a note from KBW.
If confirmed, there could be some changes in policy at the FHFA.
Acting FHFA director Edward DeMarco has clashed with the Obama Administration on a number of issues, most notably on his reluctance to allow the agencies to forgive principal. DeMarco has argued that other relief measures such as forbearance are equally effective, less costly to administer and do not encourage moral hazard.
Watt is seen as being more sympathetic to the Administration's views and may be more open to principal reductions.
However, it might already be too late for that. "The impact of principal forgiveness would depend on the fate of the mortgage forgiveness tax credit, which is due to expire at year end," notes KBW analyst Brian Gardner.
Loan forgiveness is considered a source of income under tax rules, but the Mortgage Forgiveness Debt Relief Act allows taxpayers to exclude income from discharge of debt on their principal residence. With the act expiring this year, borrowers who court principal forgiveness would have to take a big tax hit.
Recently the Internal Revenue Service clarified that borrowers in non-recourse states, where lender cannot pursue borrowers personally in case of default, can avoid the tax hit. Read more here.
Apart from the issue of principal forgiveness, Watt might scrap FHFA plans to reduce conforming loan limits and plans to reduce the agencies' presence in the multi-family mortgage market. DeMarco has been trying to reduce the footprint of the government-sponsored enterprises (GSEs), which now purchase over 80% of newly originated mortgage loans. However, the mortgage industry and the real estate industry have opposed these plans as they believe shrinking the agencies' presence when private capital is still largely absent will disrupt the housing market.
On the big picture of mortgage finance reform, KBW anticipates no major change. "We doubt Watt's confirmation will greatly impact the fate of mortgage finance legislation unless the Administration decides that having its own man at FHFA means they can now push for legislation," Gardner wrote.
"Also, we do not believe Rep. Watt's confirmation would have any effect on the private sector proposals to spin off Fannie and Freddie, "he said, referring to the recent proposal by Fairholme Capital's Bruce Berkowitz to privatize the insurance businesses of the GSEs. "We still view the chances of that happening as very small."
-- Written by Shanthi Bharatwaj in New York.
Disclosure: TheStreet's editorial policy prohibits staff editors and reporters from holding positions in any individual stocks.