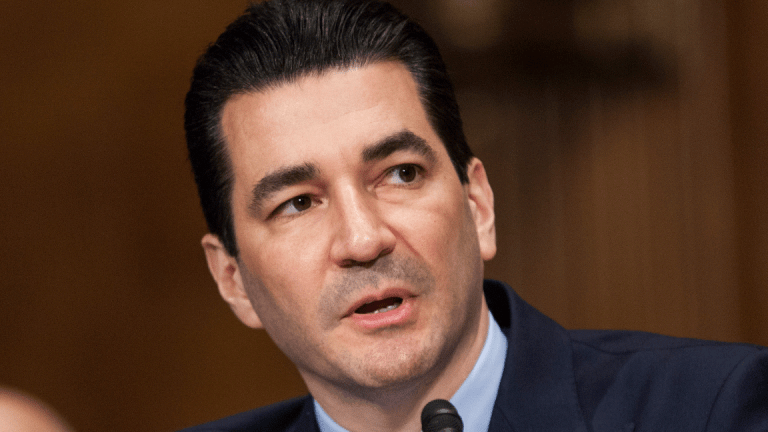 Sen. Elizabeth Warren Urges New Pfizer Board Member Gottlieb to Resign
The Senator says that Gottlieb's appointment to the company's board smacks of the Washington revolving door that has become prevalent.
U.S. Sen. Elizabeth Warren (D-MA) sent a letter opposing the appointment of former Food and Drug Administration head Scott Gottlieb to Pfizer's (PFE) board of directors, urging him to resign. 
The presidential candidate said that his appointment "smacks of corruption," less than a week after the drug maker announced that Gottlieb had been elected to the board about three months after resigning from the agency tasked with regulating Pfizer. 
"This kind of revolving door influence-peddling smacks of corruption, and makes the American people rightly cynical and distrustful about whether high-level Trump administration officials are working for them, or for their future corporate employers," Warren reportedly said in a letter addressed to Gottlieb July 1.
Gottlieb, 47, was also appointed to the company's Regulatory and Compliance Committee and the Science and Technology Committee of Pfizer's board. 
"We are fortunate to have Dr. Gottlieb join Pfizer's Board of Directors," said Ian Read, Pfizer Executive Chairman. "Scott's expertise in health care, public policy and the industry will be an asset to our company and enable our shareholders to continue to benefit from a Board representing a balance of experience, competencies and perspectives."
In a shot back across Warren's bow, Gottlieb told CNBC Tuesday that the "medicare for all" mantra favored by Warren and other Democratic presidential candidates is not feasible. 
"I don't think it is that feasible, quite frankly. [It] would crowd out competition in private insurance and crowd out the kind of competition that puts downward pressure," Gottlieb told the business news network.