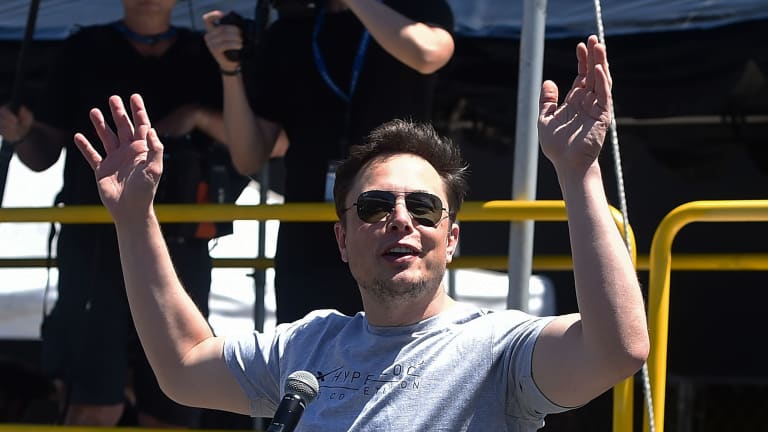 Sell Tesla Ahead of Elon Musk's Next Meltdown, Buy General Motors Instead
Tesla CEO Elon Musk's credibility takes a huge hit after saying he won't take the electric vehicle company private. Markets continue to steadily climb to new records.
Own one share of Tesla (TSLA) - Get Report ? Then use the holiday week to reflect on whether a CEO like Elon Musk deserves your trust and hard-earned money.
Sure, it's great to see one man lead the charge back into space, and Tesla Model Ss are now local drag strip legends. Jay Leno even looked like he had a blast on the Musk-created, second-generation Roadster on the latest episode of "Jay Leno's Garage." But the reality is that Musk's ridiculous, unraveled plan to go private has stripped him of the credibility that is essential to running a successful public company. That trust between a management team and shareholders is vital.
Not only that, the scrapped plan -- which was detailed in Musk's prime late-night hours on Friday -- has opened up Tesla to shareholder lawsuits and a Securities and Exchange Commission investigation at a time when cash and executive attention spans are tapped.
"It has become clear to us that funding was not secured or there was not sufficient interest to take the company private at $420/share. And we think credibility has taken a hit," said frequent Musk critic Joseph Spak at RBC Capital Markets. "We see potential ramifications from an SEC investigation and shareholder lawsuits. Though these are admittedly unquantifiable, they would be an incremental call on cash for a company with a weak balance sheet."
If you're obsessed with investing in the future of mobility, give General Motors (GM) - Get Report a glance. The company has an experienced management team, an up-and-coming Uber-like service called Maven and a jewel in Cadillac that could be spun off within five years to extract value.
And above all else, GM doesn't have Elon Musk -- and that may be just fine and dandy. 
Data Dump
What this market is doing right now is impressive, even if it's on anemic volume. It doesn't feel similar to the late January melt-up -- strong volume as euphoria gripped the minds of investors -- but rather a steady climb spurred by a solid U.S. economy and profit outlook. Continued dovishness by the Federal Reserve in the face of 4% GDP growth is helpful to sentiment as well.
The strength of the rally could be seen outside of the Dow Transports that TheStreet has written about. Joining the S&P 500 I:GSPC in record-high territory are the consumer discretionary, healthcare and information technology sectors, pointed out Ed Yardeni of Yardeni Researsh. The breadth of the S&P 600 sectors stands out quite a bit -- new record highs include consumer discretionary, consumer staples, financials, healthcare, industrials, information technology, telecome services and utilities. Rally on.
But maybe the Fed should be on the prowl for shock inflation.
Said my source over at Nielsen: "For the sixth consecutive week, soft drinks saw their highest average price per unit for the year. In fact, compared to this time last year, average unit prices this week have peaked for aluminum foil (+11%) and soft drinks (+5%)." Back to school appears costlier year over year, too. "Average unit prices this week are up 2% for office paper, 4% for pencils, 9% for pens and over 18% for highlighters," the source said.
Around TheStreet
In Dumbest Things on Wall Street, @KatherineRoss broke down why the market hasn't tanked amid Donald Trump's growing political crisis.
@AnnieGaus tossed some shade on Netflix (NFLX) - Get Report in The Tech Skeptic alongside a 7.5% rally in the stock the past five sessions.
More women need to have a voice in the boardroom, said @TracyByrnes in her first Unfiltered column.
TheStreet's founder Jim Cramer offered up some great perspective on earnings from Action Alerts PLUS holding Salesforce (CRM) - Get Report over on his daily Real Money post.