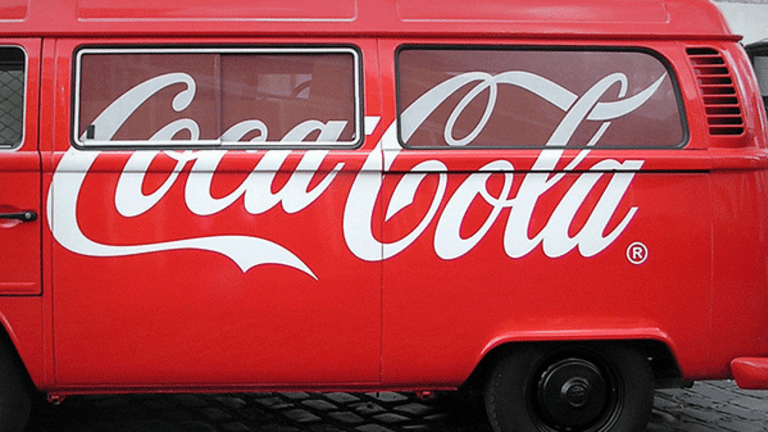 Sell Coca-Cola, It Could Become Toxic
While you are at it, dump these other four big stocks too.
While you are at it, dump these other four big stocks too.
The "Trump rally" is carrying over into 2017. We're just a couple weeks into the New Year and the big market averages have already hit new all-time highs, kicking off the best start for stocks since 2012.
But the market averages mask some important stats.
For instance, as I write, one in ten S&P 500 components is underperforming the rest of the market by 10% or more in the two months since election day. That's a huge performance gap in a very short timeframe among some of Wall Street's biggest stocks. More to the point, owning these stocks has been toxic to your portfolio's performance -- and it'll continue to drag your returns through the mud unless you pay attention to what's not working in this market.
Put simply, avoiding the worst-performing stocks could boost your returns far more than picking the very best ones in the year ahead. So, to figure out which stocks you should be avoiding as we close out the year, we're turning to the charts for a technical look at five that could be about to turn "toxic."
For the unfamiliar, technical analysis is a way for investors to quantify qualitative factors, such as investor psychology, based on a stock's price action and trends. Once the domain of cloistered trading teams on Wall Street, technicals can help top traders make consistently profitable trades and can aid fundamental investors in better entry and exit points.
Just so we're clear, the companies I'm talking about today are hardly junk.
By that, I mean they're not next up in line at bankruptcy court -- and many of them have very strong businesses. But that's frankly irrelevant to what happens to their stocks; from a technical analysis standpoint, sellers are shoving around these toxic stocks right now. For that reason, fundamental investors need to decide how long they're willing to take the pain if they want to hold onto these firms in the weeks and months ahead. And for investors looking to buy one of these positions, it makes sense to wait for more favorable technical conditions (and a lower share price) before piling in.
So, without further ado, let's take a look at five "toxic stocks" to sell -- and when to sell them.
Coca-Cola
So much for an attempt at higher ground...
Up first on our list of potentially toxic trades is beverage giant Coca-Cola  (KO) - Get Report. As recently as a couple of weeks ago, Coke had been looking bullish -- shares were showing signs of a reversal that looked primed to deliver a technical buy signal with a push through $42.50. Only that never happened. Instead, Coca-Cola hit its head on the top of its trendline for the fifth time, and got batted lower. That failed attempt from buyers means that Coke is a stock you don't want to own in January.
Coca-Cola's price action is hard to miss. You don't need to be an expert trader to figure out that this stock is in a downtrend. More specifically, Coke's downtrend is formed by a pair of parallel trendlines that have corralled the vast majority of this stock's price action since last summer. And now, as shares get swatted lower from trendline resistance yet again, it makes sense to sell January's latest bounce lower.
Waiting for that bounce lower before clicking "sell" is a critical part of risk management for two big reasons: it's the spot where prices are the highest within the channel, and alternatively it's the spot where you'll get the first indication that the downtrend is ending. Remember, all trend lines do eventually break, but by actually waiting for the bounce to happen first, you're confirming that sellers are still in control before you unload shares of Coke.
3M 
3M (MMM) - Get Report is another big stock that's showing some equally big warning flags thanks to a simple price pattern. The last year has actually been bullish overall for 3M -- this $107 billion conglomerate is up more than 26% in the last 12 months, beating the rest of the S&P 500 by a meaningful margin. But investors might want to think about taking some of those recently-won gains off the table at this point; 3M looks "toppy" in the long-term.
3M has spent the last several months forming a double top, a bearish reversal pattern that looks just like it sounds. 3M's double top is formed by a pair of swing highs that peak out at approximately the same price level. The sell comes on a violation of the trough that separates those two highs -- for 3M, that support level to watch is down at $165.
Remember to be reactionary if you're trying to decide whether to sell 3M. Shares don't become a high probability sell until the $165 level actually gets violated. Until then, this chart is simply showing investors a warning flag.
Coty 
The chart for $14 billion beauty stock Coty  (COTY) - Get Reportis looking pretty ugly right now. Shares have shed 35% of their market value since mid-August, tumbling despite what's been seen as a transformational merger with 43 of Procter & Gamble's (PG) - Get Reportbeauty brands that closed back in October. The bad news is that Coty could fall even further in 2017.
Since November, Coty has been forming a descending triangle, a bearish continuation setup that's formed by horizontal support down at $18, and downtrending resistance to the top-side. Basically, as Coty pinballs in between those two technically significant price levels, shares have been getting squeezed closer and closer to a breakdown through that $18 price floor. If that happens, we've got a fresh sell signal in Coty.
An additional red flag that's showing up on Coty's chart right now is relative strength. Relative strength measures this stock's performance versus the rest of the market, and it should come as no surprise that it's been declining since this summer as well. As long as that downtrend remains intact, Coty remains predisposed to underperform the rest of the market.
DDR
We're seeing the same exact price setup in shares of mid-cap real estate investment trust DDR  (DDR) . Like Coty, this stock has been forming a textbook example of a descending triangle pattern after peaking back in the summer. For DDR, the big breakdown level to watch is support down at $14.80.
What makes that $14.80 level in particular so significant? It all comes down to buyers and sellers. Price patterns, like this descending triangle, are a good quick way to identify what's going on in the price action, but they're not the actual reason it's tradable. Instead, the "why" comes down to basic supply and demand for shares of the stock itself.
The $14.80 support level in DDR is a place where there has been an excess of demand for shares since November; in other words, it's a spot where buyers have been more eager to step in and buy shares than sellers have been to take gains. That's what makes a breakdown below $14.80 so significant - the move means that sellers are finally strong enough to absorb all of the excess demand at that price level. So, if DDR violates $14.80, you don't want to own it anymore.
Louisiana-Pacific 
Last up on our list of potentially bearish trades is $3 billion building products maker Louisiana-Pacific  (LPX) - Get Report. Louisiana-Pacific is another big stock that's starting to show some cracks after a nearly 20% run higher in the last year. A classic reversal setup has been showing itself in shares since mid-November - now, the price level to watch is support at $18.75.
The price setup in Louisiana-Pacific is a head and shoulders top, a price pattern that signals exhaustion among buyers. The pattern is identified by two swing highs that top out at approximately the same level (the shoulders), separated by a higher high (the head). The sell signal triggers when Louisiana-Pacific's neckline gets materially violated -- that happens at the aforementioned $18.75 price level.
Louisiana-Pacific is within grabbing distance of that line in the sand as I write this week. If shares do violate that price level, then this pattern's minimum measuring objective points to a 12% drop before shares find some semblance of support again. LPX bulls should wait for this trading setup to play itself out before thinking about building a position in this stock in the near term.
At the time of publication, author had no positions in the stocks mentioned.