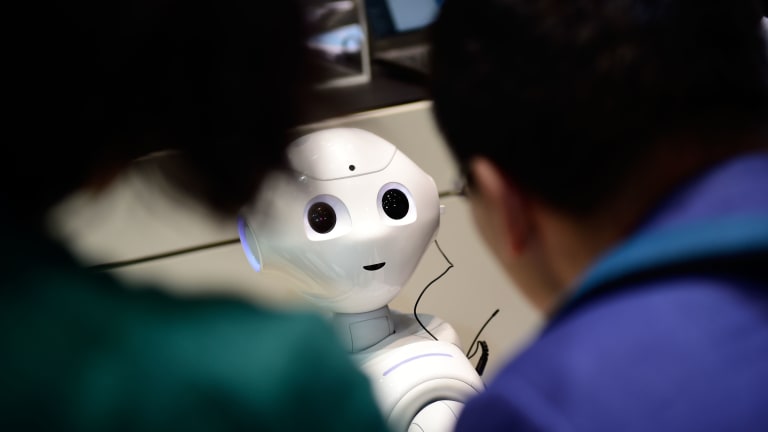 The Secret Messages Hidden Underneath IBM's Surprising Profit Blowout
IBM did well; here comes cannabis IPO Tilray; Best Buy has been reborn in the age of Amazon; and the battle between Goldman Sachs and Morgan Stanley for M&A dollars is heating up.
I-B-M, I-B-M, I-B-M.
For you college students out there reading this free newsletter, that stands for International Business Machines (IBM) . IBM is the story of the day (sorry Trump, Putin, plunging copper prices, China's slowing economy, Alphabet's  (GOOGL)  $5 billion EU fine) for several reasons.
First, IBM's second-quarter results give off zero signal of a second half 2018 U.S. recession. Wall Street has been worrying about it but IBM's numbers suggest -- especially in high-growth areas such as hybrid cloud and security -- that it's BS for now. Second, IBM served up a reminder that investing in tech doesn't start and end with FANG (Facebook (FB) , Apple (AAPL) , Netflix (NFLX) , Alphabet) stocks. There are opportunities out there in old tech (as I laid out on Real Money's Columnist Conversation earlier in the week) as companies like IBM have worked to slash costs and invest in high-growth areas.
An added bonus: Old tech IBM is yielding more than 4%. TheStreet's tech columnist Eric Jhonsa crunched the numbers on IBM, and tossed in more skepticism than me.
By the Numbers 
Investors continue to snap up tech, at rich valuations no less, based on a strong uptrend in the sector's profit margins. Amid loads of pricing power for things like cloud services to cybersecurity, profit margins haven't only risen nicely but may keep heading higher in quarters to come. The ascent is even more impressive considering the rising amounts tech companies are paying to attract, and keep, top engineering talent.
EBIT (earnings before interest and taxes) margins for S&P 500 tech names have climbed to nearly 30%, on average, from 20% in 2010, according to new Credit Suisse data. Wall Street will get a better peek into tech's profit margins via Microsoft (MSFT) after the close Thursday.
Microsoft, a key Action Alerts PLUS holding, offers a good snapshot into high-growth areas such as the cloud and information sharing in LinkedIn. TheStreet's Scott Gamm has a preview of Microsoft's results here.
Oh, and here is the definition of Jim Cramer's "Cloud Kings" investing acronym. Seven high-growth cloud companies, oodles of profit potential.  
Around TheStreet
I have never smoked weed (or is it cannabis?). Come to think about it, I have never put myself in a situation where weed was around me. That's not to say that I didn't do crazy things as a kid -- it's just that getting high and eating an entire Domino's Pizza (DPZ) was never really appealing. That same lack of appeal applies to my thinking on investing in cannabis companies.
Sure, I get the potential and the slick sales jobs put on by many in the industry. But I encourage people to read the prospectuses of some emerging cannabis companies. They aren't making money, have no clue when they will make money, are shelling out good chunks of money for regulatory things and the executive teams (in most cases) aren't exactly a who's who of pros from tech giants or, say, Procter & Gamble (PG) . It's a weird due diligence process. To that end, I am eager to talk with Tilray's CEO Brendan Kennedyon the company's Nasdaq debut Thursday. Interesting company, at an interesting time. For more cannabis coverage, check out TheStreet's homepage and our regular column on Real Money.
The Deal's co-editor, Mike Brown, hopped on camera again to discuss the battle for M&A dollars between Goldman Sachs (GS) and Morgan Stanley (MS) .
Not on TheStreet but a good read: A Bloomberg Businessweek feature looks at the rebirth of Best Buy (BBY) under CEO Hubert Joly. Although TheStreet has long been critical of Best Buy, Joly deserves a fist bump for what he has done at the company in the age of Amazon (AMZN) . The feature story reads as Joly's swan song -- it's hard not to think he is getting ready to tackle his next challenge in life.
Lots of big moments from Jim Cramer at the Delivering Alpha conference on Wednesday. TheStreet's Katherine Ross, who spent the day at the event, has all of Cramer's top interactions.