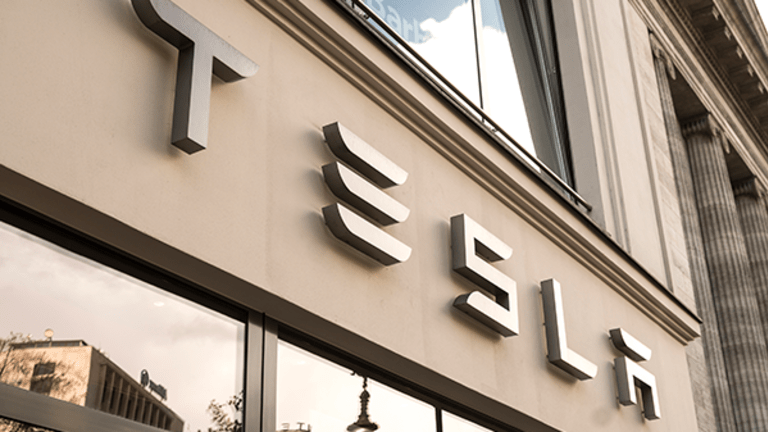 SEC Pushback Could Aid Maturation Process at Tesla
The company was flagged by the SEC for using 'individually tailored' metrics in earnings releases. For a company in desperate need of maturity, this could be a wake-up call.
Tesla Motors (TSLA) - Get Tesla Inc. Report has been slapped on the wrist by the Securities and Exchange Commission over its use of prohibited accounting metrics. For a company arguably in desperate need to quickly grow up, the slap might be just the sort of wake-up call shareholders should welcome.
The SEC, in a series of correspondences with the automaker, took issue with what it called "individually tailored" measurements in Tesla's earnings release in August. The scrutiny was part of a broader push by the regulator to rein in corporate use of non-GAAP accounting, and Tesla said in its October earnings report that it would drop certain non-GAAP measurements and adopt new guidelines for future quarters.
The SEC declared the matter resolved on Oct. 12 without any further action, meaning the issues are in the rear-view mirror and there should be no additional ramifications for the company or its stock. But the criticism could have a long-term positive impact for the automaker if management takes the lesson to heart.
It has been a tumultuous year for Tesla, which has seen highs including the unveiling of its much ballyhooed Model 3 to great fanfare, a successful $2 billion secondary offering and a $2.6 billion acquisition of SolarCity (SCTY)  , and lows including controversy over its Autopilot driver-assist technology that appears to have been involved in at least one fatality.
Through it all, the company and CEO Elon Musk have shown a Silicon Valley startup mindset, sometimes to their own detriment. In July, Musk used Twitter to go on the attack against journalists who questioned the timeliness of company disclosures, and has used the company's blog to float conspiracy theories about critics hinting at potential ties to Big Oil or legacy automakers.
Those attacks are red meat for true believers, but are warning signs for some of the institutional investors that Tesla will increasingly need to lean on in the quarters to come if it is to fund its ambitious plan to roll out new vehicles and battery packs and introduce to market its solar roof. The company is attempting to quickly grow auto production from 50,000 units per year to more than 500,000, and will require both capital and discipline to make that goal a reality.
Tesla hates to be lumped in with traditional automakers, but a certain level of maturity and compliance with the status quo is going to be necessary if the company is to reach its destination. If the SEC slap is a step in that direction, it's a speed bump investors shouldn't mind going over.