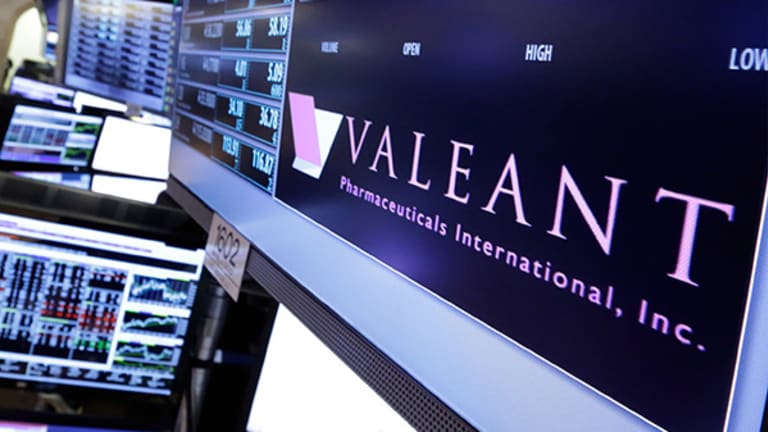 SEC Discloses Correspondence Over Valeant's Accounting Practices
The SEC has released correspondence between the agency and Valeant over concerns about its tax accounting and non-GAAP reporting measures.
The SEC has released correspondence between the agency and Valeant over concerns about its tax accounting and non-GAAP reporting measures.
Valeant's (VRX) day has gone from bad to worse.
The Securities and Exchange Commission has released letters between the commission and Valeant from as early as 2005 that show that the federal government had concerns about Valeant's tax accounting and use of non-GAAP reporting measures.
The correspondence, however, also appears to indicate that Valeant is working to clean up its act. 
"It also appears from the correspondence that in response to concerns highlighted by the SEC, Valeant is re-assessing its current non-GAAP reporting and disclosures and is likely to present new measures and disclosures with its 2017 guidance and 4Q16 results, including a potential new adjusted net income measure.," Wells Fargo analyst David Maris wrote in a note published in part via Barrons.
The release comes on the heels of news that Valeant likely won't be able to sell its Salix gastroenterology division to Takeda Pharmaceuticals (TKPYY) for $10 billion, as previously rumored.
And investors aren't taking well to the news, either. Valeant's stock fell nearly 8% Wednesday to a close of $15.79.
Valeant could not be reached for immediate comment. Takeda has yet to return calls for comment. 
The Laval, Quebec-based company has been struggling with investor concerns for months, and its share price has taken a hit. Valeant shares have fallen 77% since March when the initial news broke of potential accounting issues.
The company has made an attempt to save face, announcing on Nov. 29 that it is expanding its sales force for its drugs Xifaxa, which treats irritable bowel syndrome with diarrhea and Relistor for opioid induced constipation.
While an expansion sounds good on the surface, competition is likely to enter the market soon, making the move useless down the line.
"We think that the expansion is a reasonable, but ultimately futile," Mizuho analyst Irina Koffler wrote in a Wednesday note.
The drugmaker has been under the microscope for its alleged accounting problems and steep price hikes on drugs the company acquired during years of acquisitions fueled by debt.
Valeant has seen its valuation suffer thanks to allegations relating to its relationship with mail-order pharmacy Philidor Rx Services and Philidor's customer R&O Pharmacy, as well as the company's legal but questionable accounting gamesmanship. Valeant in March pinned the blame on its former CFO and former controller, Howard Schiller, for its misstatements of earnings.
On Nov. 17, the U.S. Department of Justice announced charges against former Valeant and Philidor executives for engaging in "a multi-million dollar fraud and kickback scheme." Gary Tanner, a former executive at Valeant, and Andrew Davenport, the former CEO of Philidor were charged.
Valeant's market cap hit $5.39 billion Wednesday.