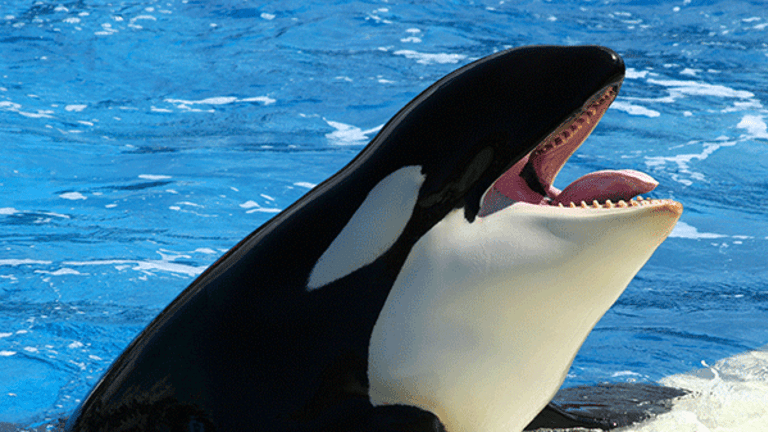 SeaWorld Offers Peek Inside Orca Natural Encounter
SeaWorld Entertainment (SEAS) posted a YouTube video showing what visitors will see when its orca natural encounter debuts this summer in San Diego.
If you're wondering exactly how SeaWorld Entertainment (SEAS) - Get Free Report San Diego plans to conduct its natural orca encounter, look no further than YouTube.
The natural encounter is set to debut at the San Diego theme park this summer, although it is unclear exactly when, and replaces its long-standing theatrical killer whale shows which ceased on Jan. 8. SeaWorld's San Antonio and Orlando parks will close its theatrical shows by 2019.
A YouTube video posted by SeaWorld gives some insight into what guests will experience at the natural encounter.
Behind the large orca pool where the killer whales used to perform tricks and stunts for a couple of dead fish, a giant screen will be built. The orcas, "the ocean's most powerful predator," will swim around the pool while guests view images of whales living in the ocean, the video said.
On the screen, facts on how killer whales hunt, communicate, play and interact with family will be displayed as they swim miles in the open ocean. It is unclear from the YouTube video exactly what the captive whales will be doing in the pool.
An interim orca presentation where guests can learn about killer whales while watching them swim in the pool from an underwater viewing room was set up on Jan. 9 until the giant screen is ready for its debut, a SeaWorld spokeswoman said in an email to TheStreet earlier this month.
"Our new Orca Encounter will not only help our guests gain a deeper appreciation and respect for the orcas, but will leave them with a new sense of determination and purpose to help preserve the future of these majestic animals," the spokeswoman said.
The shift comes as SeaWorld improves its image from the 2013 documentary Blackfish - which revolves around Tilikum, who died in captivity on Jan. 6. The movie tells the story of the male orca, who was taken from the ocean at a young age, and due to the stress and limited life he experienced in the tanks of SeaWorld, he became aggressive, resulting in the deaths of two of his trainers.
The horrified reaction to Blackfish resulted in SeaWorld being forced to end its orca breeding and theatrical shows. The company also saw its revenue decline in seven out of the 11 quarters since the documentary's release.
SeaWorld has teamed up with certain animal advocacy groups since Blackfish including The Humane Society of the U.S. to rehabilitate distressed oceanic animals. Last month, SeaWorld also announced that it would open its first amusement park in 2022 without orca whales in Abu Dhabi, the capital of the United Arab Emirates.
Meanwhile, SeaWorld is constructing a new roller-coaster at San Diego, the Electric Eel, which will be the theme park's tallest and fastest coaster yet, boasting loops, twists and a roughly 150-foot ascent followed by an inverted roll. It is expected to open in the summer of 2018.
Shares of SeaWorld are up slightly to $18.89 in late Tuesday morning trading.