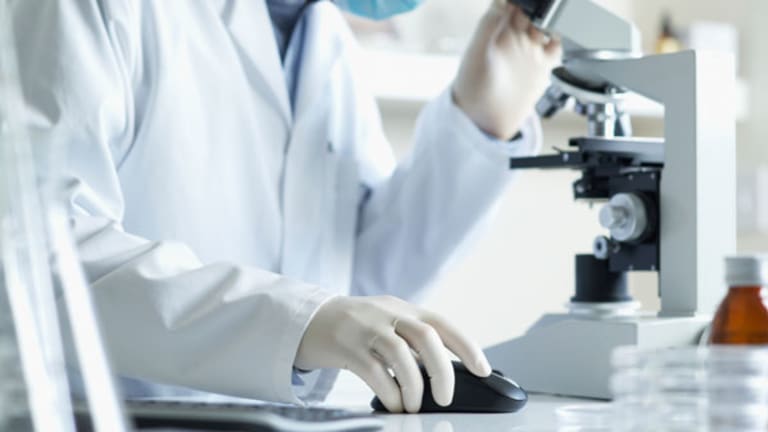 NEW YORK (
) --
Seattle Genetics
(SGEN) - Get Seagen, Inc. (SGEN) Report
shares have risen nearly 28% since I first
wrote about the company in March
, even as tepid third-quarter sales of the cancer drug Adcetris -- down sequentially despite a 3.5% midsummer price hike -- forced management to cut guidance for the rest of the year. Last week, my colleague Adam Feuerstein tweeted a brutally apt synopsis of Seattle Genetics: "Seems like bears have been right about Adcetris market being small, wrong on the stock."
Ouch. The truth hurts.
Seattle Genetics at $23.11 and a $2.74 billion market cap is almost comically overvalued -- more than 20 times this year's revised Adcetris sales guidance. Management even concedes Adcetris sales will be essentially flat in 2013. Despite the lofty valuation, Seattle Genetic bulls have thus far clung with astonishing patience to the hope for eventual Adcetris sales growth following expansion of the drug's label. The problem is FDA label expansion, which would initially include retreatment and long-term use data, won't happen until late 2013 at the earliest.
Frankly, I'm not convinced there's a compelling investment case to be made either way at this point.
Adcetris is an anti-CD30 monoclonal antibody linked to the tumor-killing drug monomethyl auristatin E (MMAE). The "antibody-drug conjugate" received FDA approval in August 2011 for relapsed/refractory Hodgkin's lymphoma (HL) and systemic anaplastic large cell lymphoma (sALCL). Adcetris is an effective treatment option for these patients, but the company's third-quarter results confirmed my view that Wall Street estimates were too high and that the drug's current "on label" market is miniscule. Predictably, most sellside analysts either downgraded or lowered sales forecasts in frustration after last week's conference call.
Seattle Genetics' shares have declined sharply from early September highs, but with Adcetris sales expectations now lowered, further evidence of commercial stagnation isn't likely to be a catalyst for additional downside.
Let's take a closer look at the company's label expansion opportunities.
Seattle Genetics is conducting phase III trials of Adcetris in relapsed cutaneous T-cell lymphoma (CTCL), front-line HL, and will soon start a study in front-line mature T-cell lymphoma (MTCL). Even though Adcetris may prove effective in these studies, data are a long way off. Results from the phase III trial in CTCL won't be available until late 2014 or 2015, and readouts from the other two studies won't likely occur until at least 2017.
These new cancer indications are larger than those Adcetris is currently approved for but not enough to get excited about buying the stock now, particularly since the study results are so far off.
The company should receive FDA approval late next year for an expanded label that will include data for retreatment and long-term use of Adcetris in HL and sALCL. Bulls hope this expanded label will re-ignite sales growth in the drug's initial indications. I'm not convinced physicians will dramatically alter treatment patterns based on the company's data.
The phase II retreatment data presented in June look good in sALCL (88% overall response rate) and decent in HL (56% response rate.) Unfortunately, the study included only 8 patients in sALCL and 16 patients in HL. The more compelling results are in the far smaller sALCL treatment market.
At next month's American Society of Hematology (ASH) conference, investigators will present long-term data on the use of Adcetris in relapsed HL and sALCL, a phase I study of the drug in front-line sALCL, and a single arm phase II trial in several subtypes of relapsed non-Hodgkin's lymphoma (NHL), including diffuse large B-cell lymphoma (DLBCL). Although these data may provide justification for further exploratory studies, none of the abstracts seem likely to meaningfully alter oncology practice patterns near-term.
Seattle Genetics' executives believe Adcetris will eventually become a billion-dollar drug. I doubt it, but let's consider that possibility. To reach this level, the company will surely need positive results from ongoing phase III trials. I don't have a strong opinion on those studies yet, but let's generously imagine Adcetris sales peak at $1.5 billion in 2022. Even if we apply a five-times multiple to those sales, discounting for time reduces the present value of Adcetris to $2.4 billion, roughly in-line with the company's current enterprise value.
Bulls contend Seattle Genetics has other partnered drugs in early clinical development that could unlock additional value. I'm sure they believe my sales estimates are too low, too. I have yet to read or hear an argument that would change my mind. The ASH conference seems to me the last positive catalyst for awhile. (Yes, I know Adcetris will likely receive European approval within the next few months, but that's widely expected and the drug's commercial potential ex-US remains highly uncertain.)
Basically, I don't really see a compelling investment thesis for Seattle Genetics long or short. Feuerstein was on point with his tweet: I've been right about Adcetris but wrong on the stock. Even though sales will continue to drag and could even decline slightly over the next few quarters, I'm not sure there will be enough bad news to make Seattle Genetics shares decline further.
If Seattle Genetics shares do move meaningfully downward, it will likely be due to either a broader market correction (hard to predict) or because some of the company's shareholders lose patience and bail. That doesn't make for a very interesting investment thesis, so I'm moving to the sidelines.
Sometimes, even when you're right, you're wrong.
Sadeghi has no position in Seattle Genetics.
Nathan Sadeghi-Nejad has 15 years experience as a professional health-care investor, most recently as a sector head for Highside Capital. He has worked on the sell side (with independent research boutiques Sturza's Medical Research and Avalon Research) and the buyside (at Kilkenny Capital prior to Highside). Sadeghi-Nejad is a graduate of Columbia University and lives in New York. You can follow him on Twitter @natesadeghi.