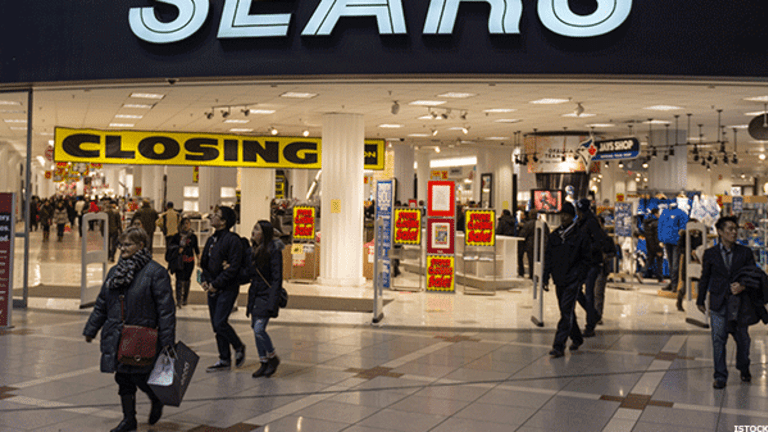 Sears Stock Is Dead in the Water, and This Quarter Confirms It
This once-great retailer is facing insurmountable hurdles as sales crater and debt mounts.
One of the biggest stories for anyone interested in the stock market has been the dramatic downfall of the bricks-and-mortar retailers.
But one of the absolute worst bricks-and-mortar bets today is Sears Holdings (SHLD) . Once a trusted and treasured part of any portfolio (many people practically bet their retirements on it), Sears has become one of the most toxic stocks on the market.
Led by Amazon, internet retailing, which would have been considered a joke by many Americans just years ago, has completely revolutionized the way we shop. We're willing to put up with the inconvenience of waiting a day or two to receive our goods rather than getting in the car and driving to the mall.
And the mall is where the pain has been the toughest. The largest department store in the U.S., Macy's, is shaking in its designer boots as Amazon prepares to soon outpace it in terms of apparel sales.
As we mentioned, however, Sears is in even worse shape and is a stock to avoid.
Sears Holdings operates two segments, Kmart and Sears Domestic, and both retail chains are facing insurmountable hurdles.
The company is currently run by CEO Eddie Lampert, who stepped in in early 2013 with a mission to resurrect Sears' business. He initiated a campaign of selling and spinning off assets, including the Lands' End clothing line, as well as the creation of a spun-off real estate investment trust known as Seritage Growth Properties (SRG) .
But it's been to no avail.
On Thursday, Sears released yet another dreadful batch of quarterly earnings results. The company posted a loss of $395 million for the quarter, or $3.70 per share. Same-store sales for both of its divisions dropped -- Kmart by 3.3% and Sears by 7%. And revenue dropped by about 10%, to $5.7 billion.
The company now has $276 million in cash. But it's facing a debt hurdle of $3.4 billion.
Sears' days appear to be numbered. At this point, the best it can do would be to sell off its remaining assets, including real estate. The company has already hired Citigroup and LionTree Advisors to "explore strategic alternatives" for its Kenmore home appliance brand, as well as Sears Home Services. And the company is turning to CEO Lampert to lend it as much as $300 million to keep the ship afloat until the next step becomes obvious.
What is obvious is that Sears is a stock to avoid at all costs. While it was once a great investment, this retailer is now doomed.
---
A crisis is coming. And when it hits, weak companies and their investors will be washed away. Don't let that happen to you. I've found seven companies you should own no matter what the economy is doing. Each one of these powerful, yet overlooked companies barely notices when the market tumbles. And they'll skyrocket when it rebounds. You can pick all seven up for pennies on the dollar right now. But that'll change the instant average investors catch wind of just how bad things really are. Get their names here before it's too late.
This article is commentary by an independent contributor. At the time of publication, the author held no positions in the stocks mentioned.