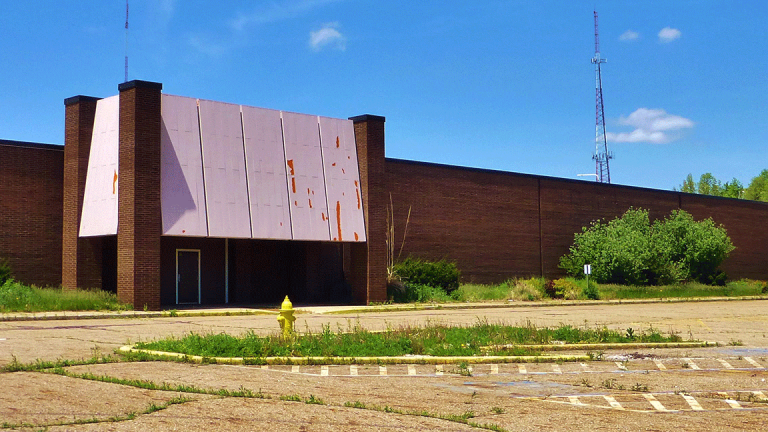 Why Sears Stock Could Crash Another 30% by 2018
Sears' grim fate seems inevitable. While one more holiday season could extend its life, the prospects behind a total rebirth seem grim.
The games seem to be ending for Sears Holdings (SHLD) . Because of CEO Eddie Lampert's big position in the stock and his ability (via his hedge fund) to finance, loan and pull out almost every stop in the book, Sears had been prone to sharp rallies. This is despite the growing short-interest betting against its demise.
Well, that demise has certainly gained momentum. Shares hit new 52-week lows earlier this week, bottoming out at $5.48 before rallying back to $6. Can it continue to stay afloat? Only for so long.
With or without the powerful force of e-commerce, Sears was struggling. Its Canadian operations are all but shot, K-Mart was desolate. The company sold off strong brands like Craftsman and spun off real estate for capital. Finally, it made a deal with its Kenmore brand to be sold exclusively on Amazon.com, Inc. (AMZN) - Get Amazon.com, Inc. Report .
Does anyone think that Sears really got the better side of that deal or that Sears made the move out of strength rather than weakness?
In effect, Sears has been putting a BandAid over its operations at a time where it was bleeding out. And while that allowed it to gimp from quarter to quarter, its time is running thin. Sears stock is down 35% so far on the year and almost 90% over the past five years.
A break below $5 could really get shorts leaning into the stock and longs completely giving up hope. While there will be volatile rallies in between, this thing is only going lower over the long term.
Sears needed a complete overhaul. It needed to shed hundreds of its underperforming stores, keeping only its best locations running. Its premium brands should have been kept and e-commerce made a focal point of its business.
Somehow shares rallied last quarter when Sears reported a 22% drop in sales and a comparable-store sales result of -11%. Not sure how that can be spun in a positive manner, but it was. This isn't anything new, either. Revenue has declined every year since 2007. Net income hasn't been positive since 2011 and the same goes for free-cash. Gross margins have never been lower and total debt of $4 billion is now more than six-fold the current market cap of $650 million.
Can Sears escape the inevitable? Possibly, with a double Hail Mary pass. I just wouldn't bet my chips on it.
A 30% decline would drop Sears stock down to the low $4 range. Will it come before year's end? It very well could, although the holiday season might be enough to save it -- for now.
More of What's Trending on TheStreet:
This article is commentary by an independent contributor. At the time of publication, the author had no positions in the stocks mentioned.